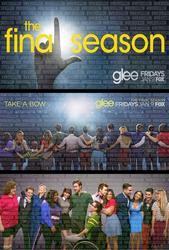 TV Info
---
Episode Premiere
May 18, 2010

Distributor
FOX

Genre
Comedy, Musical

Show Period
2009 - 2015

Production Company
Ryan Murphy Productions


Cast and Crew
---
Director
Joss Whedon
Screenwriter
Brad Falchuk
Main Cast
Additional Cast
Synopsis
---
Figgins summons Will to his office to meet the newest member of the school board. Yet it's someone Will knows -- his high school nemesis and former glee rival, Bryan Ryan. Now the head of a show choir conversion group, Bryan is there to audit the school's art programs and says he may cut the glee club.
Bryan addresses the glee club, having them each write down their biggest dream on a piece of paper. When he tells them their dreams will never happen, the kids are crushed. Will tries to stop this, but Bryan presents Will as an example of someone whose dream didn't come true.
Tina confesses to Artie that she read his crumpled paper in the trash can. He wrote that his dream is to be a dancer. Tina asks Artie to perform a dance number with her for an assignment. They rehearse their soft shoe number, with taps on Artie's wheels. He tries using a pair of crutches to stand. Artie takes a few steps but then falls. Embarrassed, Artie blames her for encouraging him. Later, Tina apologizes. She did some online research and read about new studies that could someday cure Artie's condition. Tina tells him not to give up on his dream.
Jessie returns from his spring break and makes up with Rachel. He asks what her dream is. She says that she has always wanted to know who her birth mother is. Jessie encourages her to do some investigating. Later, Rachel announces to Jessie that she's quite sure her mother is either Patti LuPone or Bernadette Peters, but she's afraid to find out who her mother really is. Jessie suggests she start digging around in her house for clues.
Will buys Bryan a beer to convince him that he's wrong about glee club. Bryan confesses that he used to have a crush on Terri, and Will says that things didn't work out when he married Terri. Yet music gave him the strength to move on. Bryan admits that he's miserable since he stopped performing. Will puts "Piano Man" on the jukebox, and he and Bryan sing it together. Will convinces Bryan to audition for the local community theatre's production of "Les Miserables."
Jessie helps Rachel rummage through her childhood memorabilia stored in her basement. She doesn't notice when Jessie slips a cassette into one of the boxes. The cover of the tape reads "From mother to daughter." Jessie wants her to play it right away, but Rachel says she isn't ready.
At the Les Mis auditions, Will and Bryan rekindle old rivalries when they're both up for the same part with the same audition song. The director makes them perform one song as a duet. They have a heated battle singing "Dream On" as each tries to upstage the other.
Tina steps away from Artie's wheelchair at the mall. Artie fantasizes he's dancing a huge number with other mall patrons.
Unbeknownst to Rachel, Jessie has a secret meeting with Shelby, the coach of Vocal Adrenaline. He says he hasn't been able to convince Rachel to listen to the tape. Although Jessie is following Shelby's orders, he's developing feelings for Rachel and feels bad for manipulating her. Shelby has Jessie stick to the plan for one more week and then he can return to Vocal Adrenaline. Shelby explains that she took money for carrying the baby in return for not contacting Rachel until she turned 18. Even though she failed as an actress and never married, Shelby's only regret is giving up Rachel.
Artie asks Emma for help in coping as he undergoes the process of being able to walk. Emma looks at the printouts of research Artie has and says that there won't be a cure for his injury for a very long time. Emma can see how disappointed Artie is in hearing the truth.
Bryan meets with Sue to say he's cutting the Cheerios budget in favor of the glee club. He brings the glee kids presents with their new budget money -- dance wear, bedazzled jean jackets and stacks of Broadway sheet music. Sue comes in and congratulates Will on landing the lead in Les Mis over Bryan. Disappointed and upset, Bryan says that he's cutting the glee club.
Will reminds Bryan what it's like to be in high school and what glee once meant to him. Will offers to give Bryan his role so that he'll understand how important the arts are to a person's soul. In exchange, Bryan agrees not to axe the glee club.
Jessie persuades Rachel to finally listen to the tape from her mother. Rachel sings along to Shelby singing "I Dreamed a Dream."
Artie tells Tina that he won't dance with her because he needs to focus on dreams that really can come true. Tina has Mike Chang tap dance with her instead.
Will announces to glee that he resigned from the community theater production so that Bryan would not cut their group's budget. Will traded his dream so that the kids could have a chance at their own dreams.