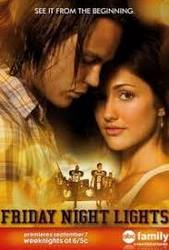 TV Info
---
Episode Premiere
February 01, 2008

Distributor
NBC, DIRECTV

Genre
Drama, Sport

Show Period
2006 - 2011

Production Company
NBC Universal, Imagine, UMS, Film 44, 101 Network


Cast and Crew
---
Director
Dean White
Screenwriter
Aaron Rahsaan Thomas
Main Cast
Additional Cast
Matt Czuchry as Chris Kennedy
Louanne Stephens
Brea Grant
Blue Deckert
Synopsis
---
Saracen cooks breakfast for his grandma, who misses Carlotta's French toast Tuesdays. Saracen maintains that Carlotta's not coming back and leaves for school. On the way, he listens to a radio report on Smash, who's been suspended for the remainder of the season. Saracen slams the dashboard as the announcer quips that in all Texas history, there's never been a state champ that hasn't made play-offs the following year. When the car overheats in the middle of nowhere, Saracen chucks the keys and stalks off.
While getting ready for school, Taylor bombards Julie with questions in preparation for her driver's test. When he warns Julie not to drive with alcohol or face never driving again, Tami steps in, volunteering to bring Julie to her driver's test. Saracen shows up for a team meeting with dirt smudges all over his face. The other players grumble and whine, convinced they won't make play-offs without Smash.
Taylor walks into the meeting to announce that adversity is all about how they stand up to it, and he intends to make it an asset to ride into the play-offs. Commenting that Saracen looks like hell, he proceeds with a strategy session. After swearing at his art teacher, Saracen skips Spanish class and then leaves school altogether.
Jean confronts Tyra, asking if she's competition for Landry. Tyra tells Jean to go for it, but doesn't look real happy. At practice, Taylor is frustrated to learn that Landry has tripped over a curb, benching him for a few days and that Saracen is supposedly out sick. Jean meets Landry after practice to propose a cool date. He accepts and they leave together as Tyra watches from her truck.
Over dinner at the Taylors', Tyra and Tami gossip about the team, making Julie feel left out. Tyra asks if it's insane to be jealous about Jean. Tami advises that although stringing along a nerdy guy might feel good, it's not fair; Taylor pipes up that nice guys finish last. When Julie asks Tyra to do homework together, Tyra claims she has to leave.
Tami admits to Taylor that she's having fun coaching the volleyball team. It's great to have teenagers listen to her for a change. Taylor suggests that Julie may be a bit envious of the whole volleyball thing, even though she hates the sport. On his second day of playing hooky, Saracen considers buying a motorcycle but opts to go have a beer with Riggins.
Getting wasted, Saracen wishes he was more like Riggins, who's always on an even keel, no matter what happens. Spying Lyla and Chris having lunch, Riggins introduces himself, inviting them to share a pitcher. Off their looks, he returns to the table to grab Saracen and drag him to practice. When Saracen clowns around on the field, Taylor angrily demands he get his act together and pretends he doesn't smell alcohol.During a last minute driving lesson, Tami asks Julie if she wants to join the volleyball team, but she doesn't.
The next day at school, Saracen is hung over, as Landry prattles on about the possibility of Jean as his future girlfriend. When Smash joins them, both he and Landry rail Saracen for hanging out with Riggins. After another volleyball victory, Tami invites the team back to the house. Julie shows up in the middle of the victory celebration and angrily slams the door to her room. Tami confronts her, thinking Julie's jealous, until Julie explains that she waited over an hour for Tami at the DMV. Mortified, Tami apologizes.
Tami runs up as the DMV guy is locking up, aware that they're not supposed to close for another ten minutes. She begs him to test Julie, explaining that she needs to redeem herself, or Julie won't trust her again for a long time. The tester relents, and a tearful Tami and Gracie watch Julie drive off. Living it up, Riggins and Saracen get drunk at a strip club. Riggins has just purchased lap dances when Saracen gets a message that his grandma is in the hospital.
Smash visits Taylor to show him a letter from TMU. His scholarship's been revoked due to questionable character - the mark of death on his future. Lap dancer Chastity drops Saracen at the hospital. Landry and Jean exit the movie theater and run into Tyra, who asks to talk to Landry alone, asking him to give them a shot. Landry points out that he's on a date, and Jean isn't embarrassed to be seen with him. Tyra apologizes and backs off. When Landry returns to Jean, she kisses him, aware that Tyra's watching.
At home, Smash throws away all his football stuff, then cries in Corinna's arms. Taylor is called to the hospital to pick up Saracen and his grandma. After putting Grandma to bed, Taylor grabs Saracen and throws him into the shower, telling him to stop being selfish and feeling sorry for himself. Saracen claims that everyone leaves - is there something wrong with him? Taylor assures him there's not.
Landry breaks up with Jean, despite her pleas that he's making a mistake, and heads over to Tyra's for a fantastic reunion kiss. He's got to go to the game, but she promises to see him afterwards. Smash comes by the locker room to wish everyone good luck, explaining that they need to win or he may never play again. Saracen yells that they don't care what the board said, Smash is part of the team, and he should play.
Smash steps up. He can't play, but he's still Captain. If the team can get to the play-offs, he'll be back on the field. He reminds the team that they're still state champs, and pumps them up for the game. Everyone runs onto the field, leaving Smash to break down alone in the locker room.