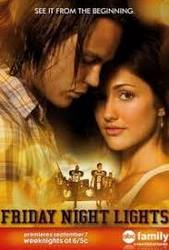 TV Info
---
Episode Premiere
January 25, 2008

Distributor
NBC, DIRECTV

Genre
Drama, Sport

Show Period
2006 - 2011

Production Company
NBC Universal, Imagine, UMS, Film 44, 101 Network


Cast and Crew
---
Director
Jeffrey Reiner
Screenwriter
Carter Harris
Main Cast
Additional Cast
Cory Hart
Dan Braverman
Joey Oglesby
Aaron Spivey-Sorrells
Synopsis
---
Street and Herc visit the mechanic at Buddy's dealership. When Street learns that the truck Herc sold him needs a new transmission that will cost $4000, he attacks Herc. Buddy steps in to offer Street a job selling cars. Riggins runs into Guy and his friends at the convenience store. Knowing Riggins stole his money, Guy beats him up with a six-pack of beer, and demands the return of his money by the end of the week, or he'll shoot Riggins' knees off.
The cops visit Corinna's house to arrest Smash for assault stemming from the incident at the movie theater. Over breakfast, Taylor persuades Tami to stand in for the girls' volleyball coach, who just quit. Julie smirks that the team hasn't won a game all season, as Taylor rushes to the police station to check on Smash. Buddy introduces Street to his sales team. He tells them to treat Street like family and show him the ropes, but they think his wheelchair will cut into their sales and they abandon him.
Corrina, Smash and Taylor meet with a lawyer. Smash tells them the white guys at the theater were talking smack to Noannie, but Corrina maintains that he should have walked away. If Smash tells the truth, the lawyer predicts a messy trial. Smash refuses to apologize, but Corinna insists they listen to the lawyer - maybe they can make the whole thing go away by cutting a deal. Later at a press conference, Smash takes responsibility for the incident and apologizes.
Tyra finds Landry doing homework with nerdy brainiac Jean and gets a little snippy. When Jean leaves to get a coke, Tyra lays into him for seducing a 12-year-old, but he claims they've been paired up on a physics project. During a musical mass, Lyla rocks out in the audience, watching Chris on stage. Riggins shows up, asking her to talk, but she wants to know what happened to his face. Finally, Lyla agrees to see Riggins later, but only if he promises to leave the church.
Riggins helps Tami with the girls' volleyball team, which sucks badly. Street is about to sell his first car, when he is accosted by number-one salesperson, Annabelle. She claims that there's a point system in play and scoops his sale. While having dinner at the Taylor's, Tyra asks Julie about Jean. Realizing that Tyra is 5'11", Tami recruits her as a spiker for the volleyball team, claiming it will look good on her transcript. Julie seems pissed.
Chris asks Lyla to hang out after church, but she lies, telling him she has to babysit. Riggins waits for her with flowers, candles and a chicken dinner. When Lyla spies his preparations, she takes off. Riggins chases after her, to tell her that he loves her, asking her to look him in the eye and react with brutal honesty. Lyla claims she doesn't feel the same way and tells him to move on.
Tyra gets the hang of volleyball quickly, but she's still missing power. Tami tells her to find something that makes her crazy and make it the ball - then smash it! Tyra scares Riggins with the ferocity of her spikes. Street spends two hours trying to sell Gerald, who finally walks out, unable to make up his mind.
Buddy finds Street depressed, thinking that he's terrible at selling cars, and the crew hates him because he messed up the point system. Buddy explains that there is no point system, and that Gerald comes in every week but never buys. He gives Street a pep talk, telling him to refocus. It's just a job, some days are good, some not so good.
Landry and Jean are at the steakhouse, surprised when Tyra is their waitress. On a mini-golf date, Lyla tells Chris that she lied about babysitting, and confesses to sleeping with her paralyzed ex-boyfriend's best friend. When Lyla insists that she has no feelings for Riggins, Chris kisses her and suggests they go for ice cream.
Noelle stops by Smash's house to apologize for everything that's happened, worrying Noannie, who knows that Corinna has banned Noelle from the house. When Noannie picks up a racist crank call, Smash demands to know what was said. Crying, Noannie wants to know if it's her fault, as Smash tries to comfort her. When Gerald returns to the dealership, Street sells him a new truck.
During a football party at a restaurant, Smash's press conference airs on TV, followed by a rebuttal from one of the kids at the theater, Adam, who claims that arrogant thug Smash attacked them because they're white and have money. When a reporter shows up, Smash holds back, but winds up telling him that Adam and his friends were sexual and threatening towards his sister and didn't deserve an apology.
Lyla stops by Riggins' house to give him the money to return to Guy and say goodbye. Riggins doesn't want to take the money, so she drops it on the floor and leaves. Tyra kicks butt during the volleyball game, leading the team to victory. Riggins and Billy return the money to Guy, who insists they come in while he counts it. When Billy tells Guy never to touch Riggins again, a fight breaks out. Riggins pulls Billy out of the house, as Guy and his friends chase them with guns.
Smash returns home to find Corinna and Taylor waiting for him with serious looks on their faces. The board called, having decided to suspend Smash for three games, the remainder of the regular season. Unsure if this happened because he told the reporter the truth, Smash wants to know how the team will make the play-offs.