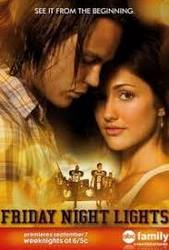 TV Info
---
Episode Premiere
January 04, 2008

Distributor
NBC, DIRECTV

Genre
Drama, Sport

Show Period
2006 - 2011

Production Company
NBC Universal, Imagine, UMS, Film 44, 101 Network


Cast and Crew
---
Director
Jeffrey Reiner
Screenwriter
David Hudgins
Main Cast
Additional Cast
Kate Krause
Jana Kramer as Noelle Davenport
Katherine Willis
Synopsis
---
It's pouring rain, the TV's showing tornado alerts, and Shelly's out of formula. Riggins offers to go to the store, and Julie decides to come along. She asks if he's going to the Fall Formal on Friday night, but neither of them have a date. Although it looks as if the weather has cleared up at the store, a siren goes off. Riggins grabs Julie and holds her as the tornado hits, blowing out all the windows.
Tami comments that the tornado has taken out neighboring Laribee High School, along with the Taylor's cable TV. Instead of TV, Julie and Shelly watch Riggins do sit-ups in the yard, disgusting Tami. She wants to know how long Riggins is staying, because she doesn't want him around Julie. Taylor's pissed that the Principal wants him to let the Laribee team share practice facilities. Besides, he likes having Riggins around the house, since it evens up the gender teams. He tells Tami to show a little more charity.
Pam tells Lyla that she's going to marry Kevin, happily showing off her new engagement ring. Reporters show up for the arrival of the Laribee team, wondering how Taylor's going to handle everything, considering that the teams are district rivals, scheduled to play against each other in two weeks. Smash can't stand Laribee's arrogant QB1, Chip. Landry tries to take Tyra's hand during lunch, but she shies away and excuses herself, claiming she's in a bad mood.
Buddy has a great time hanging out with his kids at the arcade, until Lyla tells him that Pam is marrying Kevin. Taylor calls both teams to a meeting to explain how they'll split the facilities. Laribee coach Donald Dickes lives up to his name, claiming the weight room isn't good enough for his wife and accusing Taylor of ditching TMU.
Claiming that he and Tyra have a beautiful thing, which is news to Julie, Landry asks for her advice. Should he get roses or carnations for Tyra's corsage? Julie tells Landry to ask Tyra himself. Meanwhile, Chip strokes Tyra's shoulder. She tells him never to touch her and leaves. Chip yells after her, asking her to go to the dance. Tyra bumps into Julie, who gossips that someone told her that Landry and Tyra have a thing. Tyra hedges that it's more complicated. She likes Landry, but...
When the Laribee team screws with the team's gear in the locker room, the Panthers start destroying their stuff. Taylor walks in and throws a fit, ordering his team to clean the locker room immediately.On the field, Taylor tells Dickes to tell his players to respect the Panthers. Dickes thinks it was just a harmless prank, but Taylor explains he's trying to avoid an explosive situation. Landry drops by work to ask Tyra to the dance, and she tells him that she's already going with someone else.
Tami, Riggins, Julie and Shelly are all doing homework. When Riggins pulls a beer out of the fridge, and offers Shelly $50 to do his homework, Tami flips and kicks everyone out. She gets even madder when Shelly tells her to lighten up. Over beers at the laundromat, Buddy tells Taylor not to let Dickes get to him. Buddy asks Taylor for advice about Pam, then decides to go get her back.
Julie and Riggins hang out doing homework at a BBQ place, when Julie spies Saracen and Carlotta making out in the car. They've only came to pick up food, but Julie insists on leaving, confusing Riggins. Buddy tells Pam that he's never stopped loving her. She's never stopped loving him either, but it's over and she's happy now. She gives Buddy a kiss, tells him it's going to be okay, and shuts her door.
Tami is annoyed to be awakened at 5 AM by Taylor and Riggins playing ping pong. When Landry spies Chip talking to Tyra in the lunch room, he starts a fight, which quickly escalates into a brawl between rival teams, crowned by a food fight. Taylor runs the Panthers up the bleachers while screaming that they're going to pay for the damage. Dickes stops by to ask Taylor if he doesn't think he's being too hard on his team. Taylor tells Dickes that he'll coach his own team.
Shelly brings home a new coffee maker and a new shirt for Riggins. Tami lays into her, asking why she's being all flirty with him and refusing to grow up. No wonder Shelly's single. Shelly wonders how Tami can be comfortable having her care for Gracie if she's such an irresponsible slut, and goes to her room.
In the locker room, Riggins finds that his shirt has been peed on. He confronts the other team, and punches the guilty party. Dickes knocks Riggins to the floor. Taylor runs in to throw Dickes up against the wall, promising if he touches another player, he'll never coach another game. The next morning, Riggins thanks Taylor for helping him out, and they shake hands.
Landry and Julie hang out at a house party on Friday night instead of going to the dance. After Julie advises Landry on relationships, Riley steps in to play quarters with her. Landry spies Tyra sitting alone at the dance. She explains that she's never felt this way about anyone and it's freaking her out. She just needs time to figure it out.
Landry tells Tyra that she's better than the girl who sits alone because her date is too stupid to stay sober. He tried to show her that, but he doesn't know how to make her see, and can't keep waiting around. He leaves, and Tyra cries. When drunk Julie is getting too sexy with Riley, Riggins pulls her out of the party and takes her home to bed. Taylor stumbles upon this scene, and misunderstands. Despite Riggins's attempts to explain, Taylor kicks him out of the house.