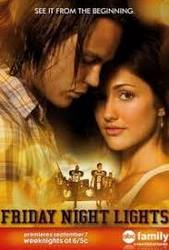 TV Info
---
Episode Premiere
November 02, 2007

Distributor
NBC, DIRECTV

Genre
Drama, Sport

Show Period
2006 - 2011

Production Company
NBC Universal, Imagine, UMS, Film 44, 101 Network


Cast and Crew
---
Director
David Boyd
Screenwriter
Patrick Massett, John Zinman
Main Cast
Additional Cast
Benny Ciaramello
Blue Deckert
Libby Villari
Synopsis
---
Lyla arrives in Mexico only to learn that Riggins didn't tell Street she was coming or that the two of them have been partying. Taylor puts Grace to sleep and fills the bedroom with candles, hoping to get Tami in the mood. He wonders if the doctor has given her the "green light," but Tami has another kind of good time in mind - she sends Taylor out of the bedroom so she can have a peaceful night's sleep.
Saracen bumps into Julie in the cafeteria. It's an awkward conversation, but she's finally making an effort. Landry tells Saracen not to get back together with her. Football practice is going terribly, so Taylor has offense and defense switch and play for fun. Taylor notices Landry's energy on the field then punishes Smash and Saracen when they get in a fight.
McGill asks Taylor how things are going at home - are he and Tami back in the saddle yet? He advises Taylor to set up a girls' night for Tami, and bring her some flowers. Tyra tells Landry about her trip to the police station. She's freaking out, but Landry remains calm. Chad asks detectives about Tyra, and they admit that she's a "person of interest" in their murder investigation.
Riggins catches Lyla getting into a cab to leave. She wants to know Riggins's plan to dissuade Street from getting the stem cell treatment. He's set up a booze cruise, thinking this would be a good time for them all to talk. Lyla's disgusted. Riggins calls her out for being un-Christian. Lyla agrees to stay, but only if Riggins will man up and not leave her to do the intervention on her own
.Taylor cleans up and has breakfast ready when Tami wakes up, claiming there's gonna be some changes around the house. He's sending her to a book club, so she can relax with her friends. Chad confronts Landry. How come Landry didn't tell him that the dead guy in the river tried to rape Tyra? Landry claims Tyra doesn't want to talk about it and he knows nothing, but Chad has his doubts.
Taylor makes his famous chili for Smash and Saracen in an effort to broker peace between them. After denying anything's wrong, the guys start fighting, and Saracen huffs out. Tami comes home affectionate and relaxed after her book club, laughing that all the women had a six-week story - when your husband wants to have sex before you're ready. Her breasts hurt, and she leaves to pump milk.
Julie has an extra concert ticket, and asks Saracen to go. She says it's not a date, and he says "yes." Taylor pulls Landry aside to tell him to be ready to play Friday night. Chad stops by Tyra's messy house where stripper Mindy is walking around in her underwear. He's there as a father, not a cop. He knows Landry is lying, and he's not going to let Tyra drag him down. Chad orders Tyra to stay away from his son.
Lyla and Riggins confront Street on the booze cruise. He says he doesn't care about the risk of dying on the operating table. Lyla tells him that God has a plan for him and everything happens for a reason, but Street doesn't want to hear it. Riggins refuses to go home with Street in a body bag, promising to knock him out and drag him back to Dillon if necessary. Left on his own, Street throws himself off the boat.
Street swims to a nearby beach where Lyla and Riggins pick him up. He laughs, having decided not to have the surgery and they head back to Texas. Its Friday night and its Taylor's first game back in the driver's seat. He puts Smash and Saracen on the bench. Furious at half time, Taylor demands an explanation for the terrible playing. Landry offers that the team may have forgotten that they are the sum of their parts, and they can either win together or lose alone.
Taylor puts Landry on the field, and he stands out. But the team is still losing, so Smash and Saracen resolve their differences, hoping to persuade Taylor to put them in the game. He puts them in with 17 seconds left to play. Saracen throws a pass to Landry, who's tackled as the buzzer sounds. The ref throws a penalty flag, declaring one more offensive down. Smash makes the touchdown for the win.
Everyone's cheering for Landry at the after-party when Tyra arrives to say she doesn't want to see him anymore. Landry wants to leave the party and talk it over, but Tyra cruelly puts an end to it, then cries alone in her car. Saracen tells Julie that he's not going to the concert with her, because he's pissed at her for cheating and not even saying she's sorry.
Lyla, Riggins and Street stop over at a motel on the way home from Mexico. Lyla dances with Street, then Riggins. When things get a little too hot, she leaves to pray. After the game, Tami asks Taylor if he wants to fool around, and they race to the bedroom.