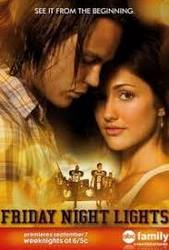 TV Info
---
Episode Premiere
October 26, 2007

Distributor
NBC, DIRECTV

Genre
Drama, Sport

Show Period
2006 - 2011

Production Company
NBC Universal, Imagine, UMS, Film 44, 101 Network


Cast and Crew
---
Director
Jonas Pate
Screenwriter
David Hudgins
Main Cast
Additional Cast
Whitney McCauley
Joey Truty
Benny Ciaramello
Eleese Lester
Peter Malof
Synopsis
---
Street shows up for his appointment in Mexico, but the doctor is on vacation. He and Riggins will have to hang out and wait a week. MacGregor's running strategy featuring Smash backfires, and the Panthers lose a game, which ends in a brawl. Buddy fires MacGregor offering to pay him for the season, hoping they can part with good will. MacGregor is not going to go without a fight, and he has no good will.
Lyla visits the State School for Boys to do Christ Teen Messenger peer counseling. The boys are rude and skeptical. Brooding Santiago offers the truth: people like Lyla are always pretending they care, but when they see people like him on the street, they turn their backs. Riggins is tired of hanging out in a Mexican hotel room for a week, and puts Street into his chair to go out on the town.
Julie just got her learner's permit, and asks Tami to take her driving. Tami can't do it now, the baby's almost asleep. Julie demands to know why it's always about the baby, and Tami accuses her of being a brat. Claiming she hates Tami, Julie huffs out, promising to go on a forbidden date with the Swede to spite Tami. Grace starts bawling again. Tyra has dinner with Landry and his parents. Everything is fine until Chad is called down to the station - a body has just been pulled out of the river.
Taylor gives TMU Coach Boyd his notice, offering to help with the transition. Boyd isn't interested in Taylor's exit strategy. If he wants to go, he should go now. He just hopes Taylor knows what he's doing. Landry is uncomfortable in church during a sermon on King David, who thought he could get away with murder. He tells Tyra that everyone in church knew about him, and he wants to turn himself in. Tyra thinks they don't have a choice, but Landry knows they do. Still, they're in it together.
Santiago is released from the School for Boys. Seeing him walking, Lyla offers a ride, explaining that she's trying to put her money where her mouth is, and help him. His parents were deported to Mexico two years ago, leaving him with an uncle, who's been a bad influence. Now Santiago needs a job as a condition of parole, or get sent back to the school. Lyla drops him at a trailer park and asks for his phone number.
Riggins wants to know why Street's surgery hasn't been approved in the U.S. Street claims it would take forever to get it legalized. Drinking in the street, Riggins is stopped by a cop. He offers a bribe, but the cop locks him up. Street angrily bails him out with his surgery money. Julie and Tami are overjoyed when Taylor returns for good. Buddy pulls into the driveway to inform Taylor that MacGregor has hired a lawyer to fight his termination. Taylor can't take another college job for two years, and Buddy promises to fix things.
Lyla asks her mom to give Santiago a job painting the garage, but Pam refuses, thinking it's not safe. Taylor gives Julie a driving lesson, and asks her about the Swede. She thinks he has bigger things to worry about, like his job, but he tells her that's none of her business. As their conversation escalates, Julie almost gets in an accident, claiming she can't drive when Taylor's yelling at her.
Dr. Rimbaud schedules surgery for Thursday, and will start injections of embryonic shark stem cells first. Riggins asks why the surgery isn't approved in the states, and Rimbaud explains that the FDA is a bunch of crybabies. Landry has a burger with Saracen, when some serious-looking cops come in. They just want to talk football, but Landry gets so wigged he can't finish his food.
MacGregor brings his lawyer to a board meeting to contest his termination, claiming no one offered him a reason. Buddy explains that MacGregor abandoned Dillon tradition offending boosters, parents and players. Last week a fight broke out on the field! The lawyer points out that MacGregor won that game, but Buddy claims they want a coach who wins seasons, not games, and MacGregor's not getting the job done. MacGregor is fired, end of story, and the board is in unison.
Tami and Taylor decide to make a fresh start, telling Julie she's no longer grounded, as long as she behaves the way she knows she should. She congratulates Taylor and shows him the front page of the paper: MacGregor has been fired, and Taylor has his old job back. When Buddy drops the kids off at Pam's she tells him her concerns about Lyla and Santiago. Buddy promises to take care of it.
Tami and Julie argue during driving lessons. On a break, Tami tells Julie about an older guy she obsessed over in high school. She gave him her virginity and thought they would be boyfriend and girlfriend, but the next day, he treated her as if she didn't matter. She knows that Julie thinks the Swede likes her, but he doesn't love her, and that's the difference. Buddy interviews Santiago, who has no experience with cars, but promises to work hard. Lyla vouches for him, so Buddy gives Santiago a job.
Julie knocks on the Swede's door. He lets her in, even though he forgot they were supposed to hang out. She looks around his apartment with fresh eyes, as if seeing the bongs, the empty cans and dirty dishes for the first time. Julie starts to cry, claims she feels sick and leaves. At home, Tami notices Julie crying and gives her a big hug. In Mexico, Street drinks heavily and sings karaoke at a cantina, convinced he will walk tomorrow after his injection.
Tyra's mom Angela gets a call from the police, asking her to bring Tyra down to the station. A crying Tyra identifies Mike - he's the one who tried to rape her, which is news to her Mom. Detective Wills assures Tyra that's all he needs, but Tyra sees Chad looking at her with questions in his eyes. When Street passes out at the hotel, Riggins calls Lyla, asking her to come to Mexico. He's not drunk, he just needs her help.
The doorbell rings when Tami and Taylor are having dinner. MacGregor is stopping by on his way out of town to congratulate Taylor. He's been a coach for a long time, and has been fired before, but this is the first time he's been screwed over by another coach. He knows Taylor was involved in the conspiracy, and wants him to know that he has a family too, and he'll be seeing him around. The next day, Taylor puts on his cap, and gets back in the saddle as coach of the Panthers.