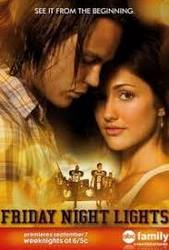 TV Info
---
Episode Premiere
October 12, 2007

Distributor
NBC, DIRECTV

Genre
Drama, Sport

Show Period
2006 - 2011

Production Company
NBC Universal, Imagine, UMS, Film 44, 101 Network


Cast and Crew
---
Director
Jeffrey Reiner
Screenwriter
Liz Heldens
Main Cast
Additional Cast
Synopsis
---
Baby Grace won't stop crying, so Tami calls Coach Taylor in the middle of the night. Taylor's not happy on the job, because he's not part of the inner circle. Tami advises him to become indispensable. Landry calls Tyra at 3 AM in a panic - his watch is missing, and it's engraved with his name. They return to the bridge, but it's no use.
Antwone has to go before the Infractions Committee for accepting gifts and is about to get suspended. Boyd asks Taylor to escort Antwone to the hearing. Uptight science teacher Glen visits Tami, asking for help with guidance counseling. Glen has been subbing for Tami while she is on maternity leave and he just doesn't get it. He comments on her messy house, so she reminds him she just had a baby. Tami tells Glenn that he just has to connect with the kids, then fails to connect with Julie who brushes off any attempt at conversation with her mother.
It's the first day of school, and Landry stops by to pick up Saracen, who can't understand why Julie won't return his calls. A package arrives for Grandma - she's ordered a $4000 tiara! Saracen calls the insurance company on the way to school, demanding to know where the live-in aid they promised him is. He's put on hold, just as he notices Julie. She tells him to call her later and takes off.
Buddy attends a booster power breakfast, and is shocked to learn that Friday's pep rally will be held at Lester's ranch, not at Garrity Motors as usual. MacGregor explains that Buddy's got a lot going on right now, and they want a wholesome affair - they hope he can attend. In the school cafeteria, Lyla hangs out with the Teen Christ Messengers, as Riggins enters and shares a long kiss with one of his girls.
MacGregor complements Smash at practice, and lays into Riggins, who tackles Landry several times in a row. Landry's Dad complements him on his playing. He's proud of his son, even if Landry can't feel his right ear. Jason visits the doctor. He can now make a fist - maybe it's a sign that he'll walk again. The doctor assures him it isn't. A fellow quad, Steve, suggests Jason might want to check out experimental stem cell surgery in Mexico.
Coach Taylor turns off Antwone's loud hip hop, asking him to rehearse what he's going to say at the hearing, but Antwone doesn't care and isn't sorry. Tami calls, interrupting. She's walking Grace to school in 105 degree heat to keep her from crying. She puts Taylor on the phone with the baby, then hangs up abruptly. Antwone wonders what Taylor is doing with him when he has a new baby at home.
Buddy goes to Pam's to pick up the kids, distraught to find that she's boxed up all his trophies and put them on the curb. An argument ensues, which Lyla ends by announcing it's time to leave. Julie stops by the pool to get her paycheck. The Swede pats her on the head, telling her not to grow up too fast - she's going to be a heartbreaker. Saracen calls Julie from work, but she doesn't answer the phone.
Tami drops by Glenn's office with fussy Grace. He criticizes her taking the baby for such a long walk in the heat. Thinking he's called her a bad mother, Tami cries, frightening Glenn. How dare he judge her!? He apologizes and offers a glass of water. Later, Jason tells Tami that she has been in his dreams, telling him to get up and walk. He thinks this means he will walk again and thanks her.
At a diner, Antwone takes a cell phone pic of Coach Taylor to send to Grace, and Taylor explodes. Antwone has so much talent and all he does is take free stuff and let his team down. Taylor doesn't think he deserves to play. Landry is just asking his own personal Rally Girl if she believes all humans are capable of evil when Tyra pulls him away, demanding that he pull it together and act like a man. Landry can't stop hearing Mike's skull crack. He would do it again in a heartbeat, because he's in love with Tyra.
Antwone apologizes sincerely to the board, explaining that he'll never make another mistake. Taylor takes over, promising that if Antwone is allowed to play the season, they'll take away his crap and make his life miserable so he won't wind up a selfish, undisciplined punk. Saracen returns home to find that the live-in aid, young spitfire Carlotta, has arrived. She's turned off Grandma's TV, thrown out her tapioca, and found Saracen's nudie magazines under the bed. Things are going to change!
Boyd calls Taylor into his office. Antwone's only been suspended for three days, thanks to Taylor. Julie accepts the Swede's offer of a ride to the pep rally, giving him a sensual kiss on her way out of his van. Smash is king of the pep rally, leading everyone with a rap while Saracen looks on from the back. Julie tells Saracen that nothing seems right anymore and she needs some space. He walks away leaving her crying.
Buddy drinks heavily at the pep rally, jealous of Lester. When he starts getting out of control, Lester tries to step in and a fight starts. Riggins pulls Buddy out of the fray, as Buddy laments that he's lost everything. When Buddy falls in the mud, Lyla runs up telling Riggins to leave. When she can't pull her father up, she relents, asking Riggins for help. They take Buddy home to bed. Riggins tells Lyla that her father isn't a drunk: he's just sad.
Grace is feeling feverish, so Tami winds up in the emergency room. When the doctor asks if she has anyone to call, she breaks into tears and calls Glenn. It may not be Glenn's business, but whose idea was it to raise a baby while living apart. Tami admits it was her stupid idea. Tyra shows up in Landry's bedroom. Maybe something's wrong with her, but she wishes she killed Mike. If anything happens to Landry, she'll never forgive herself. They cry and hug, and share their first kiss.