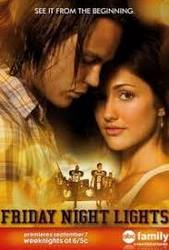 TV Info
---
Episode Premiere
April 11, 2007

Distributor
NBC, DIRECTV

Genre
Drama, Sport

Show Period
2006 - 2011

Production Company
NBC Universal, Imagine, UMS, Film 44, 101 Network


Cast and Crew
---
Director
Jeffrey Reiner
Screenwriter
Jason Katims, Patrick Masset, John Zinman
Main Cast
Additional Cast
Jae Head
Brooke Langton
Stacey Oristano
Synopsis
---
Smash gets a crowd pumped up at a Panther's rally for Saturday's state championship against the Mustangs. Some of the players talk to the press and Smash says that it's destiny for him to face off against Voodoo. Tyra asks Landry if he wants to go with her to Dallas to watch the game with Tim's VIP tickets, and he accepts.
On her way to the rally, Tami stops by a clinic to ask for a pregnancy test. Smash's mom takes her into a room to administer the test and the results come in: she's "extremely pregnant."
Landry has Matt taste some chocolates he bought to bring on the car ride to Dallas, believing that chocolate is an aphrodisiac. He tells Matt that his grandmother will have to take the bus to Dallas so he can have his ride alone with Tyra. Meanwhile, Tim gives Jackie the tickets he promised to Tyra.
Julie admits to her dad that she told Matt about the move to Austin. Tami pulls Eric aside to tell him the news, but decides that it can wait until Dallas. Later, as the team boards their tour bus, Tyra asks Tim for the tickets and he admits to giving them away. Instead, he gives her four nosebleed seats.
Landry shows up to pick up Tyra and is disappointed to find that her mom and sister are now tagging along for the ride. Tyra's mom devours the chocolates, which make her "feel tingly all over." On the way, they pause at the bus stop to pick up Matt's grandmother.
The Panthers arrive in Dallas and are awestruck by the immensity of the stadium and seeing their names on their lockers. It's truly a magical moment for them all. "Soak it in," says Coach Taylor. The Mustangs come out onto the field as well, but Coach Taylor reminds his team to keep cool heads. When the press arrives, Taylor is thrown a curve ball when he's asked about taking a position at TMU and he's forced to admit the truth in front of his stunned team.
Lyla drives to Garrity Motors to give the keys back to a car her dad got for her. In her "new" used car, she heads to the state game, but her car soon breaks down. A miserable Landry spies Lyla on the side of the road with her broken down car and stops to pick her up. Tyra gets out of the car and has it out with Lyla about her dad sleeping with her mom. When Lyla confesses that Jason got with someone else, the two young women bond and begin to patch up their differences. Lyla then hitches a ride in Landry's car.
At dinner that night, Eric puts his foot in his mouth when Buddy asks to speak with him alone. Before Buddy says a word, Eric harshly defends his decision to take the new job, but all Buddy wanted to say was how much he'll miss him. Eric then gets up before the team to talk about his dreams to coach college ball and apologizes for the way the news came out.
Voodoo pulls Smash aside to try and recruit him onto his team by playing the race card. Smash says, "I'm a Panther," and walks away. Later, Matt has some private words with Coach about the TMU job and taking Julie away. Coach returns to his hotel room where Tami pulls him aside to tell him that she's pregnant. Coach Taylor is overjoyed at the news.
The Panthers and the Mustangs take the field and the State Championship begins! It doesn't start well for the Panthers with Matt constantly fumbling the ball. Moments later, the Mustangs score two touchdowns. Matt tries again, but the ball is intercepted and the Mustangs score a third time.
During halftime, Coach Taylor gives the team a pep talk to reinvigorate them. "This battle is not over. Let's hear it one more time... clear eyes, full hearts, can't lose!"
The second half gets underway and Matt starts to come alive. Smash scores a touchdown, putting the Panthers on the board. They soon score again, putting them back in the game. Saracen unleashes a big pass for a third touchdown, but Smash hurts his shoulder. The doctor advises him not to play, but Smash goes back, anyway.
With six seconds left, Coach Taylor stops the clock. Matt tells him he's "got the play," and Taylor lets Matt take the gamble with an 18-yard lateral pass. Matt runs the play, and as the fans cheer, and Tim passes the ball, Smash catches it and runs it to the goal line for a Panther victory!
After the game, Tyra catches Lyla throwing her cheerleader uniform away. "I think it's time for a change," Lyla says. She then asks Tyra to ride home with her. In their hotel room, the Taylors celebrate the win, and Eric tells Tami that he's decided to stay in Dillon. Tami shakes her head "no," insisting that he go to Austin to live his out his dream while she and Julie remain in Dillon.
The Panthers arrive home to Dillon and the whole town comes out to celebrate their victory. Later, Eric listens to negative press about his decision on the local radio, but when he arrives back to the school, the team is there to give him a standing ovation.