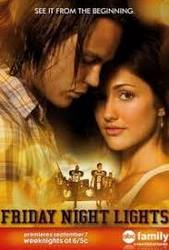 TV Info
---
Episode Premiere
April 04, 2007

Distributor
NBC, DIRECTV

Genre
Drama, Sport

Show Period
2006 - 2011

Production Company
NBC Universal, Imagine, UMS, Film 44, 101 Network


Cast and Crew
---
Director
Jeffrey Reiner
Screenwriter
Carter Harris, Kerry Ehrin
Main Cast
Additional Cast
Synopsis
---
Tami wakes up with the feeling that they shouldn't move to Austin and asks Eric not to commit to TMU when he meets with them that afternoon. Across town, Tim sneaks out of Jackie's bedroom and then runs around to the front door to pick up Bo.
Coach Taylor tours TMU's impressive facilities and the staff forces him to make a decision or they'll withdraw the offer. Backed against the wall, Eric accepts.
Landry ditches calculus to check up on Tyra, who has been missing school, but she doesn't want to talk about what happened. She tells him not to say anything to anyone and he goes away. Back at school, Smash and some other football players worry about a comedy "roast" they have to do, and Waverly tells Smash that she can't go.
After accepting a job coaching for Dillon, Jason runs into Suzy at the city clerk's office. She's going to be in Dillon for a couple weeks and they make plans to have dinner on Thursday. Meanwhile, Landry spills the beans to Matt about Tyra, and Matt insists that he tell someone what happened.
Eric comes home and tells Tami that he was forced to accept the offer. The news doesn't go over well with Tami and especially not with Julie, who walks over to Matt's to let him know that she's moving.
Taylor hands Matt off to Jason for some extra practice before the big championship game in Dallas. Meanwhile, Landry tells Tami what happened to Tyra and she goes to pay her a visit. Tami takes Tyra to the police to file a report - a painful, degrading experience. Outside the police station, a teary-eyed Tyra rips into Landry and tells him never to talk to her again.
An exuberant Coach Taylor comes home to find Julie and Tami moping about. Julie goes to her room, which gives Tami an opening to suggest that she and Julie should stay in Dillon until Julie graduates. Taylor angrily dismisses the notion of separating his family.
The Garritys are having problems of their own and tell their kids that they are getting divorced. Lyla, unable to deal with her parents' split, storms off in disgust. Meanwhile, Jackie calls it quits with Tim because she's worried that Bo will get hurt since he thinks of Tim as a father figure.
Waverly catches Smash flirting with some girls about the upcoming championship game. She pulls him aside and gives him a two-week "hiatus" while he's at State so he can have the time of his life.
Jason meets Suzy for their dinner date. Sitting in her truck afterward, they have an awkward conversation that leads to them making out. As they kiss, they are unaware that Lyla is in her own truck, watching them. Lyla soon approaches the truck, throws her engagement ring at Jason and ends their relationship.
Tim tells Bo that he's going to be too busy to hang out from now on, even if they are like brothers. After, Tim drives over to Tyra's to ask if she wants to go to the Panther roast with him as friends.
The roast gets started with Coach Taylor doing his best at comedy. Smash gets up to do his thing and gets several laughs. At the Taylors' table, Tami argues with Eric about not moving to Austin until it's time for her to get up and make a glowing speech about him. After the speech, Eric takes in the crowd's genuine warmth toward his wife.
Tyra apologizes to Landry for snapping at him the other day. Landry returns the apology by berating her for being friends with Riggins and a potential life of alcoholism, infidelity and dumb kids. He gets more and more passionate, saying that she should find a guy who really cares for her. But just when he's building up steam, Tim stops over and Landry leaves.
Smash turns down a party invitation to go over to Waverly's with a piece of cake from the roast. Elsewhere, Jason shows up at Lyla's house to talk "about some things," but she doesn't feel like they have anything to talk about. She asks him not to come back and closes the door on her face.
Eric apologizes to his wife for the way that everything played out, but says that Austin will be good for their family. Tami holds firm and says that she's not going to Austin - she can't leave Dillon behind.