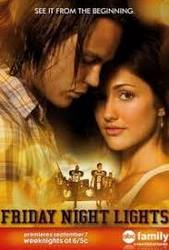 TV Info
---
Episode Premiere
February 28, 2007

Distributor
NBC, DIRECTV

Genre
Drama, Sport

Show Period
2006 - 2011

Production Company
NBC Universal, Imagine, UMS, Film 44, 101 Network


Cast and Crew
---
Director
Charles Stone
Screenwriter
Kerry Ehrin
Main Cast
Additional Cast
Synopsis
---
A Panther's win ensures their spot in the state semifinals. But all is not happy at the Garrity home as Buddy and his wife fight over his affair while Lyla tries to calm down her two little siblings. In Austin, Jason and Herc head out to party as Jason gets a call from Lyla. But after hearing Herc's catcalling in the background she simply tells Jason to have a good time and hangs up.
Tyra checks on her depressed mom, Angela, who is spending all her time in bed watching romantic movies. Even all the sleeping pills she's taking don't seem to help. At the Williams's house, Waverly sneaks into Smash's bedroom for a little romantic rendezvous and a late-night swim.
Tami and Eric Taylor arrive home to find Buddy Garrity on their porch. He asks if he can sleep on their couch for a few nights and Coach Taylor is forced to agree. At a Panther house party, Riggins' new neighbor Jackie Miller stops by and asks Tim to turn down the music.
Jackie's little boy Bo finds Tim working on his truck and nursing with a nasty hangover. Bo is in awe of Tim and of the Panthers, but he doesn't understand what a hangover is or why Tim is being so short with him. Tim finally gives in to Bo's enthusiasm and teaches him how to throw a football.
Lyla surprises Jason in Austin, and breaks down in tears when she tells him that her parents might be splitting up. In his room, she's surprised to see how happy Jason is, but is even more stunned when she discovers his new tattoo. That night after downing a few too many drinks at a quad rugby party, Lyla exchanges harsh words with Herc and Susie, the girl who gave Jason his tattoo.
Coach Taylor tells his wife that Kenny, the athletic director from TMU, called and wants to have dinner with them to talk about the future. They have to keep this news from Buddy, who just brought groceries home so Tami could cook him pork
Jackie comes home to find Bo hanging out with Tim. Bo asks his mom if Tim can come over for dinner, and she agrees. At dinner, he learns about his mom's "fresh start" and her "dumb boyfriend, Hank" from the precious Bo, and she learns about Tim living alone with his brother.
With her parents off to dinner, Julie is forced to stay home with Buddy. It's an awkward situation made more awkward by his incessant questions about who her parents are dining with. She finally can't take it anymore and calls Tyra to come pick her up.
Waverly and Smash have dinner with some friends. She starts talking about black writers, stands up, and passionately recites a poem by Robert Hayden. She grabs Smash and starts kissing him in front of everyone. Later in the car, she tells a concerned Smash that she's stopped taking medication for a mood disorder because she doesn't like the way it made her feel.
Julie arrives at Tyra's to find a bunch of strippers drinking while Angela is passed out from sleeping pills. Tyra is visibly hurt when Julie says that her mom has forbidden her to see her. Matt and Landry arrive, and Angela soon comes stumbling out of her bedroom looking for a cigarette. She finds them by the coffee table and stumbles over, crashing into the glass table and injuring herself.
At dinner, Kenny tells Taylor that an offer for a coaching job at TMU will be coming his way. They're interrupted by a call from Julie, who asks her mom to come to the hospital to look after Tyra's mom.
When Eric Taylor gets home, Buddy reveals that he discovered his dinner with Kenny and tries to find out if he offered Taylor a job. "Not officially," Taylor says. Meanwhile, Tami makes sure Angela gets home OK, and Tyra has words with her about not allowing Julie to be her friend.
A drunk and tearful Lyla asks Jason if he loves Susie. She begins breaking down and says that "you're changing and I'm not changing with you. It's never going to last because I'm not changing with you." He assures her that he loves her and needs her and will not let her go without a fight.
Waverly calls Smash for him to come over. When he arrives, he finds her huddled up in the kitchen, crying her eyes out in the middle of a deep and severe depression.