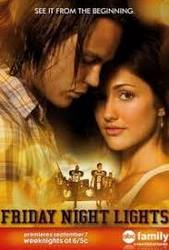 TV Info
---
Episode Premiere
February 21, 2007

Distributor
NBC, DIRECTV

Genre
Drama, Sport

Show Period
2006 - 2011

Production Company
NBC Universal, Imagine, UMS, Film 44, 101 Network


Cast and Crew
---
Director
Allison Liddi Brown
Screenwriter
Liz Heldens
Main Cast
Additional Cast
Synopsis
---
At a bar with his dad, a drunk Tim Riggins gets into a scuffle during a game of pool. Julie comes to Matt's house to do homework and she tells him that she thinks they should have sex. Matt enthusiastically agrees. Meanwhile, Jason arrives at the U.S. Paralympics registration and begins his first practice with the quad rugby team.
Tyra arrives at Billy's house and tells him that his brother is drinking again. Billy is indifferent and tells her that he's taken a trip down "rock bottom" before. Meanwhile, Mr. Garrity confesses to Coach Taylor that he strayed outside of his marriage and now his mistress wants more out of the affair.
Tami happens to see Matt buying condoms at the store and confronts her daughter about this. Julie tells her mom that she and Matt are thinking about having sex. Her mother breaks down and insists she is not allowed.
Julie tells Matt that her mother saw him buying condoms but she is still committed to losing her virginity. At practice, Riggins's dad has words with Coach Taylor. After practice, Coach discovers an expensive video camera is missing. Meanwhile, at a party, Jason befriends a girl he exchanged hostile words with at the Paralympics registration.
Coach Taylor gets information that Riggins's dad may have taken the camera. He confronts Papa Riggins with the information and he denies it. Riggins backs his father up. Meanwhile, Mr. Garrity ends his affair with Tyra's mom and fires her. Julie solicits Tyra's help, asking her what her first time was like.
Jason spends more time with the ink tattoo artist he met at the party and recounts his accident to her. They back to her tattoo studio and look at her collection of artwork. Meanwhile, cleaning out his dad's closets, Riggins discovers the missing video camera. He confronts his father and he says, "I was going to take that back". Angry, he asks his father to leave.
Julie gets ready for her big night. She arrives at a friend's cabin and tells a waiting Matt that they should "get down to it". Meanwhile, Coach Taylor discovers Julie's risqué lingerie purchase and confronts Tami. Tami tells her husband that she should have talked to him. They argue and Coach discovers that Julie has lied to them about her plans that evening.
Riggins shows up at Tyra's job at Applebee's and asks her to take a break, tells him she's too busy. Meanwhile, Julie and Matt's attempt at sex is disastrous and they agree to forgo it for time being. Tami and Coach Taylor sit at home anxiously awaiting Julie's return.
Riggins heads to the bar and runs into the pool guys he fought with. Tyra's mom tells her daughter she was fired. Tyra gets a call from the bar and goes to rescue Riggins who is in a full-out brawl. Meanwhile, Julie and Matt oversleep at the cabin and she arrives home two hours late.
Julie thanks her mother for the talk and goes to bed without an argument. At church the next day, Tyra's mom confronts Mr. Garrity and slugs him in front of shocked onlookers. Meanwhile, a bloody-nosed Riggins returns the camera to Coach Taylor that his father stole.