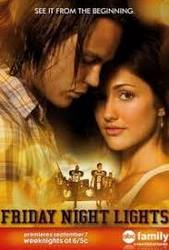 TV Info
---
Episode Premiere
February 07, 2007

Distributor
NBC, DIRECTV

Genre
Drama, Sport

Show Period
2006 - 2011

Production Company
NBC Universal, Imagine, UMS, Film 44, 101 Network


Cast and Crew
---
Director
Stephen Kay
Screenwriter
Carter Harris, Bridget Carpenter
Main Cast
Additional Cast
Whitney McCauley
Brett Cullen
Synopsis
---
When reporters remind coach Mac that Dillon was one of the last Texan teams to integrate players, he responds with a racial slur. He says that Smash and other African American players are "dangerous" like "junkyard dogs" and infers that white players make better quarterbacks.
The remark spreads through the media like a wildfire. Despite being "Mac"s target, Smash stands up for his coach. Smash and his mother tour a potential home that they need a loan for. Meanwhile, Tami reprimands Tyra and Julie for skipping classes. As penance, she orders them to play in the Powderpuff game.
Coach Taylor orders an unapologetic Mac to make a public apology. At the Powderpuffs practice, Julie finds herself surrounded by their new coaches, Matt and Riggins, who pick their teams. Reluctantly, Julie takes her place in Matt's team. Smash joins his girlfriend in the school cafeteria and everyone watches the Coach's apology on television. Disgusted with the racial slurs, Smash's girlfriend leaves.
Smash's girlfriend warns him that sooner or later "you're going to have to peek out from behind those blinders". Meanwhile, Jason has difficulty returning to school and dissecting a frog. Frustrated, the teacher tells him it's OK, but he insists on finishing the job. At Powderpuff practice, Tyra and Matt butt heads, and Matt asks Julie to play quarterback.
Tami warns Coach Taylor of increased tensions at school. She suggests a forum and Coach says it's a good idea. At football practice, racial tensions erupt when a slur is unleashed. Meanwhile, Jason takes a driving lesson with Herc where he confesses that he feels people are treating him differently and that he just "wants things to feel normal again".
At the diner, Matt tells Smash he doesn't think the coach's comments are "right". Riggins also confronts an incredulous Smash and asks him to talk to his "boys" to stop the "friction". Meanwhile, Coach and Tami confront a distraught Julie on her punishment for cutting class. Coach is overjoyed to find his daughter is a Powderpuff quarterback and they practice together in the front yard.
Tyra discovers her mother working "late hours" for Mr. Garrity. He joins Tyra's mother at the Powderpuff practice and Tyra confronts Lyla, saying that her father put his "dirty little hands" over her mom. Jason joins his friends in the National Rugby Quad squad at the bar and they invite him to a training session.
Smash accompanies his mother to a loan meeting and she is denied. He asks to talk to a supervisor but the loan agent refuses and Smash loses his temper. Jason breaks the news to Lyla about the quad squad, and she expresses concern that he may have to quit school.
Smash approaches Mac about his remark. The coaches issue an ultimatum: keep your mouth shut or you'll warm the bench on Friday night. Tami's racial forum is a disaster. The students begin arguing and a fight breaks out.
Tami tells Coach about the disastrous forum. On his girlfriend's suggestion, Smash begins checking out literature from black civil rights leaders. At football practice, the team stands unified. They ignore Mac's whistle and stage a walk-out led by Smash.