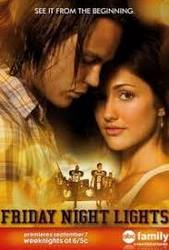 TV Info
---
Episode Premiere
January 31, 2007

Distributor
NBC, DIRECTV

Genre
Drama, Sport

Show Period
2006 - 2011

Production Company
NBC Universal, Imagine, UMS, Film 44, 101 Network


Cast and Crew
---
Director
Allison Liddi Brown
Screenwriter
David Hudgins
Main Cast
Additional Cast
Katherine Willis
Brett Cullen
Synopsis
---
Lyla and Jason have dinner with Lyla's parents but things quickly turn sour when Jason explains his interest in quad rugby and Mr. Garrity dismisses it as a "hobby." The argument exposes Mr. Garrity's anger toward Jason's lawsuit. In a fit of rage, Jason tells Lyla's parents that they're getting married.
Talk around town heats up concerning Smash's participation in Friday night's game. At Applebee's, Matt and Julie's romantic dinner is interrupted by an interview with the "star". Afterwards, Matt's friends "kidnap" the football star, leaving. Julie tentatively accepts.
Coach Taylor vents his frustration and anger towards Smash. Riggins appears in court for a speeding ticket. The Judge delivers an ultimatum: get a piece of paper signed by a parent or lose his license. Riggins tells him he'll have his father sign. Meanwhile, Tyra takes an impressionable Julie shoplifting.
Billy tries to convince Riggins not to see their father. Riggins goes anyway, finding his dad on a golf course with some friends. His father tells him he's "on the wagon" and signs the papers. Meanwhile, Julie begs her mom to go out on a school night and is permitted, providing she doesn't tell her father.
Parked in his jeep, Lyla and Jason argue about their imminent wedding plans. A disagreement develops into an argument about Lyla going to college. Lyla tells him, "I have a life, too!" and hints that she wants to call off their wedding. Meanwhile, at football practice, Mr. Garrity pressures Coach Taylor to put Smash back on the team.
Matt cancels plans with Julie in lieu of an upcoming television appearance and asks her to watch his grandmother. Disappointed, Julie agrees and he tells her she's the "coolest girlfriend in the world". Meanwhile, at a bowling alley, Riggins meets a friend of his father's who congratulates him on making it to the play-offs. She tells a beaming Riggins that his father speaks highly of him.
Matt makes his television debut and there is tension on the set. He begins with a charged question to Coach Taylor: "Is Smash gonna play on Friday?" and the Coach recoils. After the taping, Mr. Garrity pleads with Coach to talk to Jason about backing down on the marriage plans. Meanwhile, Julie and Tyra watches Matt's grandmother together over a bottle of wine and some toenail polishing.
When his mother tells him she is worried about him, Smash retaliates angrily, yelling: "I'm not gonna slow down!" Riggins and his dad share a quiet evening of memories by the fire. The next day, they play golf and decide to "up the ante." If Riggins wins, the deal is that his dad comes to watch him play on Friday night. If his father wins, Riggins will stay mum on his father's whereabouts to a busybody neighbor.
During practice, an irritated Coach Taylor barks at Smash. After the session, Tami tells her husband that he is being too hard on the boy. Coach listens and goes to make peace with Smash at Smash's home. Meanwhile, the golf game between Riggins and his father grows increasingly competitive.
Riggins' dad wins the game of golf. Upset, Riggins tells his father that he should have just told him he didn't want to see his son play. His father tells him that he has enjoyed their time together but doesn't want to go to Dillon. They argue and Riggins refuses to shake his father's hand. Riggins goes home - leaving his father standing alone. Riggins returns home and joins the rowdy "rally girls" at a wild party. At this same party, Matt is pressured into posing for some explicit pictures with the "rally girls."
Coach Taylor prepares for his court date. In a friendly conversation outside the courtroom, he tells Jason that he should seriously reconsider getting married at such a young age. Meanwhile, Julie confronts Matt for lying to him about going to the wild party the night before. They fight and a hurt Julie walks away. Coach Taylor tells an ecstatic Smash: "You start as tailback tonight!"
Jason goes to see Tami and tells her that he wants to begin school again. On Friday night, The Panthers - with Smash - take to the field as crowds cheer. As the game begins, Billy pulls aside Riggins and tells him that his father is at the game watching him.