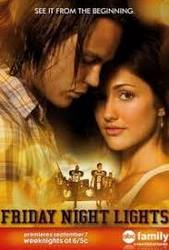 TV Info
---
Episode Premiere
November 14, 2006

Distributor
NBC, DIRECTV

Genre
Drama, Sport

Show Period
2006 - 2011

Production Company
NBC Universal, Imagine, UMS, Film 44, 101 Network


Cast and Crew
---
Director
Patrick Norris
Screenwriter
David Hudgins
Main Cast
Additional Cast
Loomis Warren
The Gourds
Richard Dillard
Synopsis
---
At Dillon High's homecoming rally, Buddy warns Taylor that he must win the game against the Laribee Lions or the whole season will be kissed off. Across the parking lot, Mayor Rodell invites Mitchell Street to bring Jason to the big game while Tim has a few words with Lyla, who is more concerned about his drinking than their traitorous fling.
The crowd roars as the Panther's 2000 championship quarterback Lucas "The Maneater" Mize takes the microphone with a chant of "Y2Killers"! Smash is in awe of Lucas who introduces him to Grady Hunt, a legendary Texas football scout. Smash talks himself up, and Hunt tells Smash to prove it on the field.
At a strip club, Tyra watches Billy Riggins throw back beers. Tyra's big sister tries to shoot down Tyra's idea to throw an after-homecoming party designed to make a ton of money. Later, Billy is incredulous when Tim tells him that he's quit drinking as of "now."
While floating in the rehab center's pool, Jason asks Lyla if she sees a lot of Tim. "Not really," she says as he looks on dubiously.
Jason's family tells him about the mayor's invitation to the big homecoming game. His dad wants him to go but his mom thinks it's "too soon." Jason asks to think about it for a while before making a decision. Later, Herc tells Jason it's a bad idea. When Lyla calls and Jason doesn't answer, Herc realizes that something is wrong and Jason admits his worst fears about Lyla and Tim.
At Smash's house, Hunt gives Smash some advice on planning for his future. However, Hunt worries that Smash is too small to compete in the big time. Smash's friends also worry that he's not big enough, and they tell him where he can buy steroids.
Tyra hires her sister and other strippers to host the party and has Billy stock up on alcohol. Back at the Riggins house, Tim tells Tyra how he wound up looking after his little brother. A sweating Tim walks in on them laughing it up, giving them a wary eye as she talks about the party. When Tim tells Tyra that he quit drinking, she looks both impressed and pleased by this surprising bit of information.
Lucas admits to Taylor that he doesn't own an insurance agency and never even graduated from college after losing his scholarship and having a child out of wedlock. He asks for a job and Taylor agrees to look into it, but on game day, Taylor gives Lucas the bad news that he can't hire him. Lucas is desperate and storms away pissed off.
Behind a banner, Jason waits for his cue as the crowd cheers on the team. When Jason finally wheels out, the crowd silences as he rolls into position. An announcer gives his name and the crowd commences cheering for their injured quarterback.
The game starts out poorly when the Laribee Lions immediately get a touchdown. And with Grady Hunt watching, Smash chokes under the pressure again and again, which helps increase the Lions' lead to 17-0.
Taylor sends in Riggins as the lone tailback. Riggins shows his stuff and gets the ball to a first down and finally to a touchdown. Later, Riggins goes all the way for another touchdown, giving the Panthers the win.
In the field house, Taylor congratulates Tim and gives him the game ball, as Smash looks on in shame. Tim says some humble words, "everyone in this room knows who we get our heart from, and he's sitting right there... this ball belongs to you." Tim hands the ball to Jason. "I love you like a brother," Tim tells his best friend as Smash wanders off alone.
A huge crowd comes out to Tyra's party where Julie finds Matt sitting off by himself. When she tries talking football to him, Matt awkwardly asks her out on a date. Her response is less than enthusiastic and he withdraws the offer, "it's probably a bad idea."
Smash seeks out Lucas, who bitterly tells him, "They don't care about guys like us... do you don't want to end up like me?" Taking those words to heart, and Hunt's cold shoulder, Smash drives himself to a gym to buy steroids. Alone in his room at home, he gives himself his first injection.