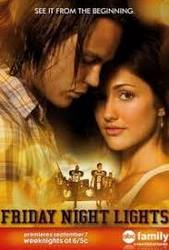 TV Info
---
Episode Premiere
November 07, 2006

Distributor
NBC, DIRECTV

Genre
Drama, Sport

Show Period
2006 - 2011

Production Company
NBC Universal, Imagine, UMS, Film 44, 101 Network


Cast and Crew
---
Director
Dan Lerner
Screenwriter
Carter Harris
Main Cast
Additional Cast
Ravin Alexander
James Powers
Lisa Cannizzaro
Gabriel Folse
Jacqueline Renee
Synopsis
---
The Texas High School Athletic Administration district meeting will decide Ray Tatom's fate and whether or not the Panther's win against the Tigers will be invalidated.
Wherever he goes, Ray "Voodoo" Tatom casts an angry and sinister pall. When he steps into the sandwich shop, he launches into a racist tirade against Reyes, a defensive end. After Voodoo leaves, Landry's friend Kaster makes a disparaging comment about football, sending Reyes over the edge. Outside, Reyes confronts Kaster and beats him to a bloody pulp.
At practice the next day, the cops arrest Reyes for assault. Meanwhile, Tyra tells Tami Taylor that she's dropping out after this year in favor of moving to Los Angeles. When Tyra leaves, Kaster's mother pays a visit to get some words off her chest about the cover-up that she sees coming.
Jason's starting to come back to life... in more ways than one. He pulls Lyla into bed with him, but a nurse interrupts before things gets too heated. The nurse tells Jason that it's not medically safe for him to continue because possible backflow into his bladder can cause a severe urinary tract infection.
Lyla tells Tim "we have to stop this." Jason is getting back to his old self and is getting out of rehab soon. Before things get even more messed up, Lyla has decided to make a choice, especially since she can't live with herself anymore.
Tami asks her husband what he's going to do about the Reyes situation. After all, Reyes beat Kaster so bad he had to be put in the hospital. Taylor doesn't have a straight answer, and Julie walks in on them before their argument turns into a verbal brawl.
At the jailhouse, Reyes lies when he tells Taylor that "Kaster kept calling me a 'wetback.'" Reyes claims that Kaster tried to punch him, which led to the fight. With sniffling tears, Reyes admits that he has a problem controlling his temper and promises Taylor that he's telling the truth.
After summoning Riggins to the rehab facility, Jason confronts his friend for not visiting him once in six weeks and lays out the horror that his life has become. "What happened to Texas forever?" Jason asks his so-called best friend. "You are my best friend... I expect you here. Grace period's over."
Reyes repeats his lies to the local news and apologizes for the cameras for responding "incorrectly." Watching in bed, Tami tells Eric that Reyes is lying Kaster would never make racist comments. Taylor doesn't listen to anything his wife has to say, even though Reyes is a repeat offender and has already spent time in jail for various burglaries.
Landry confronts Matt about Reyes's lies and asks his friend to do something about it. Matt refuses to come forward with the truth and tells his unhappy friend to let it go.
Tim interrupts Jason in the middle of his rehabilitation exercises and asks for a couple minutes alone with his friend. Without the spying eyes of facility staffers, Tim hatches a plan to secretly spring Jason from the center for a night.
Taylor fears that he'll have to lie to the Board about Voodoo's recruitment and swears to Buddy that he refuses to do so. However, it turns out that he doesn't have to say a thing. Buddy's friend pulls some strings, and the board rules in Voodoo's favor, meaning the Panther's victory stands.
Lyla is appalled that Riggins is taking Street without facility permission. Jason talks her into coming with: "Just for once let the rules go." Lyla gives in and the three friends spend the afternoon and evening at a lake going over old times and planning for the future.
Matt asks Landry for some slack, especially since Reyes is key to the team's defense, but Landry doesn't care. Instead, Landry jumps Reyes, but Matt and some others pull Landry off before a fight breaks out. Matt yells at Landry to "let it go," and Landry returns with, "you're one of them now."
Matt pays an unexpected visit to the Taylor residence. After some awkward flirting with Julie, Matt comes clean to the coach that Voodoo was the one who called Reyes a "wetback." After hearing this news, Taylor apologizes to Kaster and assures him that he'll have no further problems with his team.
Taylor confronts Reyes for lying. Despite Reyes's pleadings, Taylor kicks him off the team.
The next evening, Buddy comes to Taylor's house to ask about Reyes and to tell him that Voodoo has gone back to Louisiana. Worse, before Voodoo went packing, he told a reporter that he was illegally recruited and the win against the Tigers will be changed to a loss.
After dropping Jason off, Lyla tells Riggins that Jason can never know what happened between them. But when Jason looks out a window, he sees Lyla giving Riggins a hug that's a little closer, longer, and more intimate than it should be. Alone once more, Jason wheels back to his room with suspicions swirling in his mind.