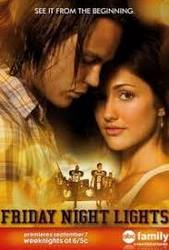 TV Info
---
Episode Premiere
October 24, 2006

Distributor
NBC, DIRECTV

Genre
Drama, Sport

Show Period
2006 - 2011

Production Company
NBC Universal, Imagine, UMS, Film 44, 101 Network


Cast and Crew
---
Director
Allison Liddi Brown
Screenwriter
Kerry Ehrin
Main Cast
Additional Cast
Walter Perez
Margaret Hoard
Dell Johnson
Martha Prentiss
Toby Metcalf
Synopsis
---
It's not just about winning. It's about history, passion, and tradition. In other words, it's rivalry week, the one week a year where Dillon and the town of Arnett Mead do their best to tear each other's towns apart with acts of vandalism before they face off on the field a week from that Friday.
Tension is in the air at a Dillon house party. Julie won't have anything to do with Matt, while Riggins keeps his eyes glued tight to Lyla. Things grow more tense when Ray Tatom shows up and changes Smash's tunes. Tatom gives Smash a condescending pat on his cheek. Smash warns him that if he ever touches him again, he'll break his fingers. Tatum laughs off this paltry threat.
At the rehab facility, nurse Phil gets Jason out of bed and into a wheelchair as Herc, Jason' s new roommate, comes rolling in with a ton of hard-ass energy. Jason quizzically watches Herc, who possesses a tough directness that matches his hard exterior.
Matt gets to school early to have a video IM session with his father serving in Iraq. He gets his dad caught up regarding football and the new quarterback from Louisiana. Even though the pressure is off of Matt with Tatom now on the team, Matt seems hurt and confused by the brooding new player.
The Panthers arrive at practice to find their field house completely trashed. Taylor tells them not to retaliate against the Tigers, but to use their anger to "kick their ass on the field."
Voodoo Tatom arrives to practice late and doesn't acknowledge Taylor when he tells him to get there on time. But while his attitude is terrible, and the team hates him, Ray's skills on the field are undeniable.
Tami Taylor is surprised to learn that she's expected to throw a huge barbeque at their home on Friday night: it's a rivalry week tradition.
Lyla pulls Riggins out of the hall to tell him that she has no feelings for him whatsoever. What happened the other night in the rain only came about because both of them were upset about Jason. "I hate myself for the other night," she tells him.
Jason refuses to eat even as Phil encourages him to use his hands. Lyla walks in and tries to feed Jason his meal, but he doesn't look happy about it. They're interrupted when Herc wheels in with his buddy Cory to pick up a ball to throw around.
Grandma Saracen, who has been forgetting to take her medication, wanders around their house in a state of confusion and fear. "Matthew... where are you?" While she continues to call out for him, Matt is getting his ass kicked on the practice field, forcing Taylor to put Tatom in instead. After practice, Taylor tells Matt that he has to be "loose and focused" cause he's falling apart from fear of Tatom. Taylor suggests that Matt find a girl to get "in the backseat with."
Matt arrives home to find his grandmother missing. The neighbor hasn't seen her, and she's nowhere to be found. Matt finally finds her in the back of a police car. She wandered into a neighbor's house. They came home to find her taking a bath. The next day, the word comes in from the clinic: Grandma Saracen is suffering from dementia.
Tyra visits Jason at the rehab facility to tell him how sorry she is that Tim Riggins hasn't been in to see him. A sad-eyed Jason asks Tyra to tell Tim to come by whenever he's ready.
With the ring of the doorbell, the Taylor's house is flooded with more guests than Tami had expected. To say that Tami is pissed off would be an understatement. As she gives her husband a piece of her mind, something crashes through their window: a brick with the message, "Die Panther pigs."
Riggins insists that Matt join him, Smash, and some of the other players for a little vandalism of their own. With hammers and bats, they smash up the car belonging to the Tiger's quarterback. Matt works out his tension and frustration as he whacks away the hardest. His anger almost gets them busted when the Tiger's QB steps outside to see what's going on.
Herc comes back to the room to find Jason brooding. Herc has some choice words for the fallen athlete. Jason tells him to shut up, but Herc doesn't listen. Instead, Herc lays out exactly what the next six, cruel months will bring until Jason finally snaps and slaps a glass of water at Herc. Herc smiles, "Good... I knew you had some fight in you."
Matt Saracen takes the trash out at the Alamo Freeze where he works. As he throws it in the dumpster, a group of teens from the Tiger's school arrive, including the QB. Matt refuses to name the others involved and throws the first punch, but he's outnumbered. Matt's thrown to the ground where he receives a beating.
Just as Taylor is about to leave his office to go to his daughter's dance recital, he gets a call from Matt, who is at the hospital and needs to be signed out. On their way to the recital, Matt admits to smashing up the Tiger QB's car but refuses to tell his coach who else was involved. Taylor has some fatherly words of wisdom for the confused young quarterback, telling him "you can do anything you put your mind to."
Taylor and Saracen arrive just in time for Julie's performance. Afterwards, Taylor apologizes to his wife and lets her know that he appreciates how much she does and how hard her job is. Across the room, Matt starts to get through to Julie and she finally gives him a few smiles. Taylor catches their flirtation from the corner of his eye.
Lyla arrives home to her bedroom to find Riggins waiting for her. "I can't stop thinking about you," he tells her. The feeling is mutual as she leans in for a passionate kiss.