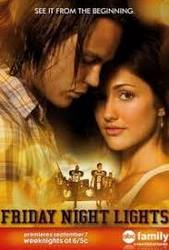 TV Info
---
Episode Premiere
October 10, 2006

Distributor
NBC, DIRECTV

Genre
Drama, Sport

Show Period
2006 - 2011

Production Company
NBC Universal, Imagine, UMS, Film 44, 101 Network


Cast and Crew
---
Director
Jeffrey Reiner
Screenwriter
Jason Katims
Main Cast
Additional Cast
Robin Prough
Joseph Cheatham
Steven Chester Prince
Sabra Fuller
Synopsis
---
On the Sunday following their victorious game against Westerby, members of the Panthers and their families pray together at their respective churches. Outside the Saracens' house of worship, Coach Taylor and Buddy watch Matt throwing a football around with some kids. Both wonder if the young man has what it takes to win football games. But what's really on everyone's mind is whether Jason Street will ever walk again.
With a game to play on Friday against South Milbank, the Panthers have to get down to work, though everyone is unconvinced that they actually have a chance without Street. They may have a point: on the practice field, Matt looks dazed, confused, and helpless as he runs drills with the team.
A determined Lyla marches down a hospital hallway with balloons and a "get well" banner; her fierce look is a mask hiding terrible worry and doubt. She has a brief personal moment with Jason, reassuring him that he will play football again, before getting down to the business of hanging up the banner.
Landry watches as Drew, the lead "Peppette," attempts to flirt with a distant Matt Saracen, offering him anything he needs. When she goes away, Landry lectures his buddy that he should be taking advantage of his new social status. In another booth, Riggins looks on with hate and contempt as Smash holds court. Unable to stand the scene anymore, Riggins gets up and throws a bottle inches from Smash's face, shattering a restaurant mirror.
Coach Taylor is being pulled in all directions. His daughter clearly despises football and the town of Dillon, his wife has been unhappily sucked into various local committees and worse, she wants to get a job. Later, at a Booster brunch at Applebee's, Buddy tells Taylor that he better win games if he wants to keep his job.
Buddy watches Taylor run another practice and is not happy with what he sees. Things get really tense when Riggins lunges at Smash and the two start fighting.
After practice, Smash asks Tyra what's going on with her boyfriend. She replies, "I wouldn't call him my boyfriend." That's enough for Smash. Later in the day, Smash's mom, Corrina, catches the two of them going at it in his bedroom. Outside, Corrina warns her to stay away from her son.
Coach Taylor checks in with Jason and is inspired by the young man's strength and humor. Jason tells Taylor that Saracen is a creative type who is into things like art and Bob Dylan. He suggests that if given some creative freedom on the field, he just might turn out to be a good player.
On the Wednesday before the game, the press is on the field to interview the team, and Matt fumbles his way through his interview.
During cheerleading practice, Lyla spots Tim Riggins coming off the field. She stops practicing her leg kicks and walks over to invite him to come to the hospital with her that evening to visit Jason. He hasn't seen him yet and he's reluctant to go, but the look in Lyla's eyes says that it's time to get this over with.
At the hospital, Jason is surrounded by his family when he gets the news that he will regain movement in his upper body, but he will never walk again.
At Applebee's, Tami Taylor tells her not-so-enthusiastic husband that she accepted a job as the school's new guidance counselor. His mood sours further when he gets a call from the hospital regarding Jason Street's condition.
Coach Taylor has the unenviable job of delivering the news to the team.
While Matt struggles to learn the team's playbook, Lyla struggles to come to grips with her boyfriend's prognosis. At the hospital, she swears that he will walk again, and she won't rest until he does. He isn't so sure and would rather deal with reality, but the force of her will makes him back down.
Coach Taylor worries about his job. Jason Street was his meal ticket and the only reason he got the job to begin with. Tami reassures him that he can do anything he sets his mind on - she believes in him with every cell of her being.
Coach Taylor visits Matt at home, and Matt is embarrassed by his crazy grandmother and their ramshackle, food stamp existence. They take a ride together to the football field.At Herrmann Field, Taylor and Matt discuss his father's service in Iraq, football, and other matters of life and living. But then it's onto the business of football. With a signal, an assistant coach flips a switch and the sound of thousands of cheering fans pour from the loudspeakers, creating the perfect auditory backdrop for the molding of a tepid young man into a football hero.
All over town, businesses close as kickoff time approaches. Peppettes deliver kisses and baked goods to the players, radio commentators wonder if Saracen has what it takes, the stadium start letting fans in, and the snack bars open shop.
In the field house, Coach Taylor delivers the stirring message that they have to play together as a whole, that it's not just about one player. And then it's show time. With a roar of the crowd, the players rush onto the field like gladiators ready for battle. An unsure Matt Saracen lags behind. Coach Taylor asks him if his eyes were open when he threw the winning pass last week. "They were open, sir," Matt says as he leaves the locker room to embrace the cheering crowd.