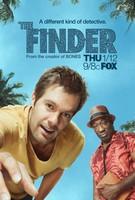 TV Info
---
Episode Premiere
April 20, 2012

Distributor
Fox

Genre
Drama

Show Period
2012 - 2012

Production Company
20th Century Fox Television


Cast and Crew
---
Director
Jim Hayman
Screenwriter
Patrick Massett, John Zinman
Main Cast
Additional Cast
Kelly Carlson
Toby Hemingway
Mercedes Colon
Yara Shahidi
Synopsis
---
Marta Abreu and her daughter, Adina, enter Leo's bar. Marta plays a phone message from her husband, Carlos, telling her to leave the house with their daughter, go to a place they used to stay, and talk to no one. Carlos has been missing ever since. Marta says that the police don't care because Carlos used to be a gang member, but Marta swears he left that life behind.
Walter notices that Carlos talked to someone else before he hung up. Adina suggests that it was her dad's best friend, Raul, a former gang member who got Carlos a post-prison job at a local petrochemical plant. Walter doesn't promise to find Carlos, but he'll find the rest of his phone conversation.
When Walter and Leo go to the plant and question Raul, Walter notices a new CEO, Dwayne Anderson, is touring the plant. Raul calls Anderson "the new broom," adding that Carlos had been skipping work and not talking to anyone. He also denies any current gang affiliation.
Walter searches the Abreu family home, where FBI agent Gail McHottie - claiming to be part of an anti-gang task force - pulls a gun on him, then asks for his cooperation. Walter agrees, but pockets a handwritten note ("Meat U Here") he'd found.
Meanwhile, Leo is looking at pictures of his dead wife and daughter and the birthday gift his daughter never received. Walter tells Leo about McHottie and the note. Meat U Here is a restaurant in an outdoor mall, where the background noises (espresso machine, one-man band) match those heard on Carlos' call. Walter asks if Leo's interest in the case stems from his loss of his family. Leo denies it. Then Walter notices that the mall is blanketed by security cameras. He asks McHottie to get these videotapes.
When McHottie delivers the tapes to Leo's bar, Walter asks Willa - who remembers faces so to avoid pick-pocketing the same person twice - to search them for Carlos' face.
Walter trails Leo to a graveyard where he's talking to his wife and daughter's tombstones. Walter asks Leo to remember the Buddhist ideal of living in the present, noting that the birthday gift is an anchor to his grief. When Walter leaves, Leo continues his teary-eyed conversation with the dead.
Meanwhile, Willa has collected all the footage of Carlos. Leo identifies the man he's speaking with as Raul. The footage is silent, but Willa can read lips. She says that Raul tells Carlos to take the money for his family's sake.
Walter and Leo find Raul dead in his garage with the engine running. Walter knows it wasn't a suicide because Raul's hands would've dropped from the steering wheel when he died. When McHottie arrives, Walter and Leo return to the bar.
Willa has determined that Carlos says he's safe as long as they can't find me or - (something that isn't captured on the cameras). Walter notices a woman filming the one-man band; she might've caught this exchange.
While Walter finds the woman - a student filmmaker doing a documentary on street performers - and gets her footage, Leo wishes he could see the future. Willa says her cousin Timo has that gift and asks Timo to read Leo's tarot cards.
Leo doesn't trust Timo, who points out that he's not doing this for money but as a favor to Willa. When Timo reveals that Leo is conflicted because he waited until after his family died to become a better person, Leo refuses to look at the card that foretells his future.
Walter plays the woman's footage for Carlos's family. Carlos is heard saying that he hid the list in the company's own hellish heart. Walter realizes Carlos was a whistle-blower, then claims his work is done. As Adina argues that Leo promised Walter would find Carlos, the hotel room where the family had been staying explodes.
Walter believes the company did this to intimidate Carlos, who therefore must be still alive. Walter is determined to find whatever Carlos hid, so Leo can use it as leverage to reunite the family - and make Leo happy.
Walter attaches a device that enables him to enter the plant through its electrified fence. He extracts a metal box that contains an asbestos-wrapped list from a boiler. As he exits the plant, McHottie demands the list at gunpoint. Walter realizes that she's not really an FBI agent; he touches the fence and fakes immobilization. When McHottie reaches for the list, Walter flips her into the fence, which shocks her into unconsciousness, and he escapes.
As Walter hands Leo the list of toxic chemicals that were burned inside the plant, Leo reveals the card that foretells his future: Justice.
Leo confronts Anderson, saying that when he learned about the list he tried to bribe Carlos, using Raul as an intermediary, and when that failed, Anderson had Raul killed. Anderson denies everything and tries to bribe him. Leo tells Anderson to announce that the chemicals were accidentally incinerated, and the company will be donating money to environmental organizations - or he'll turn the list into a class action lawsuit that'll bankrupt the company. Then Leo decks him.
Leo returns home and hands Adina the birthday gift he was going to give his daughter. It's a necklace. Adina is overjoyed. Then Carlos enters, and there are joyful hugs all around.
Walter reports the company announced that it will comply with Leo's demands. He knows Leo scared Anderson into this and compliments him for not killing Anderson. Walter wishes Leo's daughter a happy birthday. So does Leo.