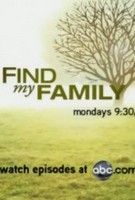 TV Info
---
Episode Premiere
November 30, 2009

Distributor
ABC

Genre
Reality, Family

Show Period
2009 - 2009

Production Company
RDF USA, RelativityReal


Synopsis
---
Ashley Arend
Ashley Arend of Upper Arlington, Ohio always knew that she was adopted. We can see that she's grateful for the loving parents who raised her, but she tells us that she was always a little envious of her friends who had siblings. When she was 10-years-old, Ashley accidently discovered that her birth parents also had a baby boy. She was so excited to learn she had a brother, though she was never able to find him.
The Find My Family investigators were able to uncover Ashley's real last name. They were able cross reference it with a baby boy with the same last name born 16 months earlier. David Waclawski is now 26-years-old and a lieutenant in the United States Air Force. He's also Ashley's long lost brother. The investigation further revealed that a little girl bearing Ashley's surname was born a few years later. Ashley spent so many years searching for her brother. Little did she know that she also has a sister. Her name is Danielle.
When he was young, David was told he had a sister who died at birth. About six years ago his father revealed that was a lie. Lisa Joyner and David head over to Danielle's place where they are given a heartfelt letter from Ashley to David. Danielle wishes she would have gotten a letter, but Ashley simply didn't know about her. Well, she's about to find out.
Tim Green tells Ashley all about her brother and completely surprises her with the news about her sister. At the Family Tree, Danielle worries that Ashley may be angry. After all, her parents kept her and gave Ashley away. We're happy to say those fears were unfounded. When the three siblings finally meet, Ashley says, "You represent that everything turned out okay." After some time passes, Ashley pops some champagne and makes a toast to her "new, crazy, unique, blended family." Well said, Ashley. And cheers!
Jaime DeHaven
Jaime DeHaven is an African-American woman who was adopted by loving white parents. She lives in Glendale, Arizona with her three children. She wants to find her birth mother to fulfill her journey. Jamie knew her mother's name, June Ann Watts, but had never been able to find her. The Find My Family investigators discovered that Jamie's mother had married. Her new name: June Ann Aparicio.
Lisa Joyner travels to Indianapolis to meet with June Ann, who was also adopted. Her foster dad was very angry when he found out that June Ann was pregnant. Mr. Watts didn't waste any time setting up the adoption. After giving birth to Jaime, June Ann left the hospital without her baby. It was one of the saddest days of her life. When June Ann reads the letter Jaime wrote, she's amazed that there are no negatives, no regrets. And now she can't wait to meet her baby.
Tim Green tells Jaime that they found her mother. It's an emotional moment, of course. But here's what stood out to us. The first thing Jaime asked was if her mom was okay. Jaime's initial selfless thought was about her mother's well-being. Only after Tim tells her she's fine does Jaime ask if she wants to meet her. Not only does she want to meet her, but June Ann would love for her to be part of her life. Jaime is beyond relieved. Her long search is finally over.
When mother and daughter finally meet underneath the family tree, the first thing June says during a long embrace is, "How are you?" The second thing she says is, "I love you." Again, Jaime shows her selfless side when she tells her mom that she just wanted to make sure that she was okay. She even says "thank you." June Ann is overwhelmed. Let's just say tears were flowing. Looks like Jaime truly was able to fulfill her journey.