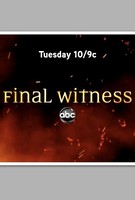 TV Info
---
Episode Premiere
July 25, 2012

Distributor
ABC

Genre
Documentary, Crime, Drama

Show Period
2012 - 2012

Production Company
Lincoln Square Productions


Synopsis
---
911 Operator: "911 what's your emergency?"
Mark Winger: "There's a man...he beat my wife...and I shot him! He's lying on the floor...I gotta get to my wife!"
Springfield PD arrives at the scene. Two bodies are sprawled on the kitchen floor; one male, one female. Mark Winger is a wreck. He tells the police he was in the basement working out when he heard shouting upstairs. He ran up, grabbing his handgun on the way, and came upon a horrifying scene: some stranger was beating his wife, Donnah, with a hammer. So Mark shot him. When the cops show Mark an ID taken from the man's wallet, Winger suddenly recognizes the name. "Oh, my God! That's the man who's been harassing my wife!"
Donnah and Mark Winger were the perfect couple: she surgical assistant, he a nuclear engineer. They were active members of their temple, had good friends and after a years-long struggle with infertility they had just adopted a baby girl. They finally had the life they dreamed of. Or so Donnah thought. What Donnah didn't know was that she was married to a sociopath.
Mark was having an affair and wanted out of his marriage, but didn't want to sully his "perfect couple" image with anything as ugly as a divorce. So instead, he decided to kill Donnah. But how? When Donnah returns from a trip with a story of a "weird" cab driver who "was acting violently" and "scared her" he sees his opportunity. Winger gets away with it for four years. His family and the entire community thinks he is a reluctant hero, the grieving widower. But then a rookie detective re-opens the case and uncovers some surprising evidence that unravels Mark's story and reveals to investigators the elaborate and evil plot Mark had orchestrated to get rid of Donnah and frame someone else.