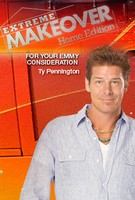 TV Info
---
Episode Premiere
January 06, 2012

Distributor
ABC

Genre
Reality

Show Period
2004 - Now

Production Company
Endemol Ent., Lock and Key Prod., ABC, Greengrass


Cast and Crew
---
Main Cast
Ty Pennington
Paul DiMeo
Paige Hemmis
Michael Moloney
Ed Sanders
Tracy Hutson
Tanya McQueen
Eduardo Xol
John Littlefield
Rib Hillis
Synopsis
---
Ty and the team head to Fayette County, Iowa to surprise the Gibbs family! Audrey Gibbs is a mother, a widow, a farm owner and a maternal optimist who won't let anything stop her from raising her six children, not even her blindness and her battle with a potentially fatal condition.
Seven months after her husband died, Audrey had a brain aneurism that affected a quarter of her brain--leaving her legally blind. The doctors cannot say if she is going to lose her sight completely or even if she is going to live or die.
Audrey's six kids are an eclectic crew. Josh, 20, loves motorcycles. Nathan, 18, wants to own his own farm. Thomas, 18, loves to tear anything mechanical apart. Jessica, 16, would like to be a physical therapist. Nicole, 14, is big into surfing though she's never tried it before. Daniel, 13, is the youngest and most active of all the Gibbs kids.
The Gibbs family own and live on a farm which they rent portions of to local farmers for additional income. Their farmhouse is in need of significant repair, with no working toilet, a ceiling that's caving in and a layout that doesn't work for the family at all--especially for Audrey, if she loses her eyesight completely. The family needs help. Well, help is on the way!
Ty Pennington, designers Paul DiMeo, Tracy Hutson, Sabrina Soto, Jeff Dye and local builders Larson Construction Company, Inc., as well as community volunteers are onboard to help build the new home as the family is whisked away on a dream vacation to Boca Raton Resort & Club, a Waldorf Astoria Resort.
Rocker Bret Michaels, who suffered an aneurism like Audrey, surprises the family in Florida. He makes a promise to Audrey that he will do what he can to make sure her kids stay together should anything happen to her. Bret then heads to Iowa to help with the build and take part in auctions and fundraisers to help with the family's debt. He also puts on a concert.
Bikers from all over Iowa take to the road in support of the Gibbs family. More money is raised under the Friday night lights of a local high school football game. Elsewhere, Paul Teutul of Orange County Choppers gives the three older boys a hands-on tour of his custom motorcycle shop. Pretty soon, it's time to bring the family home and MOVE THAT BUS!
Here's a breakdown of the new digs:
The new home is amazing. There's a giant rock bears the words "The Gibbs Family Farm" out front.
The inside of the house is amazing and spacious with a dazzling new chandelier in the main room.
The family room seems as big as the old house and the word "family" is written out across the wall.
An old grandfather clock that the children's dad made is fully-restored. It is seen front and center when you walk into the house. And it works! The sound of the chimes brings tears to Audrey's eyes.
There are handrails throughout the halls to help Audrey navigate through the house. The sliding barn doors will help keep the hallways clear.
Nicole screeches with delight when she sees her new bedroom. Her first ever surfing experience is seen via a giant blown-up photo on her wall. Surfboards adorn the sliding doors of the closet that hides a brand new vanity. Nicole's very own surfboard can also be found behind her mirror.
Jessica can't believe the 20-foot ceiling in her room. There's a framed invitation to visit the Mayo Clinic on the wall to further her dream of becoming a physical therapist.
Audrey loves her gorgeous new bedroom. There's a beautiful desk that was created from the oak that her husband had been saving. The bathroom has a magnifying screen that will allow Audrey to see herself better in the morning.
There's a beautiful, relaxing oasis retreat right outside Audrey's bedroom.
There's a pool table in the center of a hangout area along with a signpost directing the boys to their rooms.
Motorcycle rims and hubcaps fill the walls of a few of the rooms. Paul had photos of beautiful landscapes blown up for the walls in the bedroom for the older boys.
Some his dad's work can be seen on the walls of Nathan's place.
Daniel's room looks like it's underwater. Jeff cut down an old boat and used parts of the wood for shelving. Daniel has a boat chair and dock bed that was made with all of his dad's old wood.
Daniel also gets a bait shop out back that comes with lots of worms.
Audrey gets her very own massage studio. She has a new website that will allow her to book services. The technology in the spa is perfect to help a visually-impaired person run the business.
Gibbs Garage now holds all of the refurbished motorcycles. There's a motorcycle lift and tools everywhere. An autographed Bret Michaels guitar hangs on the wall.
The recreation side of the garage has tons of outdoor goodies.
The men at J&P Cycles (Cody and Patrick) rebuild the bike that belonged to the dad of the family complete with a picture of him painted on the top. Bret Michaels drives the chopper up to the grateful family.
A sixth grain bin is added to help the family generate income. Dad's old tractor has been rebuilt and a brand new grain-vac has been added.
The family is told that their mortgage has been paid, the kids are getting college scholarships and CVS has set them up with a $75,000 medical fund. Guess there's just one thing left to say. Welcome home, Gibbs family. Welcome home.