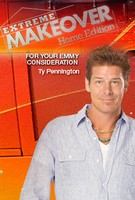 TV Info
---
Episode Premiere
October 21, 2011

Distributor
ABC

Genre
Reality

Show Period
2004 - Now

Production Company
Endemol Ent., Lock and Key Prod., ABC, Greengrass


Cast and Crew
---
Main Cast
Ty Pennington
Paul DiMeo
Paige Hemmis
Michael Moloney
Ed Sanders
Tracy Hutson
Tanya McQueen
Eduardo Xol
John Littlefield
Rib Hillis
Synopsis
---
Ty and the team travel to Etters, Pennsylvania to meet the Keefer family which includes Steve and Dawn, who are the parents of four sons: Adam, Scott, Brian and Colin. Steve retired early to help Brian, a star athlete who became paralyzed in a life-threatening accident in 2008, just before his 21st birthday. Steve and Brian have an incredible father/son bond and, along with other family members, have worked hard to help Brian realize his dreams of graduating from college someday and regaining his ability to walk.
Brian is confined to only a few downstairs rooms of his house. With all his equipment, his makeshift room is very small and cluttered. The outdoor pool that Steve built for his sons when they were younger isn't anything Brian can use for the aqua-therapy he needs. This family could use a little help. Well, help is on the way!
Ty, along with designers Paul, Ed, Tracy, Jillian and local business Musser Home Builders, Inc., as well as community volunteers are more than ready to rebuild the family home. The Keefer family is whisked away on a dream vacation to Colorado Springs where Brian trains with the U.S. paralympic rugby team. He's also asked to help coach a paralympic volleyball team.
Ty wants to save a little bit of the house for Brian for sentimental reasons. This is more of a remodel than a rebuild. The team throws a big college-style toga bash to get the party started as they knock down a third of the home and build a whole new addition just for Brian.
Jillian heads down to Brian's college to transform a space into a new student lounge after the school gave up the old one for Brian. Ty tasks the other designers with the challenge of transforming a vintage camper so that the family can enjoy the great outdoors whenever they want. Later, Paul visits the Kennedy Krieger Institute where he meets people who have shown great improvements with spinal cord injuries. Later, Brian and his family visit Baltimore where technology allows Brian to sail a boat solo.
The Keefer family arrives home to a cheering crowd and the news that the mortgage in the house is paid in full. Brian meets a young man named Dan who had an accident where they said he would not be able to walk again. Just like Brian, Dan refused to accept that diagnosis. He steps out of his wheelchair and tells Brian that he believes he will walk again, too. They MOVE THAT BUS and the Keefers check out their new home.
Here's a breakdown of the new digs:

- The exterior of the two-story house is stunning with a beautiful curved garden area out front.

- The interior is huge, spacious and has plenty of room for Brian as he navigates his wheelchair.

- Tracy creates a light fixture using mason jars to give off a vintage feel with a contemporary design in the new kitchen.

- Tracy takes a full-length lane from a local bowling alley to create a dining room table for Steve, who had dreams of becoming a pro bowler.

- In Brian's part of the house, there's a dedicated theater with a projector that can be controlled through voice commands. There's also a huge wall mural filled with trees and animals.

- Technology allows Brian to use voice commands to get his own drinks, turn the lights on and off as well use a private entrance that'll allow him to have his independence.

- The family uses that private entrance as an exit to head out back to see a new ADA compliant vehicle where Brian can ride shotgun.

- The master bedroom has a beautiful high ceiling. The headboard on the bed is engraved with the phrase "I'd marry you again..."

- A video system is set up throughout the house so Brian can see and hear his family from anywhere. - Brian's bedroom has a wall of framed letters from his friends. His bed has the technology to raise his head via voice command. The shower suits all his needs perfectly.

- There's a treadmill in the new indoor pool for Brian's aqua-therapy with the word "achieve" plastered across the side wall. A huge mural featuring the four Keefer boys adorns the wall. There are exercise mats and stretching area in the beautiful new therapy room.

- There's another pool in the backyard for the entire family with their volleyball net already set up.

- In another part of the yard, the family sees that the inside of the camper is gutted so the inside can be opened up as a cabana with beautiful furnishings inside.
Brian Keefer is an inspiration to his family, his friends and his community. He's constantly working towards his goal of walking again. Here's hoping his new home will help that day come very, very soon. Welcome home, Keefer Family. Welcome home.