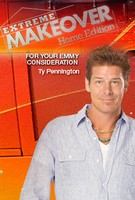 TV Info
---
Episode Premiere
October 16, 2011

Distributor
ABC

Genre
Reality

Show Period
2004 - Now

Production Company
Endemol Ent., Lock and Key Prod., ABC, Greengrass


Cast and Crew
---
Main Cast
Ty Pennington
Paul DiMeo
Paige Hemmis
Michael Moloney
Ed Sanders
Tracy Hutson
Tanya McQueen
Eduardo Xol
John Littlefield
Rib Hillis
Synopsis
---
Ty and the team head to Crawford, New York to surprise the Korpai family. After giving birth to Hailey, who was born with dwarfism, Jimmy and Darlene Korpai began advocating for their little girl. They serve as President and Vice President of the New York chapter of Little People of America. They also dream of having a home that offers their happy, playful daughter independence and autonomy.
Hailey is now 5 and the family has added baby brother Hudson. Their house serves as the facility for their Little People of America chapter, so there is a need for it to be able to accommodate little people visitors, as well as Hailey. Designers Paul, Jillian and Ed join Ty and local builders Hearthstone Commercial & Residential Contracting, as well as community volunteers, to change one family's life.
The family is whisked away on a Disney Cruise vacation to the Bahamas. Back home, Pauley has turned the bus into a time machine. Future Paul uses some devices he brought back to help with the house demo. But nothing compares to the present-day excavator that literally brings down the house.
Paul travels to Oregon to meet Matt Roloff, the dad on the popular TLC show Little People, Big World. The Roloff family farm is unique in the way Matt adapted it to make it accessible for his family members of all sizes. Paul enlists Matt's help making the Korpai home as enjoyable as his farm. Jillian and Matt visit Hailey's school to let the family know via video there's a great ADA-compliant playground in the back.
The family goes on a whirlwind trip to New York City. While in the Big Apple, they are surprised by some of their personal heroes, Dr. Jen Arnold and Bill Klein from TLC's The Little Couple, who, along with Ed, show the family that their message of dwarfism is currently flashing across the big, bright boards of Times Square. That's one way to start spreadin' the news. When the family returns home, it's time to MOVE THAT BUS!
Here's a breakdown of the new digs:

- The exterior of the house is amazing and filled with beautiful landscaping out front.

- There are hardwood floors as far as the eye can see on the inside with lots of open space that'll allow Hailey to move through the house freely.

- The kitchen area comes complete with a raised runway that Hailey can step up to in order to be eye-to-eye with anyone who happens by. She can even help her mom cook dinner!

- Hailey also has customized chairs in the dining areas.

- Hudson's room is a construction fan's dream. There are trucks and blocks everywhere. Hudson loves building blocks, so Ed puts a massive wooden crane in his room so he can knock those blocks down.

- Hailey is all about Minnie Mouse. So Paul creates a Bow-tique (as in bow tie) with a motorized closet that brings everything down to Hailey's level.

- The entire bedroom is pretty in pink and filled with heart-shaped designs. Everything is to Hailey's size and comfort. She also has easy access to look out the bedroom windows.

- Ty designs a rustic headboard in the master bedroom with mounted brackets holding different sizes of flowers. The family garden is right outside the bedroom window.

- The new Understanding Dwarfism Center is beyond huge. Everything is at a perfect level. This is the place where Jimmy and Darlene can continue to create a brighter future for other people. Speaking of others, the place is soon filled with dozens of visitors.

- There's a futuristic elevator that allows children to go upstairs. What's upstairs, you ask? Well...

- Ty recruited a trio of guys from L.A. to create a high-tech puppet show of the future. The team created a virtual puppet theater that's very Hailey-friendly.
The Korpai family is on a mission to change the world's perception of a group of people who have been misunderstood. With their new home, they can do just that. Welcome home, Korpai family. Welcome home.