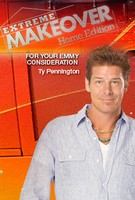 TV Info
---
Episode Premiere
October 09, 2011

Distributor
ABC

Genre
Reality

Show Period
2004 - Now

Production Company
Endemol Ent., Lock and Key Prod., ABC, Greengrass


Cast and Crew
---
Main Cast
Ty Pennington
Paul DiMeo
Paige Hemmis
Michael Moloney
Ed Sanders
Tracy Hutson
Tanya McQueen
Eduardo Xol
John Littlefield
Rib Hillis
Synopsis
---
Ty and the team are headed for the town of Madison, Georgia. They are joined by a bus driver named Loretta Berryman, who has a strong connection with the little girl they are about to meet.
Anaiah Rucker is a smart, fun, athletic, sweet, straight-A student. She was only 9 when she saved her 5-year-old sister, Camry, by pushing her out of the path of an oncoming truck. Anaiah was struck herself, leaving her with massive, life-threatening injuries. Loretta gave her CPR until the unconscious little girl finally took a breath.
Anaiah has endured the amputation of her left leg and grueling rehab to get her body back in shape so she can continue playing sports. Anaiah's hometown rallied to provide her family with a rental house. But they are truly in need of a home of their own that is safe, secure, ADA-accessible and free of obstacles. In other words, they need help. Well, help is on the way!
Team leader Ty and designers Paige, Michael and Xzibit surprise mom Andrea and her daughters Anaiah and Camry. The love this family has for each other is overwhelming. Anaiah tells Ty that the kids at her school have sold "bottle cap" necklaces to raise money for her. This amazing little girl vows that she's still going to play her favorite sport, basketball, despite overwhelming odds.
Local builders Pilot Builders and Smart Properties, as well as community volunteers get to work on the new house as the family is whisked away to Walt Disney World. An anonymous donor has provided the team with a beautiful piece of land where the family can make a fresh start. As for the old house, the team enlists help from Phineas and Ferb to use a shrink ray to..well...shrink the house. Too bad they also shrink the designers!
Ty is blown away by the fact that a man named Terry came out to help with the build. He happens to be the person who was driving the truck that hit Anaiah the morning of that terrible accident. The man has been carrying a huge burden ever since that day. Ty assures him that this build is all about new beginnings.
In honor of the necklaces we mentioned earlier, Ty tasks the team to make something cool out of 100,000 bottle caps. Over in Orlando, Anaiah gets some hoops tips from Katie Holloway, a basketball player who also has a prosthetic leg. But wait, there's more! NBA superstar Dwight Howard stops by to add the finishing touch to a slam dunk day. Later, both Katie and Dwight swing by to help with the build.
The family arrives home to cheers from an adoring crowd. When Terry steps up to them, Andrea assures him that she's not angry. This was just something that happened. She even thanks him for staying at the accident scene to make sure her daughter was okay. Now it's time to see the new house. And since Loretta has experience as a big vehicle driver, she's the one who gets to MOVE THAT BUS!
Here's a breakdown of the new digs:

- There are no stairs anywhere in the beautiful new house filled with wide doorways, so Anaiah can go anywhere in her wheelchair.

- Michael's circular rotating bookcase is perfect for Anaiah. She can access so many good reads with just a spin of the wheel. It's been nicknamed "The Wheel of Knowledge."

- Camry wants to be a veterinarian when she grows up, so Paige makes sure her room feels like a tour of the zoo. Her bed has a thatched roof and her desk looks like actual rock you might find in a tiger's habitat. And there are plenty of stuffed animals around for Camry to practice her vet skills.

- Anaiah's bedroom is, in her words, "magical." Ty wanted to give her a room that promoted her creativity. The headboard of her bed is actually made of different colored rolls of paper. They pull over to act as a canopy and then pull down so that she can draw at her desk.

- Paige blows up a piece of Anaiah's artwork using those 100,000 bottle caps.

- Anaiah's huge shower is wheelchair-accessible with controls that are low enough for her to reach without issue.

- Andrea's bedroom is beautiful and huge with a nice comfy chair and bed. She no longer has to worry about cracks in the floors as she steps over to her enormous walk-in closet.

- The backyard has a cool little water park that Anaiah can enjoy thanks to her new waterproof wheelchair.

- There's a new basketball net set up in the yard, too. Dwight Howard tells Anaiah that he's been so inspired by this family that his D12 Foundation is donating $50,000 for their special needs.
Andrea believes this week has shown her daughter that she can be whatever she wants to be no matter what. Anaiah is truly an inspiration to us all. Guess there's just one thing left to say. Welcome home, Rucker family. Welcome home.