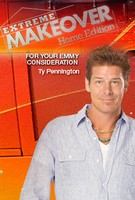 TV Info
---
Episode Premiere
October 02, 2011

Distributor
ABC

Genre
Reality

Show Period
2004 - Now

Production Company
Endemol Ent., Lock and Key Prod., ABC, Greengrass


Cast and Crew
---
Main Cast
Ty Pennington
Paul DiMeo
Paige Hemmis
Michael Moloney
Ed Sanders
Tracy Hutson
Tanya McQueen
Eduardo Xol
John Littlefield
Rib Hillis
Synopsis
---
Ty and the team travel to South Jordan, Utah to lend a hand to the Gomez family. Fun-loving Jonah Gomez is like any loveable little boy in the first grade, with hopes of becoming a pro soccer player. His love of life has not been diminished by the fact that he has blood disorders which have caused him to undergo open-heart surgery.
Mom Jessica and younger sister Ellie have made every effort to help Jonah live his life to the fullest. When Jonah is healthy enough, he plays on a soccer team and attends games of Salt Lake Real soccer team, whose players have become his protective friends and supporters. Although Jonah must take oxygen while he sleeps and is often unable to play outside due to extreme weather, you'd never know it from his joyful demeanor. He seems like every other kid-excited to play soccer and to joke with his sister, who is also his own personal nurse.
Medical bills forced the family to move in with Jessica's parents. Don't you think this amazing family deserves their very own home? We do! Ty and designers Xzibit, Paige Hemmis, Michael Moloney, local builder Holmes Homes, Inc and local business Rio Tinto, as well as community volunteers are all set to build the new home and provide a healthy environment for Jonah.
The captain of the Salt Lake Real soccer team asks Jonah to be their honorary captain before the family heads out on their Disneyland vacation. They head out to a big soccer match at the Rose Bowl. Ty appears on the big screen to ask everyone in the stadium to see if they are a match for a bone marrow transplant for Jonah. This same message is spread at soccer events all over the country. For more information or to register for the National Marrow Donor Program, please go to www.marrow.org.
Back at the house, Ty wants to build Jonah his own indoor soccer stadium in the basement. Xzibit is tasked with building a concession stand with an oxygen fountain. Paige is going under the sea for a Little Mermaid theme for Ellie's room. It'll be connected to Jonah's room that will have a pirate ship theme. Michael is also building an income property next to the home that the family can rent out for cash to help pay for medical bills.
The family returns home to a massive cheering crowd. Now it's time to MOVE THAT BUS! Here's a breakdown of the new digs:

- The new home is amazing and highly-suited to keep Jonah as healthy as possible.

- The courtyard has a cool waterfall, which Jonah loves.

- The team makes use of Utah's rich copper supply by building a beautiful copper dining room table. The cool thing about copper is that it's easy to clean away germs.

- The rental property is beautiful and will be most helpful in attracting additional income.

- Ellie's is amazed to see that her room is under the sea. There's even a wall display that features her hanging out with Ariel.

- Jessica's bedroom is a sanctuary that's cozy and comforting. There's a cabinet display on the wall featuring a big heart representing Jessica and two smaller hearts for Jonah and Ellie. Inside are all the artwork made by the kids and a collection of new "Gratitude Journals" that the family can use to keep track of their blessings.

- Jonah's pirate room features a huge ship and a cool waterfall sculpture. When you pull up the wind sail, Jonah can see right into Ellie's room.

- The bed in Jonah's room is actually an oxygen tent. On top of the bed, there's a slide in the crow's nest that leads to the basement.

- The basement is an amazing recreation of the Real Salt Lake stadium.

- The oxygen bar has flavored fountains provided by CVS, who also donated $40,000 for medical bills.

- There's a virtual soccer game that will allow Jonah to shoot and score whenever he's alone. But he's not alone at the moment, as some of Jonah's favorite soccer players present him with season tickets for life.
Jessica loves her new home but is more amazed by the number of people who registered to be bone marrow donors. Hopefully there will be a match for Jonah very, very soon. Welcome home, Gomez family. Welcome home.