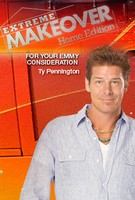 TV Info
---
Episode Premiere
September 25, 2011

Distributor
ABC

Genre
Reality

Show Period
2004 - Now

Production Company
Endemol Ent., Lock and Key Prod., ABC, Greengrass


Cast and Crew
---
Main Cast
Ty Pennington
Paul DiMeo
Paige Hemmis
Michael Moloney
Ed Sanders
Tracy Hutson
Tanya McQueen
Eduardo Xol
John Littlefield
Rib Hillis
Synopsis
---
Ty and the team are head for the White House. First Lady Michelle Obama informs them that her humble home has no need for a makeover. That's fine because there are some folks in Fayetteville, North Carolina who could use a hand. The team heads out to meet the Marshall family and the folks at the Steps-N-Stages Jubilee House.
Barbara Marshall, a Navy veteran, is fighting to end homelessness among her fellow female veterans. This formidable woman established The Steps-N-Stages Jubilee House in Fayetteville using her own money. Jubilee House offers shelter, support and services such as mentoring and life coaching to homeless female veterans. Barbara's life is dedicated to these women... they are her mission, her family, her passion. Unfortunately, Jubilee House needed additional space and resources. In short, Barbara needs help. Well, help is on the way!
The paratrooper team from the U.S. Army and other service members join Ty and the gang to knock on the door of Jubilee House. They send Barbara Marshall and her family to Walt Disney World, where they are honored at a military-family themed parade. During the parade, Mrs. Obama surprises the Marshalls and guests at the park with a video greeting from The White House. Special dog tags have been created to honor Barbara's work. But the biggest surprise comes when Barbara's active duty soldier daughter shows up to give her mom a hug.
Johnny Littlefield, Tracy Hutson, Paul DiMeo, new designer Sabrina Soto and builder Chip Smith from Blue Ridge Log Cabins lead the charge this week. A giant rope is fastened around the house and led across the state of North Carolina to the ocean where the Coast Guard goes full throttle to help bring the house down. Later, Ty learns about the First Lady's "Joining Forces" initiative. In other news, Sears puts on a "Heroes at Home Career Expo" to train vets as to how to use their military training in a civilian job.
Tracy surprises a group of women veterans/volunteers by introducing them music superstar Rihanna. The award-winning singer takes some time to chat with the ladies about the hardships they endured after they returned from service. That's why Steps-N-Stages Jubilee House so important. Rihanna says she's auctioning off concert tickets with all proceeds going to the Jubilee House.
First Lady Michelle Obama arrives at the house in time to welcome the family back from vacation. Ty shows her the desk he's been working on for Barbara. He asks the First Lady if she would write a personal note for a space on the desk. Mrs. Obama is happy to oblige. She also wants to know if he wants her to hammer anything.
Upon their return to Fayetteville, the Marshalls and hundreds of volunteers gather for the unveiling of the new Jubilee House. The bus doors open to reveal a special team member who helped build the new Jubilee House, First Lady Michelle Obama. Now it's time to MOVE THAT BUS!
Here's a breakdown of the new digs:

- The new Jubilee House is built in classic American Heritage style with an efficient, eco-friendly log home. The added space will allow Barbara to house at least twice as many people as before.

- The entire West Wing of the house is dedicated to Barbara and her family.

- The dining room is huge and welcome since the old house didn't really have such a space.

- There's a wall of achievement made up of plaques showcasing vets with a words of encouragement from the soldiers written on the inside.

- Sabrina makes an American Flag mosaic made up of photos of veteran and active duty soldiers. Many of the pictures come from soldiers serving at nearby Fort Bragg.

- The backyard is an oasis with a White House playhouse complete with the Truman Balcony. The First Lady hands the American flag to Paul to place atop the replica.

- The glass panels on the beautiful new greenhouse are perfect for allowing lots of natural light.

- Ty created the "Veggie-tube," which is a vacuum tube that sends vegetables to the kitchen. It's hardly a necessary household item, but that doesn't mean it isn't totally cool, too.

- The East Wing is filled with booths in a multi-purpose area perfect for skill-building. A representative of the College of Charleston informs Barbara that a scholarship is being established in her name.

- The new play area has a soundproof wall so the kids can play while others work in peace. Johnny reveals that the walls all slide and move to make maximum use of the space. There's also an interactive gaming floor that allows you to do things like kick Ty's face on a computer-generated puck.

- There's a full complete kitchen upstairs, too. Jubilee House resident Judy Hilburn's name is engraved on a center island. When she gets her own place, she'll be able to take the island with her.

- Jubilee House resident Nikki Harper's room features a display of medals that also has words from her sons, Kelli and Keyon, expressing how they feel about their mom.

- Speaking of the boys, they love the bunk beds in their own room that's complete with a recording studio. The footlockers in the room are there so they can pack up their stuff when the day comes that they leave Jubilee House.- Johnny tells Bert that he doesn't need to go outside to play his drums anymore. Now he can virtually play with the entire design team band right there in his room.

- Barbara is blown away by her beautiful new bedroom. Above the bed sits a flag that was presented by the First Lady to represent the men and the women who have served our nation all over the country and the world.

- Ty shows Barbara the personalized note from Michelle Obama that is part of her desk in her own little Presidential retreat area.
The First Lady has a chat with Barbara, who believes that positive role models are still so important. Mrs. Obama adds that Barbara is her hero and that an entire nation will always have her back. Welcome home, Marshall family and residents of Steps-N-Stages Jubilee House. Welcome home.