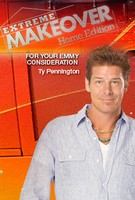 TV Info
---
Episode Premiere
May 01, 2011

Distributor
ABC

Genre
Reality

Show Period
2004 - Now

Production Company
Endemol Ent., Lock and Key Prod., ABC, Greengrass


Cast and Crew
---
Main Cast
Ty Pennington
Paul DiMeo
Paige Hemmis
Michael Moloney
Ed Sanders
Tracy Hutson
Tanya McQueen
Eduardo Xol
John Littlefield
Rib Hillis
Synopsis
---
Semper Fi! The Extreme Team joins the Marines! Actually, it's the other way around as the bus rolls into Beaufort, South Carolina to surprise the Dickinson family. Marine Staff Sergeant Bill Dickinson has been deployed to Afghanistan. He'll be away at war for seven months to protect his country. He leaves behind his wife, India, and their five kids. The toxic mold in their house makes their baby, Sophia, sick almost every day.
Ty and the team surprise the family with the help of the Marines stationed at the base. A video conference call to Bill overseas lets this dedicated husband and dad know that his family is about to get a brand new home. Tears flow on two different sides of the world. Ty has a private chat with Bill to learn that he was never able to give India an engagement ring. Jillian and Xzibit learn that a few of the kids have plans to join the military, too.
Todd Hawk leads his team from H2 Builders up to the Dickinson home. Todd's grandfather was a Marine, so he says that this week they are soldiers in service to make things right for this particular family. First things first. The old house must come down. Time to call in the Marines!
Bill watches via video from Afghanistan while his family dials in from Disney World as a team of Marines help blow the house sky high. Xzibit helps secure the airspace. His code name for this mission is "Danger Boy." Down on the ground, Paul escapes the house moments before everything goes BOOM!
Paul helps a group of Marine wives pack 800 care packages to the men and women serving overseas. Later, the family comes home a day early to take part in celebration of giving back to the heroes at home. Ford's Operation Drive One program sponsors events all over the country. $10,000 is being donated in the name of the Dickinson family to Marine Parents. The family also gets a new 2011 Ford Explorer with a picture of Bill on the dashboard. Now it's time to see the new house. But they can't do it without Bill, so a video link is set up as they MOVE THAT BUS!
Here's the breakdown of the new place:

- There's a white picket fence surrounding the beautiful two-story home along with a wrap-around porch.

- Inside, the great room has vaulted ceilings. There's red on the walls, black on the trim and gold in the foyer to tie-in all the Marine colors.

- Isabella is all about skateboarding, so Xzibit fills her room with street signs as part of the décor. There's even one sign to signify that you are on "Izzy Street." There's also a secret storage area under a manhole cover for all her skateboarding supplies.

- Bailey is all about sports-stacking, which involves stacking cups as fast as you can. So Paul creates some cup steps that lead to a cup bed. There's a sports-stacking desk which has cups for legs. There's a 722-cup wall that spells out Bailey's name. There are even cup blinds.

- Jillian creates a "glamouflage" room for Brianna. It has a huge mirror with quotes from her dad etched inside it. It also has a chandelier made of helmets.

- Grant's military-themed room totally reminds him of his dad. There's even a security system that allows him to keep an eye on things while he serves as man of the house. The rope-climbing machine will give him plenty of exercise.

- Sophia's nursery has a plane that will sound off a recording of her dad's voice whenever she sits on it. The room looks incredible, but more importantly, the air Sophia breathes while inside it will be clean thanks to the new air filtration system. When the lights are turned off, Sophia will hear her dad's voice say goodnight.

- The master bedroom is huge, but the best feature is quite small. Ty made a jewelry box for the letters Bill sends to India while he's away. There's also a beautiful ring inside to make up for the engagement ring India never got.
It's been an inspiring build to pay tribute to heroes both overseas and at home. Now there's just one thing left to say: Welcome home, Dickinson family. Welcome home.