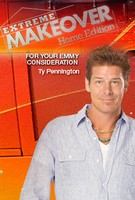 TV Info
---
Episode Premiere
April 17, 2011

Distributor
ABC

Genre
Reality

Show Period
2004 - Now

Production Company
Endemol Ent., Lock and Key Prod., ABC, Greengrass


Cast and Crew
---
Main Cast
Ty Pennington
Paul DiMeo
Paige Hemmis
Michael Moloney
Ed Sanders
Tracy Hutson
Tanya McQueen
Eduardo Xol
John Littlefield
Rib Hillis
Synopsis
---
The Extreme Team is off to Kansas to meet the Hall family. Carl Hall was a baseball star at Wichita State. A tragic car accident left him paralyzed from the neck down. The medical bills and the fact that the family must rent a place where Carl can get around in his wheelchair have made for some tough times lately. This family could use a little help. Well, help is on the way!
Ty and the team surprise Carl at the school where he used to play. There are cheers and tears of joy from Carl and his high school sweetheart/wife Stacey. Kids Megan, Maddie, Logan and McLaine are also thrilled to see the Extreme Team as Ty introduces builder Bob Cook of Bob Cook Homes. On the designer side, Paige, Paul and Jillian are all ready to give this inspirational group a brand new home.
The family is off to do the Disney thing in Orlando. They love sports, so Ty sends them spring training with the Atlanta Braves. It means a lot for Carl to be back on the field. But it means even more when favorite player Derek Jeter swings by. It's a total home run!
A plot of land has been donated for the brand new Hall home. Paul wants to embrace all kinds of sports for Logan's locker room. Paige gets suggestions from Megan's best friends for a city loft feel featuring a collage of pictures. Outside, a swarm of colorful sports mascots help the team decide that the Hall family mascot will be a big, beefy lizard. Just call him Hallzilla!
The team builds a year-round sports training facility. Dad can coach his kids from a place dubbed Carl's Corner. Batting cages are set up outside. A gentleman by the name of Brent Bushnell is the co-founder a group known as Syyn Labs. Brent's latest thought is to create a pitching machine Carl can use.
As we know, this is a baseball family. That's why Ty heads out to Carl's old stomping grounds, Nelson Field. He tells the head of the field, John Burke, the Sears Blue Tool Crew is donating $30,000 to this unsung hero in their "Do It Together" campaign. It'll be called the Carl Hall Family Sports Complex. Play ball!
The family returns home to Carl's alma mater where he's s told he's being inducted into the Wichita State Shockers' Hall of Fame. The school is also giving all the kids full four-year scholarships. Go Shockers! And go Hall family. And by that we mean "go home" because it's time to MOVE THAT BUS!
Here's a breakdown of the new digs:

- The beautiful blue exterior is done in a modern ranch style that has all-access entryways for Carl.

- The interior is huge with plenty of room for Carl to navigate. He said that when you get dealt a lemon you need to make lemonade, so there are two giant containers of the drink waiting for him inside.

- There's a mini movie theater room complete with a popcorn stand.

- A hall of fame wall case displays the family's numerous awards and memorabilia. The fireplace is surrounded by baseball home plates signed by all the volunteers that helped with the build.

- CVS equipped the house with a super-cool therapy room and elevator. There's a voice-activation unit that allows Carl to open a door, turn on a light or raise the thermostat just by speaking.

- Logan's locker room is a sports fan's dream with a bed that drops down from the wall.

- Jillian designs a cool desk for Maddie and McLaine. Half of it is related to sports, the other half design. McLaine's side of the room is all black and Maddie's side is all white.

- Megan's room is filled with open storage containers for all her new shoes. There are photos of all her friends in a fascinating "Dream" collage. The steps leading up to her bed contain words like "believe," "love" and "determination." It reminds her of her dad.

- In the master bedroom, the "Kansas Sweethearts" sign above the bed represents the love Carl and Stacey share, as does the fabulous photo wall that's filled with memories.

- The voice-controlled bed and heating/cooling generator will make Carl's daily routine so much easier. And the bathroom has a tub equipped with a sliding side.

- Jillian stylish set of patio furniture from Sears' Simply Outdoors collection.

- The sip-and-puff pitching machine at the batting cages allows Carl throw fastballs galore to Logan.

- The indoor sports complex has a basketball court. Dad can coach from Carl's Corner while Hallzilla the mascot dances nearby.
They say that sports build character. Well, the character this Kansas team has shown in the face of adversity is beyond compare. Welcome home, Hall Family. Welcome home.