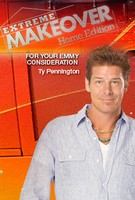 TV Info
---
Episode Premiere
February 20, 2011

Distributor
ABC

Genre
Reality

Show Period
2004 - Now

Production Company
Endemol Ent., Lock and Key Prod., ABC, Greengrass


Cast and Crew
---
Main Cast
Ty Pennington
Paul DiMeo
Paige Hemmis
Michael Moloney
Ed Sanders
Tracy Hutson
Tanya McQueen
Eduardo Xol
John Littlefield
Rib Hillis
Synopsis
---
In 2009, a gunman opened fire at the Fort Hood military base in Texas. 13 people were killed and many others were wounded. One of the soldiers caught in the crossfire was Staff Sergeant Patrick Zeigler. His injuries were substantial including a gunshot wound to the head. Odds were he wasn't going to make it. But Patrick didn't know that. He still had something to live for. She happens to be the love of his life, Jessica Hansen.
Ty and the Extreme Team surprise Patrick and Jessica in the most military of ways by popping out of some massive tanks. There are cheers from his unit and tears from the Extreme Team when they see the memorials paying tribute to Fort Hood's fallen. As for Patrick and Jessica's home, they are currently in temporary housing. They need something more permanent especially since they're getting married. That won't be a problem.
Patrick and Jessica are headed to Vegas as the team gets to work on their brand new home. Dan Wallrath, the head of a program called Operation Finally Home, says his organization is donating the land for the new place. Before they break ground, the American flag is raised to salutes and cheers from all those surrounding it.
Now it's time for Ty, Paul, Xzibit and Leigh Anne to get to work! The house is just one challenge this week. Ty tells the team that they'll also be planning a wedding! Paul and Xzibit stress about the guest list, flowers and a place to hold the reception. They even try to bake the wedding cake. It doesn't go well, so they get help from Ace of Cakes star Duff Goldman. As for Leigh Anne, she flies the entire wedding party to Vegas to surprise the future bride and groom. The ladies head to L.A. to find a wedding dress while the boys hit the casino. Jackpot!
Patrick and Jessica return home to Fort Hood a little early to attend an event honoring the victims of the tragedy that took place there. It's announced that a Victims Fund will be kicked off with a $25,000 donation from CVS. The party continues with an appearance by funnyman Dane Cook to get the crowd laughing and smiling. Dane even stops by to help with the build.
The wedding day arrives and Jessica makes for a beautiful bride. She never left Patrick's side after he got hurt. Now she'll always be by his side as his loving wife. There are cheers from the guests as Patrick is told he may kiss his bride. The newlyweds exit the church through an arch of swords held high above their heads. Now it's time to hop in the limo to hit the reception and see their brand new home. Let's MOVE THAT BUS!
Here's a breakdown of the new home:

- The beautiful new Austin-style ranch home has a beautiful cedar entrance.

- The interior is huge with wide open spaces in the rooms and hallways so that Patrick can navigate with ease whenever he's in his wheelchair.

- The state-of-the-art kitchen features a low oven and microwave for accessibility.

- CVS stocks a room with gobs of gadgets to help with workouts. This indoor simulation room is created so that Patrick can ride his rehab bike through hills and valleys in the comfort of his own home.

- The master bedroom is blue and beautiful and features a wall filled with photos of the happy couple.

- Ty creates an amazing headboard for the happy couple's bed featuring the love letters they wrote to each other whenever they were apart.

- The backyard has a beautiful new spa and an outdoor movie theater where Patrick and Jessica can watch their wedding video for years to come.
There's a tent set up for the reception where the bride and groom share a dance. This is truly amazing because there was a time when Jessica wasn't sure if she and Patrick would ever dance again. Love really does conquer all. Welcome home, Zeigler family. Welcome home.