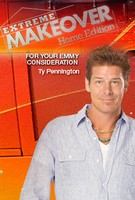 TV Info
---
Episode Premiere
February 13, 2011

Distributor
ABC

Genre
Reality

Show Period
2004 - Now

Production Company
Endemol Ent., Lock and Key Prod., ABC, Greengrass


Cast and Crew
---
Main Cast
Ty Pennington
Paul DiMeo
Paige Hemmis
Michael Moloney
Ed Sanders
Tracy Hutson
Tanya McQueen
Eduardo Xol
John Littlefield
Rib Hillis
Synopsis
---
Ty and the team climb aboard a World War II plane to fly down to Cocoa, Florida to meet the Hurston family. Joe, Cindy and their three kids make for a truly a special bunch. Joe was a pilot and Cindy was a nurse when they met 17 years ago on Haiti. They adopted their daughter Juliet when she was three (she's 17 now), their son Peter is 13 and little Dieunika is five (though she was three when they adopted her).
The family's Air Mobile Ministries brings clean water into countries following disasters. Donors fund the portable water purifiers they developed so they can donate them to anyone in need. Their machines saved countless lives following that massive Haiti earthquake. Ironically, the one thing they provide to save lives is exactly what's hurting their home. Water damage has made the place unlivable. Well, all that's about to change.
The Hurston family is shocked to see Ty and the Extreme Team step out of that World War II plane. Joe shows them his own small plane named "Ti Burik," which means little donkey. Basically, it's a little plane with a huge workload. It could probably get even more done if got a makeover, right?
The family heads away on a San Diego vacation, where they get a video message showing them that bunches of brand new water purifiers are being loaded onto a plane to Haiti. Air Mobile volunteers show just how these devices work. The sight of kids drinking clean, pure water brings tears to family's eyes. Ours, too.
Back home, Ty says he'll tackle the master bedroom. Michael wants to use that whole aviation vibe to attack the main house. Eduardo's going to give Peter his own personal paradise and Paige will take care of both girls. But first they need to get rid of the old house. Ty enlists a little help from some nearby NASA folks to launch the entire place into outer space. Maybe the family can still use it as a summer home on Mars!
The cinderblocks used to build the new foundation help produce energy as energy is being used. With a solar hot water heater and solar panels on the roof, the Hurstons will be looking at an electric bill of zero. Paige takes little trip to Wonderland for inspiration on Dieunika's room. For now, let's just say that teacups are involved. And Michael actually lowers the fuselage of plane into the middle of the home's new foundation. Things are really starting to takeoff now!
When the Hurston family returns, Paige shows them their completely refurbished plane. Ford funded a few upgrades including a brand new paint job, a state-of-the-art navigation system and additional fuel tanks in the wings. The plane was towed onto the tarmac by the family's brand new Ford Explorer. The new car and plane are great, but now it's time to see the new house. So...MOVE THAT BUS!
Here's a breakdown of the new home:

- The stunning new exterior looks like a home you'd find in a tropical paradise. The front railing gives the house a bit of a resort feel on the outside.

- The interior is most spacious. It has to be because there's a plane inside. It's first class all the way!

- There's a total tiki feel in the backyard with a pond, outdoor fireplace and a wind turbine.

- The solar-powered chicken coop is nicer than the old family home.

- Eduardo creates a beach room for Peter. There are musical instruments spread all around, but Peter heads straight for the drums. We're sure his parents are going to love all his jam sessions.

- Juliet wants to be a reporter, so Paige posts blogs her dad has written over the years onto her wall for inspiration in her journalism room.

- Dieunika is in Wonderland as she spins in her new teacup. She's have a great time. Ty, on the other hand, can't wait for the ride to be over.

- Ty went to town on the peaceful, dream-like master bedroom. There's a faucet that's constantly provided a drop in the bucket below as a reminder of the good work the family does.
The family celebrates their new home with an outdoor party featuring all their friends at Air Mobile Ministries. Eduardo says that Bank of America is providing them with a grant worth over $100,000 and consulting services to help Air Mobile grow even more. Welcome home, Hurston family. Welcome home.