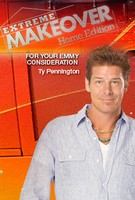 TV Info
---
Episode Premiere
January 30, 2011

Distributor
ABC

Genre
Reality

Show Period
2004 - Now

Production Company
Endemol Ent., Lock and Key Prod., ABC, Greengrass


Cast and Crew
---
Main Cast
Ty Pennington
Paul DiMeo
Paige Hemmis
Michael Moloney
Ed Sanders
Tracy Hutson
Tanya McQueen
Eduardo Xol
John Littlefield
Rib Hillis
Additional Cast
Synopsis
---
THIS JUSTIN! That's not a typo. It's just our way of saying Justin Bieber is a part of this week's show as Ty and the team head to Wellman, Texas to meet the amazing Brown family!
When 17-year-old Alex Brown tragically died in a car accident, her courageous family made it their mission to spread the word about the dangers of texting while driving. They travel to schools all around Texas showing kids everywhere the wreckage of Alex's truck. Their message is jarring. Their goal is to save lives.
Alex's best friend, Amanda, helps the Extreme Team surprise Jeanne, Johnny Mac and 12-year-old Katrina Brown in a most chill-inducing way. During one of the family's safety presentations at a local high school, Amanda gives the signal for all the students in the bleachers to reach under their seats. The kids hold up boards that spell out "Good Morning, Brown Family." Like we said...Chills. Tears, too.
Ty, Michael, Paige and Leigh Anne tour the Brown house. It's in pretty bad shape on the outside, but it's what's inside that really hit home. Leigh Anne notices that Alex's room doesn't look like it has been touched since she was last there. This is all going to change, so Ty lets the family say one last goodbye. The plan is to help the family move forward, get their message out to the world and, of course, never forget Alex.
The family takes a break in New York City where they get a video message from Ty saying they've set up a "Remember Alex Brown" fund where folks pledge to never text and drive. They also have thumb rings that will serve as a reminder to not text while behind the wheel. At the house, special guest Emma Roberts helps Paige come up with ideas for a stage that comes down from the wall in Katrina's room and Ty challenges the team to create a barbecue out of a giant fake bull. Call it a Bull-becue.
Paige flies a few of Katrina's friends to the Big Apple where they meet Justin Bieber. As you can imagine, Katrina is thrilled to meet him and all her friends have an equally bad case of Bieber Fever. Mom and dad are also overwhelmed by this young man who tells them that one dollar from every ticket sold at his concert will go to their cause. Katrina and her friends even get to dance on stage with Justin and his crew.
Back in Texas, NASCAR's Carl Edwards and Greg Biffle show that not even the pros can text and drive safely. That's why both men sign the pledge to never do it again. Later, an entire high school filled with friends welcomes the family home. Everyone is wearing their "Remember Alex Brown" thumb bands. Ty lets the family know that high schools all over the country have signed the pledge to never text and drive. Now it's time to head home and MOVE THAT BUS!
Here's a breakdown of the new home:

- The gorgeous exterior has a beautiful stone-carved walkway leading up to the front door. Speaking of doors, one just opened for Katrina as Ty reveals that she's been given a full college scholarship to Lubbock Christian University.

- The inside of the home is huge and beautiful. Mom and dad love their coffee, so Michael created a little bistro area. There's a table with a tracing of a love note from Alex carved into the top.

- There's a memory shelf in the main room filled with keepsakes and pictures of Alex.

- Huge beams hover on the roof over the beautiful new dining room area.

- Emma Roberts helps reveal the stage that pulls down from the wall to cover the bed in Katrina's room. There's huge, moving storage area for crafts and, of course, a framed picture of Katrina and Justin Bieber on the end table. Katrina gets a video message from Justin inviting her to the premiere of his new movie. Bieber Fever-Catch It!

- The master bedroom is huge and filled with features celebrating countries around the globe. There's a shadowbox on the wall framing a window where Alex wrote a note to her mom with her finger. It says, "To Mom, Alex loves you."

- The backyard is enormous and the Bull-becue has smoke coming out of both nostrils.

- Sprint provided a new state-of-the-art office and donated $50,000 to the cause. One office wall is filled with text message-style notes of safety. There's a portable "distracting driving simulator" that the Browns can pack up and take with them to schools for their presentations.

- There's an interactive map that will show red dots whenever any school in the country takes the pledge. It also shows which states have legislation regarding texting and driving and which states do not. At least, not yet.
R.A.B. stands for "Remember Alex Brown." Take the pledge to never text and drive. That's the message the Brown family is desperate to spread. They can continue to do just that in their beautiful new house. Welcome home, Brown family. Welcome home.