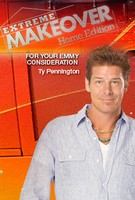 TV Info
---
Episode Premiere
December 05, 2010

Distributor
ABC

Genre
Reality

Show Period
2004 - Now

Production Company
Endemol Ent., Lock and Key Prod., ABC, Greengrass


Cast and Crew
---
Main Cast
Ty Pennington
Paul DiMeo
Paige Hemmis
Michael Moloney
Ed Sanders
Tracy Hutson
Tanya McQueen
Eduardo Xol
John Littlefield
Rib Hillis
Synopsis
---
Andre and Jasmine Anderson are both blind because of their diabetes. That hasn't ever slowed them down; as they are they are the driving force behind the Disability Awareness Center in their hometown of Maple Heights, Ohio. They have two sons: 13-year-old Jaison (who is hearing impaired) and 7-year-old Jahzion. They live in a cramped, structurally-dangerous home with their trusty guide dog, Valentine. Well, that dangerous home is about to become a "smart" house once Ty and the Extreme Team roll into town.
Ty sends the family to the Adaptive Sports Center in Colorado where they enjoy all sorts of outdoor activities. Since Andre and Jasmine can't see, Ty makes sure they can hear the noisiest demolition to date. And when the bomb squad is called in, well, things reach some explosive new levels. Once the damage is done, some of the Cleveland Browns take a break from the gridiron to lend a hand with the build. Score!
Changes aren't only being made to the Anderson's home. Ty lets them listen in to the voice that's now speaking at a local crosswalk. Now, anyone with vision impairments will actually know where they are going when they press a button to cross the street. The family hears one more thing before Ty hangs up. It's the sound of ripping paper because the company that owns their home just paid off their mortgage.
When they return home, the family goes on a little shopping trip with Michael to get some cool new clothes at Sears. They head back to the house to be greeted with cheers and chants of "Move That Bus!" Andre and Jasmine can't actually see what the new place looks like, so Ty hands them a model representing their beautiful new two-story Tudor-style home.
Here's what the new place looks like up close:- The brand new front door has a thumb print access feature so Andre and Jasmine no longer have to fumble around for their keys.

- The obstacle course of the old house is gone, as the inside of this new home is huge and spacious. The wide hallways are a blessing.

- Ty provides special canes that aren't even on the market yet. They vibrate whenever obstacles are in the way.

- The kitchen has a cool new induction stove that only heats up when the metal from the pot hits the hot spot. This will prevent Jasmine from burning herself, as she has in the past. An audio bar code scanner will tell them exactly what they are pulling out of the fridge.

- Jahzion mentioned that he wants to be an eye doctor so he can help his parents. Xzibit takes a cue from that thought to create an interactive game on his bedroom wall. The giant eye chart on the wall should keep Jahzion focused on that vision he has for his future.

- Tracy creates a basketball-themed room for Jaison that would make any kid feel like an MVP. That's because she paid a visit to the Cleveland Cavaliers to snag some authentic goodies straight out of the clubhouse. There's even a SportsCenter update on the in-wall TV where the Cavs tell Jaison to keep working on his game so they can see more of him in the highlight reels.

- Valentine the guide dog gets a special heart-shaped bed.

- In the master bedroom, Ty creates a headboard and quilt with a gigantic message in Braille that reads: Love is Blind. There's also an assisted makeup table to help Jasmine do her nails.

- The new office has a laptop computer that is programmed to read books for Andre.

- In the media room, Michael's plan for a sound dome that drops down from above with speakers in the center will make for a most enjoyable listening experience whenever Andre and Jasmine want to catch a movie. Each dome can be adapted so the listener can be told the story as the film plays. That gets a five-star review from us!
Sears makes a $20,000 to the Disability Awareness Center the Anderson's run. Ohio's own John Legend stops by to sing a song called "Shine" so Andre and Jasmine can share a slow dance to their bright new future. Sounds like a great ending to an inspirational story. Welcome home, Anderson family. Welcome home.