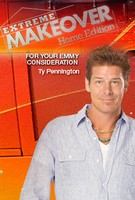 TV Info
---
Episode Premiere
October 24, 2010

Distributor
ABC

Genre
Reality

Show Period
2004 - Now

Production Company
Endemol Ent., Lock and Key Prod., ABC, Greengrass


Cast and Crew
---
Main Cast
Ty Pennington
Paul DiMeo
Paige Hemmis
Michael Moloney
Ed Sanders
Tracy Hutson
Tanya McQueen
Eduardo Xol
John Littlefield
Rib Hillis
Synopsis
---
The Extreme Team is off to Hamburg, Pennsylvania to meet Trisha Urban, who was blindsided by the untimely death of her husband. Trisha is looking to turn the page and move forward with her one-year-old daughter, Cora. She's been trying to turn the tragedy of her husband's death into a positive through work with the American Heart Association. This is one special lady.
Leigh Anne Tuohy knows a little something about "The Blind Side" of life. She's onboard as the newest permanent member of the design team. Can she help make Trisha's longtime dream of turning their 300-year-old crumbling cabin into a fairy tale home come true? Let's find out!
There are so many memories in baby Cora's unfinished bedroom. Trisha and the baby sleep downstairs because of those memories. The master bedroom hasn't changed since Trisha's husband, Andy, passed. Tracy takes on Cora's room and Ty will see what he can do to finish the dream that Trisha and Andy started.
Leigh Anne takes the lead on the guest room. Trisha has a great support system with her mom and sister. Leigh Anne wants them to have a nice place to stay whenever they come over to help. She finds a picture of Cora that she hopes to use to create a theme in the room.
The house isn't the only thing that needs a makeover on the Urban farm. There's also going to be a five-star goat hotel. You heard us. A goat hotel complete with a chandelier! Paul takes the storybook theme to the extreme by enlisting help from some folks who make sets for children's theater to build new homes for all the animals.
Leigh Anne introduces Christie Brinkley, who takes part in a huge charity football game to benefit the American Heart Association. Trisha is touched by all the good work being done in her husband's honor. But when game is over, it's time to get back to work on the Urban home. Again, the designers are only trying to finish all that Andy and Trisha started. They end up doing a fantastic job. Want to find out how? Then MOVE THAT BUS!
Here's a breakdown of the new digs:

- That broken-down cabin has been transformed into a beautiful new home as part of the Urban Hideaway Farm.

- The Dutch-inspired windmill and solar panels out front will help cut utility bills by up to 90 percent.

- The downstairs is huge, bright and filled with vibrant colors.

- The stones surrounding the fireplace are all from the old home. Christie Brinkley made sure that center stone was shaped like a heart.

- Ty found some old newspapers from 1925 while ripping up the flooring in the cabin. He used them to create a cool design on area near the windows. Talk about recycling!

- Cora's room features a framed mural that her dad and mom made before she was born. The team saved the painting and it now hangs above the crib. There are also some big barn doors that lead to a secret little play area that's sure to be a fun place for Cora to enjoy for many years.

- The guest room features beautiful artwork including a beautiful portrait of Cora.

- Trisha's new bedroom is the perfect combination of the old and new house.

- There's a state-of-the-art fairy tale chicken coop outside along with a cool little playhouse for Cora. The signpost points the way to places like Peacock Pen and a little miniature horse palace.

- Chateau Goate, by the way, did get that chandelier along with a cool spiraling walkway.

- Ty gives Trisha a beautiful box that opens up to play videos of her family members talking about her husband. It's way for Cora to know just how special her dad truly was.
Ty presents the family with a brand new Ford Explorer. The four-wheel drive will come in handy around this bright new family farm. Welcome home, Urban family. Welcome home.