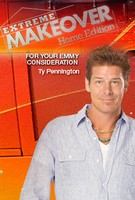 TV Info
---
Episode Premiere
October 10, 2010

Distributor
ABC

Genre
Reality

Show Period
2004 - Now

Production Company
Endemol Ent., Lock and Key Prod., ABC, Greengrass


Cast and Crew
---
Main Cast
Ty Pennington
Paul DiMeo
Paige Hemmis
Michael Moloney
Ed Sanders
Tracy Hutson
Tanya McQueen
Eduardo Xol
John Littlefield
Rib Hillis
Synopsis
---
What do you call an EM:HE build that doesn't bring a tear to your eye? How about an Extreme Jokeover?
Eric and Elaine Johnson have five daughters. They all like to have fun no matter what. The family's Houston home is not representative of the good work Eric and Elaine do inside as relationship coaches devoted to promoting the benefits of two-parent families. Ty and the team surprise the Johnsons at a comedy club. Makes sense. The Extreme Team brings down the house wherever they go!
Ty says au revoir to the family as they head off to Paris. While they're away, there's going to be a comedy roast at their home featuring funnymen Tommy Davidson, Ralphie May, Paul Rodriguez and Cedric the Entertainer. Ralphie jokes, "I'm not saying this house is bad, but a homeless guy just walked by and offered us a new box." Supermodel Brooklyn Decker doesn't do jokes, but she still brings smiles to all the guys while helping out with the build.
Ed, Michael and Paige tackle the girls' rooms. Fashion is the running theme. Michael will try to work a little bit of Milan, Italy into one room. Ed works on a London theme and Paige is off to Paris. Speaking of Paris, Cedric the Entertainer is asked to pick up the family when they return from their trip. Believe it or not, Eric and Elaine went to see Cedric on stage when they first started dating. No joke!
Okay, it's time to stifle the laughter for a bit and MOVE THAT BUS! Here's the breakdown of the new Johnson family home:

- Elaine longed for a Spanish-style house, so she should be pleased with the two-story turret wrapped in stucco with a red tile roof and arch windows.

- The downstairs floor no longer shakes due to a lousy foundation. There's a brand new spacious living room and a truly beautiful dining area.

- The family used to eat off paper plates because the weight of real plates would cause their shelves to fall. The state-of-the-art kitchen now features cabinets that can hold oodles of heavy fine china.

- A fashion runway spans the upstairs so the ladies of the house strut like models down a catwalk that lights up as they walk.

- Brooklyn's touch is evident in the beautiful pink walk-in closet is filled with new shoes and clothes.

- The London-themed bedroom features Big Ben (not the real one) and a double-decker bus (again, not a real one). Beep, beep!

- The Paris room has a big, bright bed and a smaller version of the Eiffel Tower.

- The Milan room is a red and white picture of fashion.

- The Master Bedroom has plush carpeting and a giant tub.

- Eric and Elaine's office is decorated with heart-shaped boxes filled with different colored tissue paper that spells out the words:

Make Love Work. It's the perfect place to keep on counseling couples.
Eric and Elaine are treated to a fashion show starring their five beautiful daughters. Michael says, "We've said no tears all week long, but we'll make an exception for happy tears." That'll work. Welcome home, Johnson family. Welcome home.