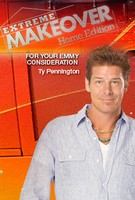 TV Info
---
Episode Premiere
October 03, 2010

Distributor
ABC

Genre
Reality

Show Period
2004 - Now

Production Company
Endemol Ent., Lock and Key Prod., ABC, Greengrass


Cast and Crew
---
Main Cast
Ty Pennington
Paul DiMeo
Paige Hemmis
Michael Moloney
Ed Sanders
Tracy Hutson
Tanya McQueen
Eduardo Xol
John Littlefield
Rib Hillis
Synopsis
---
Start spreading the news, the Extreme Team is leaving today for New, New York! They're not there to catch Broadway show; they're there to help the Lutz family. Kathleen and John have six brothers and sisters with Down syndrome. They've been raising them in a tiny home since their parents passed away. All that's about to change as Ty and the team surprise the family while they're sitting in the stands at Yankee Stadium. Play ball!
Traveling isn't easy for this family, so they can't ever go far. That's okay. They don't have to. A gigantic taxi limo pulls up to take them to the Hamptons. When they get there, a video from Ty reveals that Broadway star Kristin Chenoweth has stopped by. Like everyone in the Lutz family, Kristin is adopted. She's the perfect choice to lead the team in the demolition Broadway musical-style. Ty believes their performance is better than Cats! We don't know about that, but the musical mayhem that kicks in is a real crowd-pleaser.
Paul calls dibs on the boys' room. He'll be designing something special for Danny, Timmy, Andrew and William. Paige will take the two girls, Shannon and Courtney. Tracy gets the older siblings, Kathleen and John. Since the family can't really see the world, Ty wants to bring the world to them. He also wants to create a place where they can get loud and have some karaoke-style fun. Sing it, Ty. Sing it!
Ty sends the team an old taxi cab and tells them to get creative with it. He puts Paul in charge. He delegates the cab project to Paige and Tracy so he can head back to Yankee Stadium and steal a base. We're serious! He literally steals a base of the field to bring back to the house.
Builder Sal Ferro worries about the huge storm that's headed their way. Somehow, someway the storm hit north and south of them but manages to go around the Lutz family build. A big New York-style parade welcomes the family back where they move that bus!
Here's what an overwhelmed Lutz family sees:

- Weathered cedar, round windows and a skylight atrium highlight the outside of the house.

- Everything inside screams New York. Street signs bearing everyone's name decorated the walls. Paige and Tracy turn that old yellow cab into a cool new couch though it took some doing to get it through the front door.

- Everyone's room has their own, individual style with doors representative of the kind you'd see in New York neighborhoods. There's even an outdoor fire escape indoors!

- The Ty creates a series of storage ottomans that have some style. He calls them alottomans because there are a lot of folks in the Lutz family. The clever cubes create a cool coffee table setup. If you flip over the lid of each cube, it creates a giant photo of their mom and dad.

- The yard holds a brand new pool with a colorful circular slide, a swing set and a giant lawn chess game.

- Paul turns William's room into an unbelievable baseball dugout with that stolen base and an autographed Derek Jeter jersey stuck on the wall.

- Courtney has a cool bead machine in her new room, while Paige spread some fairy dust in Shannon's magical bedroom.

- Danny and Timmy's music-themed room has them both doing Elvis impersonations in their nifty new rock and roll jackets.

- John has an amazing new room that's big enough to hold a pool table.

- Kathleen has a bright, new beautiful bedroom that features a beautiful painting created by her brothers and sisters.

- There's big room with a stage for tons of karaoke fun. And the folks at CVS have set up a $50,000 fund to help the Lutz family with their bills. Now that's something to sing about!
Kathleen says, "With this new home, my whole family has a really bright future." Welcome home, Lutz family. Welcome home.