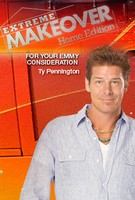 TV Info
---
Episode Premiere
May 02, 2010

Distributor
ABC

Genre
Reality

Show Period
2004 - Now

Production Company
Endemol Ent., Lock and Key Prod., ABC, Greengrass


Cast and Crew
---
Main Cast
Ty Pennington
Paul DiMeo
Paige Hemmis
Michael Moloney
Ed Sanders
Tracy Hutson
Tanya McQueen
Eduardo Xol
John Littlefield
Rib Hillis
Synopsis
---
We're off to Mineola, Texas to help another amazing family. Mike and Katrina Carr are loving parents to four adopted children who were abandoned in Kazakhstan. Two of the children, Ryanne and Rina, were born with Amniotic Band Syndrome which caused many physical challenges. And Mike has been plagued with diabetes since he was a child.
Mike and Katrina have battled through their challenges to provide a loving home for their children. However, over $50,000 in repairs is needed and Mike was recently laid off from his job. The Carrs need help and we know a team that will step up to the challenge.
When the Extreme Team arrives, we all fall in love with Ryanne, who Paige describes as a "spitfire." It's obvious how this bundle of energy won all of her gold medals. Ty learns that she has 11 pairs of legs. When he asks her what she'd like to do with the ones she doesn't need, Ryanne tells us that she'd like to donate them to Haiti. Katrina explains that the recent earthquake created the nation with the most amputees ever.
Comedian Bill Engvall joins us on the bus this week. Bill and his wife do a lot of work with organizations that focus on kids with special needs, so he's most impressed with Mike and Katrina. Bill offers some helpful suggestions although John may beg to differ with them, as he's been tasked with creating an automatic door for Nickolas' room.
Ty calls the family during their Hawaiian vacation to instruct them to open the secret box. Inside is a pair of binoculars. Ty instructs them to look out at the ocean. Riding in on a wave is Bethany Hamilton, a professional surfer who competes with the best despite losing an arm in a shark attack. Katrina is excited because she knows Bethany is a great athlete for Ryanne to emulate.
Ty has one more surprise for the Carr family. They watch a video from representatives of Limbs for Life Foundation and Range in Motion Project. The video tells how they are using the legs Ryanne donated to help two girls in Haiti walk again. Ryanne has tears of joy in her eyes. We're getting a bit misty, too.
After soaking up the sun and catching a few waves, the Carr family returns home. Bus Driver, "MOVE THAT BUS!" As soon as the Carrs walk in, they are amazed by the touch the team has put on the living room. The ceiling is yurt-derived, which is a traditional housing for families in Kazakhstan. Here's this week's breakdown: - The Starship Room -- John created a room that's literally "out of this world." Nikolas enters through two automatic doors. We're wondering if he'll ever be able to lock them for privacy.
- The CLAY-borhod Room -- Paige made a magical room. She even has some custom clay made especially for Rina. Katrina tells us how perfect the room is for her daughter.
- Dad's Workshop -- Ed made a special room for Mike. The room is loaded with tools and workbenches. Mike tells us he's going to have a ton of fun teaching his kids.
-The Surfing Room -- Paige decked out the walls and floors to make us feel like we're in the ocean. Ryanne and Haydn even have a surfboard that links to a surfing game in their room. Hang ten, kids!
-The Multipurpose Room -- Ed created a classroom that is modern, fun and perfect for the family. Katrina knows the room will provide hours of good times and learning.
- The Master Bedroom -- Ty has done it again. We can't help but be a little jealous of the faux fireplace in the bathroom.
The Carr family is nothing but inspiration to us all. Seeing the challenges they've faced and what they've overcome only motivates us to accomplish our own goals. Welcome home, Carr Family. Welcome home.