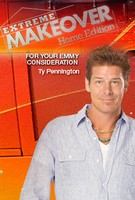 TV Info
---
Episode Premiere
February 14, 2010

Distributor
ABC

Genre
Reality

Show Period
2004 - Now

Production Company
Endemol Ent., Lock and Key Prod., ABC, Greengrass


Cast and Crew
---
Main Cast
Ty Pennington
Paul DiMeo
Paige Hemmis
Michael Moloney
Ed Sanders
Tracy Hutson
Tanya McQueen
Eduardo Xol
John Littlefield
Rib Hillis
Additional Cast
Synopsis
---
We're on our way to Prince George's County, Maryland with Tyler Perry to lend a hand to the Tripp Family.
Tripp and Tamara were college sweethearts who went on to have three beautiful children. They wanted to make a difference in their community, so they joined the bus ministry that Tripp's father used to run. They also offer hot meals to kids whenever they need it. Their home has been open to 25 kids at once. That's gonna take a toll.
The house is cramped to say the least. The living room has a chair in front of the fireplace because of spacing. Tamara tells us about a hole in the cabinet that leads underneath the house. There is also a hole in the cabinet that opens up right above the bathtub. Talk about no privacy! During a tour, we see a random pipe in the home's only closet. It's time to make a few renovations. Know anyone who can help? We do!
Actor, writer, director extraordinaire Tyler Perry takes personal control of DEMO: The Movie. He utilizes his talent, aka Ty, Paul, Tracy and Ed. They're not the most cooperative bunch but Tyler makes it all work. In the end, the house is completely demolished. But Tyler wants one more take. Possibly at the neighbor's house?
A gentleman named Tom Lewis has volunteered his time to help while serving the community with his "Fishing School." It provides free afterschool daycare and tutoring. Paul visits the school and learns they've been turning families away due to lack of space. We are completely touched when one of the kids tells Paul that he'd like to be like Mr. Lewis when he grows up. After some discussion with Ty and the team, Paul returns with a builder and another part of the team to renovate the school.
While on vacation at Disney World, Tripp and Tamara find hats labeled with their bus ministry kids' names. Initially, they believed they were souvenirs to bring back to the children. Nope. Enter a double-decker bus that brings all of their ministry kids to the park. At the end of the adventure, the kids put together a scrapbook with personal letters telling Tripp and Tamara how much they've changed their lives. Sniff.
In one of the largest makeovers to date, we have two "Move that Bus" moments. Tom Lewis is the first to walk into his school's makeover. The Fishing School looks amazing. It pays tribute to the past school and provides enough room for future students. With over 6,000 square feet of space, the school is now huge. With all of the new equipment and space, we can't tell who's more excited - the kids or Tom!
Back at the Tripp home, as soon as the driver "moves that bus," the ministry buses appear. These buses are completely renovated with new paint, seats and tires. Tyler Perry provided the funds for the automotive makeover. Once again, we "move that bus" and voila, the new family home is revealed. Here's the breakdown:
- The Kitchen: There are two new ovens to prepare food and a dishwasher to clean all those plates the bus ministry kids leave behind.
- The Rollercoaster Room: Micah is screaming with joy when he sees the room. Ed created a personal rollercoaster that hangs right over his bed. His new slide will surely be used hundreds of times.
- The Superhero Room: Ethan will be able to let his imagination run wild. Paul even put in a phone booth so he can change into his superhero clothes. Oops, hope we didn't give away his secret identity!
- The Master Bedroom: Tripp can't wait to enjoy a shower in his new bathroom, something he hasn't been able to do in three years. Tracy has created a nice, private place for Tripp and Tamara to relax and unwind.
- The Basement/Recreation Room: Ty made a recreation room for the family and their bus kids. The room comes with 'school bus-style' seats, a foosball table, a pool table and even a DJ booth. The bus ministry kids are sure to love it. The only problem is they may never want to leave!
The Tripp family made huge sacrifices to be role models and keep kids away from bad influences. Tom Lewis also showed us how the power of a learning center motivates kids to succeed. We only have two words to say to both Tom and the Tripp family: Welcome home.