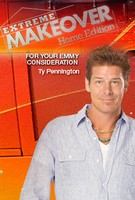 TV Info
---
Episode Premiere
January 10, 2010

Distributor
ABC

Genre
Reality

Show Period
2004 - Now

Production Company
Endemol Ent., Lock and Key Prod., ABC, Greengrass


Cast and Crew
---
Main Cast
Ty Pennington
Paul DiMeo
Paige Hemmis
Michael Moloney
Ed Sanders
Tracy Hutson
Tanya McQueen
Eduardo Xol
John Littlefield
Rib Hillis
Additional Cast
Synopsis
---
The Extreme Team heads to Bunker Hill, Indiana to help out the Cowan family. They'll be joined by a special friend of the family, our old friend Xzibit and a talented young singer who is truly idolized. But first things first. Let's find out about the family.
Kori Cowan has been through 17 surgeries because of her primary immune deficiency disease. During one of her hospital stays, Kori met Alyssa, who was battling cancer. Determined to help her new friend, Kori began fundraising for the American Cancer Society. She's raised over $38,000 as the top youth fundraiser in Indiana. While Kori has been focusing on fundraising, her parents have been trying to create a safe home for their daughter.
The Cowan home is an old converted barn. Mold issues have forced the family to live only in the upper portion of the house. The scariest part for Andy and Heather Cowan is that the mold has been causing polyps to form in Kori's nasal passage. With medical bills and creditors looking for payments, the Cowans are against the wall and are pleading for help. Well, help has arrived. Using an organizational trick he learned from Kori, Ty uses sticky note with the words "demo me" on front to signal that it's literally time to bring down the house!
The Cowan's story hits home with special guest, and music sensation, David Cook. David is from Indiana and recently lost a brother to cancer. After being briefed about the specifics, David leads his own project making pillows to raise money for the American Cancer Society. It pays off later when David and returning special guest Xzibit are able to sell them at an auction. Additionally, Kori's friend, Alyssa, helps out with the makeover.
When they return to Indiana, the Cowans are personally escorted home by David Cook. Not a bad way to be welcomed back. After the new house is revealed, Heather describes the makeover best by comparing the old house to a cancer that was eating away at the entire family. Let's break down the new pad room by room:
- The Garage: It's the perfect workspace for Andy, who told Ty about his efforts to help the community whether it's by changing their tire or replacing an alternator.
- The Model Shop Room: Trevor can only describe his room as "awesome" as soon as he enters it. Paul provides an active room that Trevor can take apart and rebuild again.
- 2010 World Cup Room: Didi really captured a soccer theme in Ryan's room. The place is filled with jerseys and Ryan has his own locker to store his stuff. His new laptop even has a personal message from Landon Donovan of the LA Galaxy.

- The Motocross Room: Xzibit decked Mason's room. The walls are covered with motocross designs and helmets. The room even comes with a safe filled with CASH! Ty and Xzibit make sure Mason doesn't tell his parents about the loot.
-The Master Bedroom: The previous master bedroom contained the only bathroom in the house. The plastic that was placed over the carpet in the old room made it impossible to sleep in whenever anyone walked on it. Now Heather and Andy will find peace in their room. Great job, Didi!
-Event-Planning Room: All we can say is wow! The walls are designed with a sticky note pattern. Ty informs us that there are 8,950 sticky notes on the walls. Kori uses sticky notes when organizing her fundraisers. The room comes complete with an interactive board for Kori to make notes, which she promptly does to thank Ty.
Kori Cowan shows us how one person can make a difference, not only for her family and friends but for an entire community. Kori will continue to her fundraising efforts for the American Cancer Society, but now she can do it from a much safer place. Welcome home, Cowan family. Welcome home.