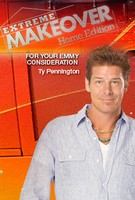 TV Info
---
Episode Premiere
December 13, 2009

Distributor
ABC

Genre
Reality

Show Period
2004 - Now

Production Company
Endemol Ent., Lock and Key Prod., ABC, Greengrass


Cast and Crew
---
Main Cast
Ty Pennington
Paul DiMeo
Paige Hemmis
Michael Moloney
Ed Sanders
Tracy Hutson
Tanya McQueen
Eduardo Xol
John Littlefield
Rib Hillis
Additional Cast
Synopsis
---
Mary J. Blige joins Ty and gang this week as they head to Erie, PA to meet the Ward Family.
Clara Ward and her daughter, Cynthia, run an extraordinary family daycare center. Not only do they watch the kids, but they also feed and clothe them. During the holidays, Clara brings the community together and provides toys for over 300 children. She believes that if she can keep the kids busy, she can keep them off the streets.
A degenerative muscle disease has confined Clara to a wheelchair. Her house is a maze thanks to all of the donations that she's storing to give the kids. She says she hasn't been to the back of her house in years! The bathroom is too small for Clara and she risks injury every time she showers. Her deteriorating home/daycare center is in serious need of a makeover. Know anyone who can help? We do.
Clara Ward's story touched this week's celebrity guest, Mary J. Blige, (new album "STRONGER withEach Tear" is available December 21) as she came from a neighborhood similar to the one Clara is working to improve. We learn all about Mary J. Blige's foundation that empowers women from all backgrounds to reach their full potential through education and encouragement. We can't think of a better choice to pitch in on this particular makeover.
Ty sends Clara and her family on vacation where she is given a private cooking lesson from world renowned chef Todd English. Todd teaches her two recipes that she can bring back home to kids in her community. The family also gets a special message from the Extreme Team. Paul informs them that they are working on some mini makeovers within the community.
First up is Angel, one of the kids in Clara's community. The room that once gave Angel nightmares will haunt her no more, thanks to the touches of pink and yellow that have been added. The four Johnson sisters no longer have to share a bed thanks to Paige's plan to give each girl her own personal slumber spot. The Troop brothers, who were also sharing the same sleeping space, now have some cool bunk beds to rest their heads.
The Ward family returns to find their brand new home featuring:
The Kitchen - The new room is custom made for Clara so she can reach everything.
The Living Room - Mary J. Blige helped make the chandelier of eating utensils which symbolizes how every kid will get a good meal in Clara's center.
Benny's Bedroom - Since Benny was born legally blind, Paul placed aides all over the place to help him out, allowing Benny to be more independent and feel more confident.
The Master Bedroom - Clara is finally able to have enough bathroom space to fit in her chair and shut the door. The most touching part of the bedroom is Clara's quilt that has personal messages from all the kids she's helped. The dresser from her old bedroom has been remodeled to fit all her needs.
The Youth Development and Family Center - We know the children can spend countless hours in this room. It's equipped with computers and activities galore. This is also Cynthia's favorite spot because it's a place where she can change lives.
The Backyard - The playhouse will be a great meeting place for the younger children. There's also a basketball net set up for kids to shoot hoops.
The Basement - Clara will be able to go up and down whenever she wants thanks to the new elevator. Paige made sure there was plenty of storage space for all those donations from the community. The rotating shelves will not only help stow away items but will also keep everything within Clara's reach.
An outdoor barbeque is a great way to end a wonderful day. The team has prepared gifts for all the kids in the Youth Development and Family Center. As we watch the kids receive their treats, Ty reminds us how Clara is a gift that keeps on giving. Clara now knows that her new house will last beyond her years. More importantly, the house will always be there for the children.
Welcome home, Ward family. Welcome home.