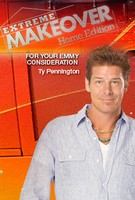 TV Info
---
Episode Premiere
December 06, 2009

Distributor
ABC

Genre
Reality

Show Period
2004 - Now

Production Company
Endemol Ent., Lock and Key Prod., ABC, Greengrass


Cast and Crew
---
Main Cast
Ty Pennington
Paul DiMeo
Paige Hemmis
Michael Moloney
Ed Sanders
Tracy Hutson
Tanya McQueen
Eduardo Xol
John Littlefield
Rib Hillis
Additional Cast
Synopsis
---
Ty and the team travel to Clarksville, Tennessee to meet the Scott Family.
Trina Scott met the love of her life, her husband Dave, while he was serving with the U.S. Army Special Forces. They went on to have three beautiful daughters: Leyla, Deidre and Alethea. After his discharge, Dave continued to serve his community by becoming a Clarksville police officer.
Tragedy struck in 2002 when Dave was killed in the line of duty. Trina turned to C.O.P.S. (Concerns of Police Survivors, Inc.), an organization that helps the surviving family members of officers killed in the line of duty. Inspired by the support she received, Trina became president of the organization in 2003.
Raising three daughters on her own and volunteering her free time to C.O.P.S. has left Trina with little time to care for her deteriorating house, which has been ravaged by termites. With the foundation eaten away, the house is on its last legs. ENTER THE EXTREME TEAM!
Ty takes a tour with the family and we see the damage the termites have done to both exterior and interior. We also learn that there is no door between Alethea's bedroom and the master bedroom. Alethea's bedroom is a converted garage with just a small piece of carpet separating her from the cold concrete.
Usher steps off the bus as this week's celebrity helper and he's ready to get to work. We learn Usher is from Tennessee and wants to give back to a family whose father was lost in the ultimate show of service. He's the perfect teammate for Paige who is making a dancing room for Deidre.
Trina and her daughters receive a surprise while on vacation in California. The Scott family is treated to a personal tour of the set of The Wizards of Waverly Place from Selena Gomez, who is Alethea Scott's favorite actress. Deidre tells us how her lifelong dream of visiting a set in Hollywood is fulfilled and that she can now cross it off her to-do list.
We see how many lives Trina has touched by the large turnout of supporters. The appreciation of that group is evident in the mural they painted on the building for C.O.P.S. Usher has another surprise for the Scotts when says that he's giving the family $25,000 to donate to the charitable organizations of their choice. Love it!
Now it's time for the house reveal. The Scott family will never have to worry about wood-chomping critters again because the house was constructed out of termite-resistant wood. Here's the breakdown of the rooms:

The Dance Studio Room - Paige created the perfect room for Deidre the dancer. Her bed and desk even fold up to create more room on the hardwood floors. Usher even busts a few moves on her dance floor to help break it in.

The Hollywood Regency Room - Michael takes us back to old school Hollywood. Complete with gold curtains, the room has some great features. Leyla will be well on her way to becoming a star.

The Coastal Room - Alethea can get lost on her own personal island. We get lost just looking at her mesmerizing walls. The boat bed is a great touch from John.

The Master Bedroom - Ty designs a sanctuary for Trina to get away from it all. The room is adorned with pictures of her daughters and, most importantly, completely separate from her office.
It warms our hearts to see the Scotts turn a new page in their life. Trina will now be able to rest knowing her family is safe. Usher sums it up best by saying, "Great things happen to good people. If you do good deeds in life, they always come back around." That being said, Welcome home, Scott family. Welcome home.