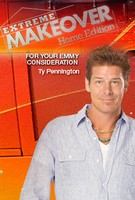 TV Info
---
Episode Premiere
November 29, 2009

Distributor
ABC

Genre
Reality

Show Period
2004 - Now

Production Company
Endemol Ent., Lock and Key Prod., ABC, Greengrass


Cast and Crew
---
Main Cast
Ty Pennington
Paul DiMeo
Paige Hemmis
Michael Moloney
Ed Sanders
Tracy Hutson
Tanya McQueen
Eduardo Xol
John Littlefield
Rib Hillis
Additional Cast
Synopsis
---
The bus is running on all cylinders en route to Lyme, New Hampshire to meet the Marshall Family.
Cameron Marshall was diagnosed with leukemia at the age of nine. While in the hospital, Cameron learned his blood type is B-positive. This led Cameron to adopt a new motto - BE POSITIVE! And after engaging in some chemotherapy, his cancer went into remission. Cameron and his family founded the "Be Positive" campaign that has already raised $40,000 for the Children's Hospital at Dartmouth.
Now this family dedicated to helping others needs a little help itself. Deadly mold has been appearing around their home. Cameron's father, Jay, has tried his best to eliminate it, but the mold keeps coming back. The house was becoming a death trap, as Cameron has a weakened immune system. Jay and Ellen Marshall have their backs against the wall. Well, that just means somebody needs to knock that wall down. Any thoughts?
During this particular home makeover, Ty Pennington and his team are joined by a former EM: HE family, the Vitales. Surprisingly, the Marshalls were one of many volunteers that helped build the Vitale home. As they say, what goes around comes around. And around here, that's a good thing!
The Marshalls are surprised when they meet Dr. McDreamy himself, Patrick Dempsey. This is a thrill for Olivia Marshall, who aspires to be a neurosurgeon just like Patrick's Grey's Anatomy character. It's a chill-inducing moment when we learn that Patrick's foundation, Dempsey Challenge, will team up with Cameron's foundation to help with fundraising.
When the Marshalls come home, they find a brand new house equipped with three air filtration systems, one specifically designed for Cameron's bedroom. Let's take a deeper look at each room:
The Living Room - Before it used to double as a place for Jay and Ellen to sleep when Cameron was feeling ill. Not anymore. Now, it's exactly what it should be - a beautiful family gathering spot.
The Prairie Room - Faith and Emilie are swept off their feet into a prairie complete with wagon beds. It's the kind of room Faith always wanted.
The Tie Dye Room - Rylie and Nina are surrounded by butterflies and designs that dazzle the eye.
Olivia's Bedroom - Prior to the new house, Olivia had been living in a closet. Now her room is oh so stylish in blue and purple. Her desk is the best because it doubles as a vanity mirror/ hobby storage spot.
The Soccer Room - Beau loves his room immediately. The colors of his sheets match that of his favorite soccer team. It's a great place to kick back with friends.
The Snowboarding Room - Cameron and Kennedy's room covers all their joys. Snowboards, skateboards and a nice TV are just some of the features. The best touch is the "be positive" mural on the wall. Cameron knows that whenever he feels discouraged he won't have to look far for inspiration.
The Master Bedroom - Jay and Ellen are blown away by the tranquility of their room. A brand new bathtub will definitely help them relax, as will the knowledge that their new home is finally safe.
Just when we thought it couldn't get any better, Adam Sandler pops up on TV to tell the Marshall family that he knows their area well, as his mom lives nearby. He sent along a gift of an autographed hockey stick. Score!
Cameron Marshall is a special kid. Not only did his hopes remain high during the gravest times, but he started an organization that brought in over $40,000 for a children's hospital. Not bad for a nine-year-old. Cameron you've taught us all that it truly pays to "be positive." Welcome home, Marshall family. Welcome home.