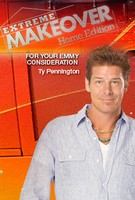 TV Info
---
Episode Premiere
November 15, 2009

Distributor
ABC

Genre
Reality

Show Period
2004 - Now

Production Company
Endemol Ent., Lock and Key Prod., ABC, Greengrass


Cast and Crew
---
Main Cast
Ty Pennington
Paul DiMeo
Paige Hemmis
Michael Moloney
Ed Sanders
Tracy Hutson
Tanya McQueen
Eduardo Xol
John Littlefield
Rib Hillis
Additional Cast
Synopsis
---
Brace yourself for another EM: HE that is sure to leave you in tears. This week Ty and the team head to Lean, Illinois to meet the Stott Family. But before we get there, Tom Wilhelm gets on the bus. Tom seems like a nice guy, but we aren't initially sure how he fits into this week's makeover. Guess we'll find out.
Joey Stott was diagnosed with leukemia over four years ago. The doctors told her husband, Phillip, that she would only have a chance of surviving the chemotherapy and without a bone marrow transplant, she would die. Joey was able to pull through thanks to the bone marrow of an anonymous donor. This unknown hero not only saved Joey but also changed the lives of her husband and their three children forever.
Once the Stott family seemed to have their lives back on track, disaster struck their home. Faulty wiring caused a fire and forced the family of five to move into a 240 square foot trailer. Due to her weak immune system, Joey must take drugs before even entering the home because of the mold and mildew in the walls.
The Stotts are at the end of their rope and looking for help. CUE THE EXTREME TEAM PULL UP IN A BIG OLD BUS! We can see both excitement and relief in Stott family faces as Ty and the gang arrive. But the big surprise comes when Joey meets the man who donated his bone marrow to her: Tom Wilhelm. Anyone else got chills right about now?
For this week's makeover, the Extreme Team calls on some tractor-driving volunteers for help. In a unique demolition, we watch an EM: HE-style "tractor pull" bring down the old Stott family home. Ty calls up a friend to help with this week's build. Or maybe we should call him an "X" friend because David Duchovny is this week's celebrity guest. David looks great in a pink hardhat and matching gloves, but we have to laugh when Paige corrects him on how to properly use a staple gun.
The Stott family heads to San Francisco for vacation. Ty informs them to open the box he gave them just before they left home. Inside the box are tickets to a Giants' game. While on the field, Joey learns that they are hosting a bone marrow drive in her name. She personally thanks all the volunteers who are collecting applications.
When the Stott Family returns, they find the eco-friendly home of their dreams. Everything from the appliances to the furniture is green in some way. But no house can be complete without some personal touches. So...
- The Dragon Room - The team actually took one of Michael's drawings and created a mural of it on one of the bedroom walls. Michael loves it.

- The Creative Writing Room - Paige created a truly inspiring room for Kaila. The room features many sheep to inspire Kaila with her writing.

- The Chemistry Room - Ed really put some creativity in this room. It's very colorful and almost awe-inspiring. The bed even appears to be floating. This will definitely motivate Jonathan to become a chemist.

- The Master Bedroom - Phillip admires the tranquility of the room. Joey even notices the "green" touch when she identifies the gate from the sheep farm.


The Stott family has shown us just how precious life is and how it should never be taken for granted. Tom Wilhelm selflessly gave a wonderful gift to Joey that probably saved her. The Stott family will be forever grateful to Tom, Ty and the rest of the Extreme Team for the difference they made in all of their lives. Welcome home, Stott Family. Welcome home.