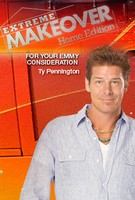 TV Info
---
Episode Premiere
November 08, 2009

Distributor
ABC

Genre
Reality

Show Period
2004 - Now

Production Company
Endemol Ent., Lock and Key Prod., ABC, Greengrass


Cast and Crew
---
Main Cast
Ty Pennington
Paul DiMeo
Paige Hemmis
Michael Moloney
Ed Sanders
Tracy Hutson
Tanya McQueen
Eduardo Xol
John Littlefield
Rib Hillis
Additional Cast
Synopsis
---
We get a two-for-one deal when Kellie Pickler and her younger brother, Eric, get on the bus as Ty and his team head to Beavercreek, Ohio to help out the Terpenning family.
James Terpenning has overcome all kinds of odds. Stricken with polio as an infant, he has somehow been able to hurdle so many obstacles. We say hurdle because that's something you see at the Olympics. And James is a decorated athlete with two gold medals from the Paralympics. He's also a father of four and big brother to Joe, who suffers from Cerebral Palsy.
The Terpenning home is cramped for the family of seven. James and Joe are limited by the challenges of the house. Safety is the biggest concern for the family. James puts forward his best effort to take care of his children but always fears the worst when trying to take his youngest son Joshua out of his crib. Like every father, James wants his children to be safe. Can you think of anyone who may be able to make that wish a reality?
The Terpenning family's prayers are answered when the Extreme Team arrives. The family will no longer worry about safety and have plenty of room for James and Joe to get around. While the team works on the extreme makeover, the Terpennings head to Orlando, Florida for their first family vacation.
We see a whole new side of Kellie during the demolishing of the house. She admits to us she doesn't know what comes over her when she has a sledgehammer in her hands. Don't you just love a girl who's not afraid to show her softer side? But what we love most about Kellie is her "singing" side.

After the new home build, Kellie performs for all the volunteers singing "Gotta Keep Moving." Not only does this motivate the volunteers but it is a perfect anthem for the Terpenning Family.Here's the breakdown of this week's build:
The Peek-a-Boo Nursery: The room is specially designed for James. He will no longer have to worry about taking a risk when putting Joshua into his crib. Joshua will also have many animals and characters to play peek-a-boo with on his walls.
The Building Blocks Room: Didiayer takes blocks to another level. Jacob and Justin will be able to build all sorts of creations. Best of all, all of the blocks and furntiure can be stowed away which will make cleaning up easy.
Josselyn's Room: The epitome of playing dress-up. Ed and Ty are the first to play the "Josseland" game. We can't be sure that the earrings Ty puts on match his dress. Kellie puts a final touch by giving Josselyn a pair of Cinderella shoes.
Joe's Bedroom: The room allows Joe to be independent and it's full of the Disney memorabilia he loves to study (thanks to Michael).
The Master Bedroom: Shannon is blown away by the accessibility of not only the bedroom but the entire house. James and Shannon also have another surprise for them when they find scholarships on the desk. James breaks into tears knowing that he won't have to work extra hours to take care of the family.
Since being saved by the Air Force in his early childhood, James has done everything he can to repay his country and the Air Force. He's represented his country in the Paralympics and inspired many returning veterans who may feel confined by a wheelchair. It warms our hearts to see the Extreme Team give back to a man that has dedicated his life to giving. Welcome home, Terpenning family. Welcome home.