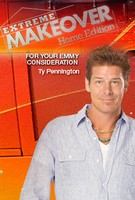 TV Info
---
Episode Premiere
November 01, 2009

Distributor
ABC

Genre
Reality

Show Period
2004 - Now

Production Company
Endemol Ent., Lock and Key Prod., ABC, Greengrass


Cast and Crew
---
Main Cast
Ty Pennington
Paul DiMeo
Paige Hemmis
Michael Moloney
Ed Sanders
Tracy Hutson
Tanya McQueen
Eduardo Xol
John Littlefield
Rib Hillis
Additional Cast
Synopsis
---
So, we're thinking Xzibit picked up an all-you-can-ride bus pass since this is the second time he's joining Ty Pennington and the extreme team as they head to Davis County, Kentucky to help the Mattingly family.
Melissa Mattingly tells us about the day she was the first responder for her husband Steve's car accident. Not only did she witness the accident but her two daughters were riding in the car as it happened. The incident left Steve with memory loss, migraines and limited mobility.
With Steve unable to work, Melissa had to provide for the family. When their daughter Alana was hit with health problems, Melissa had to quit her job as an EMT and become a massage therapist to have a more flexible schedule. Their once-temporary home is now safety hazard and the family is barely getting by. The Mattingly home is cramped to say the least. The family must eat in the living room because the dining room is non-existent.
When Ty asks about the specifics of the accident, we see just how good-natured Steve is. He feels such sorrow for the driver that hit him. Ty is reminded of a car accident he was in with his mother and brother. Ty managed to save his mom's fractured leg, and possibly her life, by tying a tourniquet around the wound. So he knows a little something about stepping up in a time of crisis and can truly appreciate all that Melissa has been doing ever since her husband got hurt. Don't you think it's time somebody gave her a hand?
While the Mattinglys are on a cruise in the Bahamas, Xzibit surprises them with a" Monster Jam Demo." We watch in amazement as a truck that typically demolishes cars takes down the old Mattingly home. Melissa says, "That was old, come on with the new." We couldn't agree more!
In a place like Kentucky, you're likely to hear some good country music. Heck, you might even see a real country singer. We see one of the best when we catch Clint Black coming off the bus to pitch in with the makeover. Clint starts out by helping Didiayer sand memory boxes for the master bedroom. He later puts up some wrap posts in the exterior. Elsewhere, Michael and Xzibit head out to find some new electronics for the family. We can tell Michael is a fish out of water when selecting a TV, but luckily Xzibit is there to help him get the goods.
The Mattingly family returns home to find:

- An I Love Pets room: Madison is ecstatic to see an entire room made to help care for her five dogs. The makeover doesn't stop there; each pooch has a personal house in the back.

- A Marine Biology Room: The room matches perfectly with Alana's passion for fish. Alana feels like she's in the ocean but this place isn't as wet.

- The Master Bedroom: The Memory Wall is a perfect device to help remind Steve of important dates and significant moments in his life.

- Massage Therapy Room: Melissa will no longer have to commute for work. Her clients can come right to the home in her incredible new workspace.
Clint Black welcomes the family home with a private concert. His music pays tribute to the love between Melissa and Steve. At the start of the show, we met a loving wife and mom in need of help. Thanks to Ty and his team, help came in a big way. Melissa can finally relax knowing the bills are paid and her house is safe. Welcome home, Mattingly family. Welcome home.