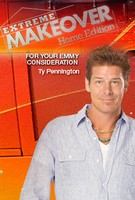 TV Info
---
Episode Premiere
October 04, 2009

Distributor
ABC

Genre
Reality

Show Period
2004 - Now

Production Company
Endemol Ent., Lock and Key Prod., ABC, Greengrass


Cast and Crew
---
Main Cast
Ty Pennington
Paul DiMeo
Paige Hemmis
Michael Moloney
Ed Sanders
Tracy Hutson
Tanya McQueen
Eduardo Xol
John Littlefield
Rib Hillis
Additional Cast
Synopsis
---
Ty and the team take a trip to the Hamptons. No, not those hamptons. They head down to Green County, Missouri, where they, and special guest, Ashley Tisdale, are in town to help the Hamptons, a family with big hearts who are stuck in a small house.
Chris and Niki Hampton had plans to extend their home after son Dakota and daughter Hannar were born. Those plans got put on hold after their four neices and nephews were removed from their natural parents due to neglect. The authorities told the Hamptons they had one hour to decide if they wanted to take the kids. From what we saw of this family, we're pretty sure they made their decision with 59 minutes to spare.
Just like that, this family of four doubled in size. We get an idea of how cramped things are after seeing Dakota narrowly escape death by dodging a ceiling fan while exiting his bunk bed. Ty, Paige and Michael know this 792-foot cottage has to go. time to call the cavalry...literally! It's a stirring sight as hundreds of volunteers stampede up to the hosue on horseback to help the Hamptons.
A few of the kids are fans of High School Musical, but when Ty says he knows Ashley Tisdale, they don't quite buy it. We're believers though as soon as we Ashley step off the bus bearing gifts. She brought along a bunch of guitars, as she heard Chris liked to play.
As usual, the team tries to create a space that captures the interest of each family member: The main living room is decorated with a wall of guitars. Remember, Chris likes to strum.

Hannah is fond of monkeys, so Michael makes her a jungle room with his assistant, Felton, an actual monkey. Ashley thinks Felton is cute, but not all that great at painting.

Dakota likes adventure, so it's a mysterious Egypt theme for his room.

The two younger girls are into gymnastics, so Paige hooks up an with Olympic Gold Medalist Shawn Johnson for some inspiration. We love the exercise rings hanging from the ceiling!

Paige makes the spirits of the two younger boys soar with a room filled with beautiful paper airplanes.

Chris and Niki enjoy the serenity of their beautiful new master bedroom for about 15 seconds. Then the kids come in to pounce on the king-sized bed. It's chaos! And this family loves it. So do we.


While it's true that the entire EM:HE team may have changed the lives of this family, we're still impressed at how Chirs and Niki changed the lives of their four nieces and nephews. Actually they didn't just change their lives, they saved them. Welcome home Hampton family. Welcome home.