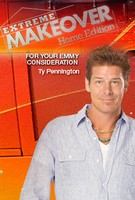 TV Info
---
Episode Premiere
September 27, 2009

Distributor
ABC

Genre
Reality

Show Period
2004 - Now

Production Company
Endemol Ent., Lock and Key Prod., ABC, Greengrass


Cast and Crew
---
Main Cast
Ty Pennington
Paul DiMeo
Paige Hemmis
Michael Moloney
Ed Sanders
Tracy Hutson
Tanya McQueen
Eduardo Xol
John Littlefield
Rib Hillis
Synopsis
---
The bus is back! And this season it's picking up a lot more passengers, including some special celebrity guests. We literally have to laugh at the first star helping Ty Pennington and his team because Patricia Heaton is hilarious! She may play a middle-of-the-country mom in her uproarious new show The Middle, but now Patricia heads out to the heartland in real life to help build a new home for the Huber family of Superior, Wisconsin!
Howie Huber has dedicated his life to helping others. He's a firefighter who once rescued a family of four from a burning apartment building. As dedicated as he is to providing aid and safety to others, Howie's own family is forced to live in small farmhouse that is categorically unsafe.
Howie's wife, Jessie, wants to only worry about being a mom instead of the hazardous condition of their home. Designer Eduardo Xol plans to help her relax with an eco-friendly idea for the master bedroom. Six-year-old Henry loves the outdoors except when it comes indoors, as water leaks into his bedroom. Thankfully, designer Paige Hemmis has some dry ideas to create a few natural wonders. And three-year-old Rosie is all about insects. So designer Paul DiMeo plans to "bug out" her entire bedroom.

As for Ty, he heads into town to wrangle up a few additional helpers, including Patricia Heaton. She rolls up her work sleeves and even climbs a thousand feet high on some scaffolding to put new siding on the house. Jessie is really into pottery, so Ty and Patricia visit a local shop to shape some new pots for the new home. There's nothing like that romantic pottery wheel scene in the movie Ghost. And what Ty and Patricia do in Wisconsin is NOTHING LIKE that romantic pottery wheel scene in Ghost!
As you know, Howie is a firefighter. So Paul tracks down a local sculptor who creates his art using a chainsaw. He crafts a wood sculpture of a firefighter carrying a small child that is placed in front of Howie's station. The music group Five For Fighting performs to help celebrate and honor all of Howie's coworkers. It's a totally cool and much-deserved tribute to these everyday heroes.
Back at home, the team must not only build a new home for the Hubers, but also for their chickens. Eduardo builds a state-of-the-art "totally green" chicken coop, which looks nicer than some of our first apartments. Even Patricia Heaton says, "When those chickens saw their new chicken coop, they couldn't even speak!"
The time finally comes to "Move That Bus!" and the one word that's repeatedly tossed about by the Huber family is "awesome." We have to agree. Paul creates a truly magical bedroom for Rosie filled with butterfly and ladybug décor. Henry's room is a tribute to the great outdoors featuring a canoe that was cut in half and turned into bookcases. And when Ty shows Howie and Jessie the master bedroom, they find a totally cool platform bed made using the trees they had to clear to build the house. Nothing goes to waste with this crew.
As we mentioned, Five For Fighting performed during the show by singing a song called "Chances." The song opens with the line, "Chances are when said and done, who will be the lucky ones who make it all the way?" Some may say the Hubers are the lucky ones because the EM:HE bus pulled up to their home. We would argue this family isn't lucky at all. No, we say they are simply deserving. How else do you explain the selfless efforts put forth by their entire community? As Ty says, "When we all pitch in, magical things can truly happen."