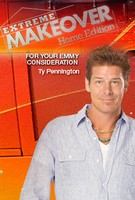 TV Info
---
Episode Premiere
December 17, 2012

Distributor
ABC

Genre
Reality

Show Period
2004 - Now

Production Company
Endemol Ent., Lock and Key Prod., ABC, Greengrass


Cast and Crew
---
Main Cast
Ty Pennington
Paul DiMeo
Paige Hemmis
Michael Moloney
Ed Sanders
Tracy Hutson
Tanya McQueen
Eduardo Xol
John Littlefield
Rib Hillis
Synopsis
---
Ty and the Extreme Team head to North Carolina to help the Friday family in a special holiday edition of everybody's favorite feel-good show!
Devonda Friday is a nine-year veteran of the police force and foster mother to over 30 children. She and her husband, James, didn't think twice when they got a call to provide temporary care to a boy being transferred to a group home. They had no idea this call would change their lives.
In 2005, Devonda was viciously attacked; it took her a year to heal physically. However other doors also opened for her. She switched careers, got a degree and, over the years, along with James, fostered dozens of children, raised their own biological child and adopted another youngster. In May 2010, they met Chris, the oldest of five siblings separated in the foster care system. The first night they met, Chris showed the Fridays a video that social services had created of the younger siblings to encourage their placement. This was a life-changing moment for the Fridays, and they began their journey to adopt all five children.
Initially their request was turned down because their modest ranch home didn't have enough room, so the Fridays converted their carport into two makeshift bedrooms and sold their van to offset expenses. The adoption was finalized in 2011.
The Extreme Team celebrates the spirit of Christmas by giving the fabulous Friday family a new spacious home for the holidays. The family is whisked away on a dream vacation to Jamaica while team leader Ty Pennington, designers Michael Moloney, Jillian Harris, Ed Sanders and Paige Hemmis, local builder Bellamy Homes, as well as well as community volunteers, give them a brand new home.
Before the Friday family can check out their new digs, they are shown the new House of Hope neighborhood resource center. It's a place that gives back to the foster family and adoption community. Through donations, rent on the center has been paid for over two years. Sears has stocked the shelves and donated gift cards to keep it running for years. When the family returns home, with a little help from Santa Claus, it's time to MOVE THAT BUS!
Here's a breakdown of the new home:
The new house is a breathtaking, two-story structure decked with thousands of holiday lights on the front as well as the tree on the front lawn. All those lights are even able to dance for a holiday show that's not to be believed.
There's a giant Christmas tree inside the spacious interior. There's also a giant timeline on the wall marking the days from when James and Devonda got together to the present day. All the important moments from when and how this family was formed are referenced in a jaw-dropping way. The family plans to build on that timeline.
The Friday family table has a seat for everyone and there are lots of brand new appliances in the kitchen from Sears.
The study area has a circular desk area with a computer for each kid. The children will actually "want" to do their homework now. Well, maybe "want" is too strong of a word.
There's a rock-climbing wall so the kids can literally climb the walls. The soundproof garage door comes in handy so the rest of the family doesn't have to hear too much of the good times while the kids are at play.
10-year-old Carly's bedroom is perfect for her fashion-loving ways. It's filled with clothes, shoes and cool accessories. Her brother's cartoon room is equally as cool.
14-year-old Kamaya's room is filled with books and multi-level bookshelves and a hidden area where she can be alone with her private thoughts.
14-year-old Jdiah's room is perfect for computer game play with his friends as there are split screens available for multiple competitors.
6-year-old London is a little doll so it makes sense that her room looks like a beautiful dollhouse. There's storage tree and a swing in there, too!
It's a very Dr. Seuss-y scene in 7-year-old Olivia's room. The Grinch saw his heart grow three sizes this week as he helped Paige put some very animated designs throughout the room.
15-year-old Chris has seen his hoop dreams come true with his basketball-themed room. There's a screen in its center that will allow him to watch four games at once. He has a great view of his brand new basketball court outside.
The master bedroom is amazing with a new king-size bed featuring a quilt with all the names of their kids stitched on it. There's a fireplace, huge tub, shower and more. There's also a lovely portrait of the kids on the wall. Also on the wall, there are bricks from the old house featuring the names of all their foster children. There's room for plenty more, too.
The backyard has three cars set up in front of a giant screen so the family can enjoy double-feature movie nights under the stars. Now playing--a slideshow of the family photo album.
The Friday family gives so much to others; it was a truly magical holiday moment to see them on the receiving end of so much goodness and love. Hey, "goodness and love" is what this group is all about! Welcome home, Friday family. Welcome home.