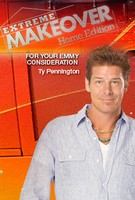 TV Info
---
Episode Premiere
December 10, 2012

Distributor
ABC

Genre
Reality

Show Period
2004 - Now

Production Company
Endemol Ent., Lock and Key Prod., ABC, Greengrass


Cast and Crew
---
Main Cast
Ty Pennington
Paul DiMeo
Paige Hemmis
Michael Moloney
Ed Sanders
Tracy Hutson
Tanya McQueen
Eduardo Xol
John Littlefield
Rib Hillis
Synopsis
---
Ty and the Extreme Team are headed for Texas to spread some holiday cheer to the Harris family!
On February 19, 2007, while on patrol in Iraq, a massive IED struck the truck that SSG Shilo Harris was traveling in, tearing it apart. Despite suffering devastating injuries, with burns to over of his body, Shilo's only concern was for the well-being of the men under his command, refusing medical treatment until he'd been assured that his troops were out of harm's way.
During the months of painful surgeries that followed, Shilo and his loyal wife, Kat, found a true calling--to help wounded warriors through the agonizing and traumatic processes of recovery, rehabilitation and learning to face a life that will never be the same. Shilo, once sufficiently healed, began a career as a motivational speaker, giving hope to others similarly wounded, while Kat, taking up the cause as well, began working for the U.S. Army Wounded Warrior Project. Shilo and Kat have dedicated their lives to giving back.
With each day that passes, the Harris family puts more distance between themselves and the event that changed their lives, but their home still stands as a reminder of their struggles, as it cannot protect Shilo from dangerous dust and heat. The family has tried everything to make the home comfortable and safe, but whatever they do, it's not enough. This hero, who was disfigured in service to his country, cannot find respite in his own home. The family needs help. Well, help is on the way!
Team leader Ty Pennington, designers Paige Hemmis, Michael Moloney, Xzibit and Ed Sanders, along with local builder Morgan's Wonderland and Helping a Hero, and community volunteers are tasked with building a brand new home for the Harris family while they are whisked away on a dream vacation to New York for a Big Apple Christmas extravaganza. J.R. Martinez, actor, motivational speaker and former U.S. Army soldier, makes a special appearance, and country music superstar Lee Greenwood performs "God Bless the U.S.A." in a moving holiday-themed tribute to our wounded veterans. When the Harris family returns home, it's time to MOVE THAT BUS!
Here's a breakdown of the new firehouse and home:
The new home is amazing with a beautiful walkway up to the front door and a landscaping project that puts the American flag front and center on the front lawn.
The flagpole out front was donated by a serviceman and Shilo's quote of "Building Bridges to Open Hearts" is featured on a beautiful post structure underneath it.
The inside of the house is warm, inviting and custom-designed to control the air quality inside to help Shilo literally breathe easier. There's a state-of-the-art air purification system.
The patriotic coffee table is filled with flags and the coins that meet so much to Shilo.
9-year-old Elizabeth's room is a cowgirl's dream filled with horse images, new boots, new clothes and a huge walk-in closet. Her bed is a custom-made tent that is perfect for this little cowgirl.
2-year-old Glenn loves the train in his cowboy-themed room. It's all he can talk about no matter what Ed asks him.
Shilo's office is amazing with a projection-screen in its center.
There's mistletoe in the master bedroom, so Shilo and Kat share a kiss that matches the one in a framed photo on one of the tables. There are chandeliers above their new bed and a big star on the back wall.
Ty lets Shilo know that the tub is deep enough for him to soak his whole body and the shower is made so he can clean with steam if the water ever hurts his skin.
The outside courtyard is a covered space with tons of cool things from Sears. There are ceiling fans and a cooling system to help regulate the temperature so the family can enjoy being outside. There's a new grill, outdoor TV, air hockey table and lots of presents beneath the tree for the kids.
The backyard is a winter wonderland with its own western town, a big red barn for the horses and putting green and driving net for dad. Michael gives Shilo a set of custom-made golf clubs to make it easier for him to play.
Friends let the Harris family know how much they all mean to them. Kat assures them all that they will continue to give forward to all the heroes out there. Of course, Shilo and Kat also fall into the "hero" category so... Welcome home, Harris family. Welcome home.