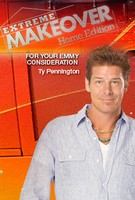 TV Info
---
Episode Premiere
December 03, 2012

Distributor
ABC

Genre
Reality

Show Period
2004 - Now

Production Company
Endemol Ent., Lock and Key Prod., ABC, Greengrass


Cast and Crew
---
Main Cast
Ty Pennington
Paul DiMeo
Paige Hemmis
Michael Moloney
Ed Sanders
Tracy Hutson
Tanya McQueen
Eduardo Xol
John Littlefield
Rib Hillis
Synopsis
---
Ty and the team are back and headed for Texas in a special holiday edition of everybody's favorite feel-good show!
It was fitting that the Zdroj family settled on a property next to The Heart of Pines Volunteer Fire Department. Mizzy Zdroj had long dreamed of being a firefighter just like her hero, her grandfather. The Zdroj family practically lived off of the land, growing their own food and trying to live a "green" lifestyle. Mizzy kept a small art studio in a camper on the property, and made money by selling the dolls she crafted by hand.
A small wildfire in the area quickly raged out of control and consumed more than 34,000 acres. It was the largest wildfire in Texas history. While Mizzy Zdroj and other unpaid heroes from the volunteer fire department fought the flames, more than 1,600 houses, including the Zdroj family home, burned to the ground. The family not only lost their house and belongings, but Mizzy's livelihood as well when her farm and art studio went up in flames.
The Zdroj family is whisked away on a coast-to-coast Christmas vacation while the Extreme Team featuring team leader Ty Pennington, designers Paul DiMeo, Tracy Hutson, John Littlefield, Jeff Dye and local builders EFC Custom Homes, as well as community volunteers build the new home and Meyerson Custom Builders, L.P. renovates the Heart of the Pine firehouse. When the family returns, it's time to MOVE THAT BUS!
Here's a breakdown of the new firehouse and home:
The new fire station is amazing with a beautiful brick structure over the main entrance and new garages for the truck bays. Inside sits a new operating brush truck with cool, loud siren. There's storage for tools and racks for the hoses.
New gear and helmets await the volunteers in another new bay. This is a welcome sight for Mizzy's daughter, Whitney, who no longer has to worry about her mom making it home safe and sound.
A second bus move lets the Zdrog family see their amazing new home with amazing landscaping out front. There's a water recovery tank and solar panels so the family can continue to live green in a self-sufficient home.
The spacious interior is features a new fireplace and a framed case holding Mizzy's grandfather's firefighter shield. It sits on a beautiful new bookcase that serves as a nice place of honor.
The indoor/outdoor look of the kitchen is stunning with stainless steel appliances from Sears. There's a great view of the amazing backyard.
The master bedroom features a huge bed with a headboard that serves as a replica of a painting Mizzy has done on the side of a shed that burned down.
The boys' room for Raistlin and Ashron has a bicycle trail, a tree for the Pirate Island and a ladder that leads up to a secret spot.
Star Wars Stormtroopers let the boys know they can climb the ladder which leads to a spaceship-style bride featuring escape pods, TVs and battle stations. It's a young Jedi's dream lair. Dad, Chris, is grateful to have a place to "dork out" with his boys.
The outdoor area has trails all over the place and there's an automatic door that allows the boys to ride their bikes right into their room.
Another outdoor path leads to a Critter Camp for all the family animals including their beloved donkey, Sally.
Ty made a new artist's studio for Mizzy. There's a big sign out front that says "Make Do." It was made of all the things that were found after sifting through the ashes.
The inside of the studio is amazing and has Mizzy's head spinning with ideas for her new creations. There's even a spare bedroom in the back for Whitney.
The family learns that all the kids will be getting full four-year scholarships to college. Ty also lets them know that they now have a pressure washer that allows you to spray off your house with a chemical gel to help salvage the home if ever there was another fire. There are lots of other gifts, but the greatest one is the new house and the love this family shares with each other. Welcome home, Zdroj family. Welcome home.