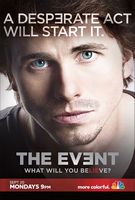 TV Info
---
Episode Premiere
May 23, 2011

Distributor
NBC

Genre
Drama, Thriller

Show Period
2010 - 2011

Production Company
Universal Media Studios, Steve Stark Productions


Cast and Crew
---
Director
James Wong
Screenwriter
Evan Katz
Main Cast
Additional Cast
Synopsis
---
Sean tells a weakened Leila that Sterling has called someone at the CDC who will be able to help her. Leila has given up hope, but Sean begs her to fight the virus with all her might. Meanwhile, Sterling finds a damaging report on Dr. Lu's computer that shows the rapid spread of the deadly pathogen. After careful research, Sterling learns that the Sleepers are depositing pressurized aerosol containers carrying the virus at three distinct locations (a food processing plant, the Bureau of Engraving, and Dulles Airport).
Carlos and Sophia feel tremors as a city road shakes and street lamps topple over. Sophia tells Carlos that the portal has affected the Earth's precession; their people will arrive soon. News of the strange earthquake reaches the White House. Before Martinez can act, Sterling calls to urge Martinez to send counterterrorist agents to the three locations the Sleepers are targeting. Martinez says any action will be delayed because he still hasn't been able to wrest power away from Jarvis. Peel can deploy agents at the food processing plant and at the Bureau of Engraving, but shutting down the airport is beyond Martinez's reach. Sterling, Simon, Vicky and Sean decide to go to Dulles Airport to do what they can.
Martinez begs Jarvis to step down so he can stop Sophia's plot. When Jarvis resists, Martinez begs Jarvis to send a biocontainment team to Dulles in order to stop the spread of Sophia's deadly virus. Jarvis refuses to believe Sophia would kill humans in order to take over the planet. Desperate, Martinez tells Jarvis he'll let him complete his presidential term as long as he shuts down Dulles. Jarvis won't budge. He trusts Sophia and doesn't need Martinez's cooperation in order to remain President. Jarvis is confident that no matter what Martinez says, the Cabinet will not reinstate him.
Secretly shaken by Martinez's words, Jarvis calls Sophia to ask if she's planning to unleash a virus on American soil. Sophia says it's a total fabrication and reminds Jarvis that she wanted to join forces with him because of his unflagging strength. Concerned, Sophia decides that they should move up the virus' release time. Meanwhile a reporter at Mt. Shasta says that lava flows from a dormant volcano are puzzling scientists. Locals are concerned that a full-blown eruption will occur any moment.
Federal agents contain the threats at the food processing plant and the Bureau of Engraving. Meanwhile, Sean, Vicky, Sterling and Simon arrive at Dulles looking for Sophia. A Sleeper disguised as a TSA employee sneaks a canister past security and into a secured area of the airport. Devon calls Sophia and tells her that the contamination attempts at the food processing plant and the Bureau of Engraving have been foiled. Infecting people at Dulles Airport becomes Sophia's only hope. Back at the White House, Martinez's Cabinet gives him a standing ovation. Suddenly, without warning, Martinez becomes light-headed and collapses to the floor!
Sterling and Simon try to warn an airport employee about Sophia's plot but he disregards them when they are unable to prove that they're federal agents. Meanwhile, Sophia bumps into a child who looks exactly like the young victim in her nightmare. For a moment, the gravity of Sophia's terrible actions seems to sink in. Inside the secured area of the airport, Simon and Sterling shoot at the Sleeper before he gets away with the infected canister. The Sleeper manages to shoot Simon before escaping. Thankfully Simon's wearing a bulletproof vest. Moments later, Sean and Vicky find the Sleeper handing the canister to Sophia and Carlos. Sean and Vicky shoot and kill the Sleeper, but Sophia escapes. Carlos puts up a fight but Sterling manages to ambush him and shoot him dead.
Due to Martinez's absence, the Cabinet has no choice but to reject his plea for reinstatement. Just then, Martinez enters with Christina! Jarvis tells the Cabinet that Bethesda Hospital did not discharge Martinez; he left early against their recommendation. When it's Martinez's turn to defend himself, he warns the Cabinet about an imminent threat against national security. He claims that Jarvis is working with Sophia to unleash a deadly virus that will decimate mankind. The Cabinet thinks Martinez has clearly lost his mind - that is, until Martinez plays a recording of Jarvis admitting that he poisoned Martinez!
Having swayed the Cabinet, Martinez tells Peel to shut down Dulles Airport. Meanwhile, Sophia locks herself in an airport lounge and takes the infected container out of her bag. Sean begs Sophia to reconsider; after all, the planes have been grounded and all of her other contamination attempts have been foiled. If she releases the virus, it will only kill the people in the airport. It will just be senseless murder and will not benefit her people in any way. Sean is able to get through to Sophia. She puts down the container and allows federal agents to arrest her.
At the White House, Simon, Sterling, Martinez and Peel look for the location of the portal array. They discover that Jarvis had recently moved a satellite from an area near Tibet. Martinez correctly guesses that this means that the portal array must have been nearby. Moments later, Martinez looks at satellite footage of the portal array. Simon points out that since it's emitting radiation, it's already been activated. More of them are coming to Earth!
At the White House, Martinez watches news footage of strange earthquakes occurring around the globe. Meanwhile, at a hospital Sean parts ways with Vicky. She thanks him for including her on this transformative journey and bids him farewell. A doctor gives Sean clearance to visit Leila's hospital room. Leila tells Sean some incredible news: she's pregnant!
Martinez summons Sophia to his office and demands that she tell him where her people plan on landing. Sophia says she won't reveal anything. Spreading the virus was an act of mercy. Now that her people are coming, their course of action will be "far from humane." Then she adds cryptically, "It's too late." Suddenly, the ground shakes and in the sky, a strange light can be seen. Then the great mass coalesces into a great planet! A new planet and moon appear on the horizon! "What is it?" Christina's son asks. "Home," she replies.